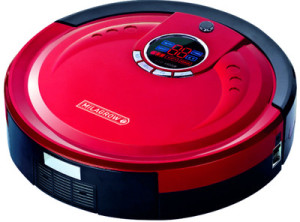 Imagine a world where when you enter your home at the end of a long day, you find it sparkling clean. What if you no longer have to worry about cleaning up over the weekend or you don't have to plead with your maid not to take more than two days off in a week. All this is no longer a dream. This could be you if you have a Robotic Vacuum. These robotic vacuums are sleek in design and are exhibits of advanced technology. Let us have a look at the most common reasons why you should get yourself a robot vacuum cleaner.
Must Read: Best Vacuum Cleaners In India
Efficiency
Whether you admit or not, cleaning is a tough job and given a choice none of us would want to do it. If you try to get a maid, that isn't cheap either. With a robotic vacuum cleaner you can clean up just about every nook and corner of your house in no time at all. It has several useful cleaning mechanisms such as brushes, filters, etc. housed within a strong casing and always gives best possible results.
Ease of Use
The robotic vacuum cleaner works on its own and does not require constant monitoring. You just need to start it and leave it for cleaning. Your place will be perfectly clean when you return. There are no adjustments to be made. Just push and start. Its advanced algorithms ensure that the vacuum cleans in a random manner such that a dirtier spot may be cleaned several times till the sensors do not detect any more dirt. You don't even need to worry about charging it, because it recharges itself when in need. To top it all, it returns to its docking station after finishing its work waiting for yout next set of instructions.
Compact Design
A robotic vacuum is very compact in design. It is flat and is shaped like a disc. It is so low in height that it can easily move and clean under furniture. Its design aids its reach to all difficult places. This ensures that you do not have to move any of your furniture in order to get those corners clean. Its shape helps it to easily navigate around table and wall corners. The device has inbuilt shock absorbers that absorb all kinds of collisions with solid objects.
Intelligent Technology
The technology behind robotic vacuums is simple yet intelligent. Its several sensors detect dirt spots which are then cleaned by the brushes. With the help of these sensors, a robotic vacuum can detect dirtier spots in the room and clean it repeatedly till it is clean. These sensors keep the device from falling off stairs and the virtual wall inbuilt into it ensures that it doesn't move out of an open door.
Affordability
Last but not the least, robotic vacuums are not quite easy on the pocket. After reading through these almost unbelievable features it must be tough for you to fathom its price. But Ecovacs Deebots are available in the market in the range of Rs.15,000 to Rs.22,000.. Technology has really come a long way and has become affordable for one and all.
Here we have tried to list just a few reasons that may motivate you to get yourself a robotic vacuum cleaner. You can imagine all the time that this device can save for you. This saved time will enable you to follow something that you truly love.
If you plan to buy a robotic vacuum cleaner, we'd recommend you go for Milagrow Redhawk Robotic Floor Vacuum Cleaner. We just love the design and performance that this vacuum cleaner provides. Tough you may find it a bit heavy on your pocket but when you look at the time and energy is can save, you'll find it's worth it.