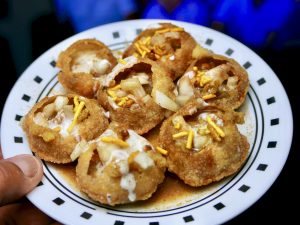 The Indian street is quite vivid — hot, sweet to savoury— and texture that spans from soft, crispy to creamy. The best part, the Indian street foods are pocket-friendly. Today, in this post, we've come up with ten most Indian hawker foods you can try in your kitchen. So, fasten your seatbelt as we're up for a mouth-watering ride ahead.
Most Popular Indian Street Foods
#1 Pani Puri
Pan Puri is one of the most common street foods throughout the Indian continent, right from Mumbai, Delhi to Punjab. This tasty dish involves filling the crispy, hollow bread ball (Puris) with a flatbread puff. Then, the puris are filled with sweetened and savoury imli water, chickpeas, a fusion of Indian species, and potatoes for the most authentic taste. Many of the contemporary versions of Pan Puri can be found in various parts of the world.
#2 Samosa
Samosa does not need no introduction. The triangular shape pastry filled with potato is a complete vegan snack that everyone loves! It is quintessential street food which is favourite chai time snack for almost everyone. Although they can be oily but these days we also get bakes samosas, however the original crispy oily samosas taste the best. It is one of those favourite treats that can be find in every gully.
It has travelled over continents now! You can find a samosa everywhere.
#3 Ice Gola
As the temperatures are soaring these days, an ice gola isn't a bad idea to refresh yourself from within. Walking down the streets of Delhi or Mumbai, the ice gola hawkers can be found everywhere to help you beat the summer when the sun is beating down on you. An iced gola is simply raw ice in the form of a round ball and dripped into various fruit flavourings. This iced treat can have tasted as per preference, just pick the juices.
#4 Chicken Tikka
No list of top street foods in India is complete without the crispy, delectable chicken tikka. Roasted or grilled, the chicken pieces are appetizing and are marinated in a mixture of traditional Indian species —red chilies, garlic paste, and ginger— yogurt.
The chicken tikka is also available in a boneless version and served in a delicious sauce and extra cheese on top.
#5 Mutton Roll
Warm and savoury, the mutton rolls are delicious and have phenomenal flavours. They head down to the congested streets of India and find hawkers selling the mutton rolls. Each roll is tastefully prepared from juicy meat, and egg wrap around that mesmerizingly melts on our tongue. The mutton rolls are prepared on a traditional flat grill known as Tawa. It's served with a twist of lemon and veggies sides.
#6 Chicken Lollipop
The chicken lollipops are not a sweet dish; instead, they are crispy & spicy. The fried drumsticks are mouth-watering bathed into vibrant and taste red curry.
When the drumsticks are held uptick, they resemble the shape of a lollipop. You can try it with ginger sauce to pamper your taste buds.
#7 Lassi
After having a heavy Indian dish, you need a glass of Punjabi lassi to digest it. Lassi will complete your meal. Since it contains a high amount of casein, it is a great way to cool down your tongue, which is on fire after having a spicy Indian recipe. There are several flavours when it comes to lassi, add mangoes slices for a great taste. This will give you enough energy to without the sweltering Indian summer
#8 Pav Bhaji
This is a native Mumbai recipe that is found everywhere, right from railway stations, public places such as parks, and tourist spots. Pav Bhaji is a savoury curry that is thick, spicy, and tasty, with tomatoes and potatoes, chopped onions, and buns. The centre of attraction of this heavenly, flavourful dish is the thick coating of butter that renders the real taste.
#9 Paneer Chilli
This is one of my favourite Indo-Chinese dishes that has become a popular street food throughout India. This phenomenal recipe involves pan-stirring small cubes of paneer with Chinese sauce and finally adding cabbage & other veggies. The texture and flavour of the paneer chilli make it perfect to have it with brown rice or crispy tandoori roti.
#10 Kathi Rolls
There is no denying that the Kathi rolls are not only the signature treatment of Kolkata but also famous throughout the country. This is made with the mouth-watering filling of raw veggies and kebabs. The filling is stuffed inside the maida-like Prarthana. Flaky and crispy, these Kathi rolls can also easily be prepared in your kitchen with a few basic ingredients.
#11 Mirchi Ke Pakode
Popular snack of Rajasthan, the Mirchi Ke Pakode involves one-big sized green chilli filled inside crispy deep-fried coating of besan batter. You can have this pakora with chutney, and you have breakfast or serve snacks to satisfy your hang-pungs. Make sure you implement the practice of safe oil use so that the pakode consume too much oil.
Do you think about these toothsome recipes, share your opinion in the comment section of this blog post. If you have a taste Indian street food to commend, come on, have your say today!