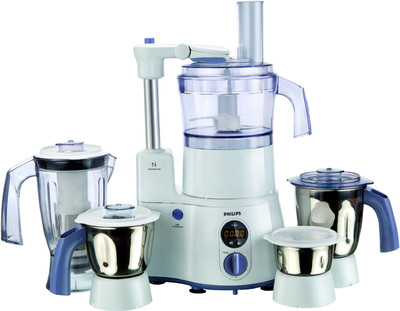 This food processor is made to meet all the needs of an entire family as that is its target audience. It can do various functions with ease which adds to its approval. It has a long list of accessories each having a clear function to help you out and increase the quality of work at the same time
Also Read: Best Food Processors In India
Body
This food processor uses high quality plastics in its body, accessories construction which last a long time. The blades provided do a good job but are so sharp that you have to be careful while handling them.
The body has a locking mechanism in it so no matter what type of accessory you are using you can be sure that it will firmly stay in place.
The anti slip feet also do a good job of keeping this food processor in place. The capacity of its different types of jars is also very good so you don't have to worry about emptying them from time to time while operating it.
Performance
The motor of this machine is very powerful and heavy duty, it does make a little noise though but you will forgive it because of its performance.
It is also very efficient so making chutneys, grinding rice for dosa and slicing vegetables doesn't take much time. It even has an auto shutoff feature which turns the motor off during excessive load to prevent any accidental permanent damage to the motor.
Initially there maybe some difficulty using it but once you get used to it you will absolutely love it.
Conclusion
This food processor will serve you diligently, meeting the everyday needs of your entire family. You will certainly not regret buying it. After buying it you can even book yourself a demonstration session for free where company employees will come and show you how to use it properly, thereby removing any doubts about its usage.
Planning to buy this model?
Find below the latest prices of this model from India's biggest eCommerce websites: Flipkart and Amazon. Compare the prices for the best deal for this model and click on Buy Now button to go to the respective website. BFYH always recommends buying from these websites for all your home electronics needs!