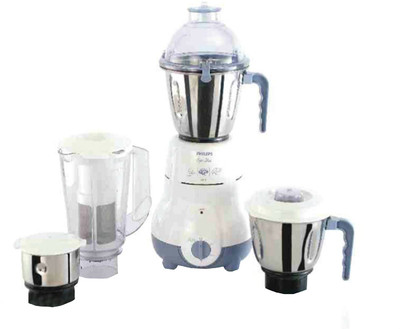 This appliance from Philips is another capable, beautiful mixer grinder which services a little high spectrum of market. It is one of the best mixer grinders in the market. It has been designed to be used in situations where cooking can get messy and it performs nicely in those situations. Presence of good after sales service also greatly enhances it appeal as a long term investment.
Body
It has been provided with 5 jars so doing various types of grinding like wet grinding, dry grinding, chutney grinding, blending, juicing isn't a problem. Their build quality is also good. Absence of clamps means holding the jars down during operation.
High quality plastic body also means that it is very light weight so portability is never an issue. You can place it wherever you seem fit for enhancing the beauty of your kitchen. It also has a cord storing feature in its body so wire lying around becomes a rare sight.
Performance
One of its biggest plus points is that its operation is very silent. The motor doesn't make that much noise as other mixer grinders. The quality of the motor is also good. So much so that it won't need repairing and replacement for quite a few years if handled properly.
It has an auto shutoff feature to prevent its motor from being overloaded and getting seriously damaged. The juicer function creates a lot of mess though as you have to remove the pulp frequently so that you can extract more juice from the fruit.
You have to also use the jars carefully because if you don't they will start leaking their contents resulting in a mess.
Conclusion
This mixer grinder has been meeting the needs of its customers nicely. It has that irresistible charm that makes it very attractive to buyers. The design and performance of this mixer grinder will never let you down.
Planning to buy this model?
Find below the latest prices of this model from India's biggest eCommerce websites: Flipkart and Amazon. Compare the prices for the best deal for this model and click on Buy Now button to go to the respective website. BFYH always recommends buying from these websites for all your home electronics needs!