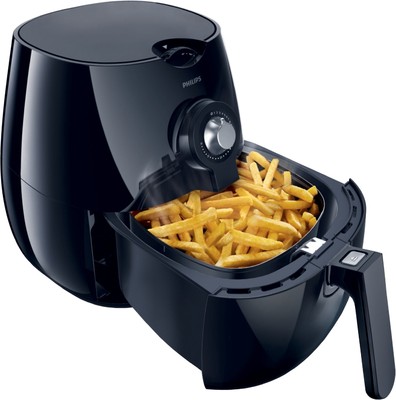 Philips HD9220/20 2.2 L Air Fryer is a record in the food industry. Philips has implemented Rapid Air Technology, which can cook food without using much oil, just a little amount of oil can be brushed, and therefore the fat is reduced by 80%. This fryer is famous for its smart look.
Also Read: Best Air Fryers in India
Introduction
Rapid Air Technology in the Philips Air Fryer gives us a healthy lifestyle. It is different in a manner that the hot air rotates around the food to be grilled. The heat is evenly distributed throughout the food which cooks the food properly. This helps tasty and healthy cooking. A lot of time is also saved as the food is cooked very fast as compared to the gas ovens. It is slowing becoming an important kitchen appliance for those who are health conscious.
Body
Philips HD9220/20 2.2 L Air Fryer is a compact model and also comes with a stylish as well as modern design and does not take much space in your kitchen. It can be used to cook 800g raw materials and because of the timer and temperature control the food can be easily cooked by setting the timer. The temperature required to cook can be extended up to 200 degrees. Although the outer surface is made of plastic, however its very stylish and eye catching. The fryer weighs about 7 kg and the power cord is also manageable.
Performance
Philips HD9220/20 2.2 L Air Fryer has broken the myth which said that tasty food need a lot of oil to be cooked. It needs only a little amount of oil to be grilled and fried. The fries are crispy like Never before. The best part is the fryer comes with a recipe book that guides you throughout.It makes potatoes tasty like never before. Thus, it might be a healthy diet product as you might start eating potatoes like never before. However, it doesn't come with a food separator which allows you to separate two raw materials and cook separator.
Conclusion
Philips HD9220/20 2.2 L Air Fryer is a diet and health oriented cooking appliance. Food lovers can cook various dishes like samosas, chicken tikkas, french fries etc. Taste and wealth both are taken care of and nothing is compromised.
Planning to buy this model?
Find below the latest prices of this model from India's biggest eCommerce websites: Flipkart and Amazon. Compare the prices for the best deal for this model and click on Buy Now button to go to the respective website. BFYH always recommends buying from these websites for all your home electronics needs!