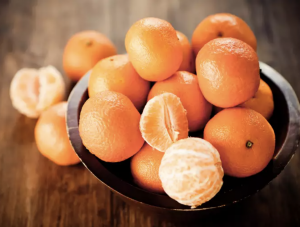 Orange – the only word defining colour and fruit too is one of the best sources of vitamin C. Apart from this; oranges are incorporated with a series of benefits including- improving the immune system, lowers the cholesterol level, keeps the blood pressure under control, lowers the risk of cancer cells develop in the body and much more. 
Although it comes with a lot of untold health benefits yet people are fed up eating it as a fruit. To help you fight back ordinary ways of gulping orange slices and its goodness, here we have got you 10 coolest and most-loved orange recipes to give a try.
Best Orange Recipes
#1 Orange, Cinnamon and Mint Salad
This salad is a perfect option for you if you want to lose belly weight without compromising your taste buds. Simply take 2 oranges, sugar, a pinch of cinnamon powder, and a few mint leaves to add the perfect freshness. Now, peel the orange, slice it horizontally, or in whichever manner you want to have. Add some sugar, mint leaves, and cinnamon on the top. Get some ice from your refrigerator and add to it. If you want to make it taste the best, you can add orange liqueur (it is an optional choice). 
#2 Orange Marmalade
Those who are on a diet must give a try to this orange marmalade to boost their energy levels. To make this, you need to have 2 litres of water, 1 kg orange, brown sugar, and 1 or 2 spoons of lemon juice. Once you have collected all the ingredients, now put a pan on gas stove and boil 2 litres of water. Now add oranges to the boiling water. Let it cook for 2 hours and then cut the oranges in half. Scoop the orange skin & take out the poaching liquid. Now add sugar and lemon juice, cook it all together for some time and enjoy. 
#3 Orange, Rose and Polenta Cake
Bake a healthy cake for yourself to ease your hunger pangs while not compromising on your health. The ingredients you require include- butter, white sugar, eggs, polenta, orange zest, baking powder, rose petals, mint leaves & almonds. Mix all the ingredients in a bowl well and meanwhile put the oven on 160c for preheating. Now bake the healthy cake & enjoy it.
#4 Orange and Duck Broth
A perfect combo is ensuring the health and the right juiciness to make it a complete nutritious diet for you. The most common ingredients include- oil, duck legs, orange peels, coriander, fennel seeds, garlic, celery sticks, carrot, bay leaf, juniper berries, etc. Remember, you need different ingredients for salad too. Start with cooking the duck legs & while you do so, make sure to preheat the oven on 125c to fasten the cooking process.
#5 Olive-Topped Orange Slices
If you are looking for options that give you the best freshness and work as your perfect breakfast option, then you must not forget to give a try to this dish. When cooked appropriately, it gives you that perfect tangy, salty, and sweet taste. To highlight the taste, you can go for adding some preferred herbs and mint. To make it you need- olive oil, oranges, mint & other herbs, whichever you like. Just peel the orange skin, toss in herbs and olive oil, bake for a while, and you are done.
#6 Barley & Orange Cake
This is an apt nutrition-rich cake slice to balance your health and taste buds perfectly. Its ingredients are- salt, flour, barley flour, baking powder, orange, vanilla extract & sugar. Preheat the oven, mix all these ingredients, and your cake is ready to bake. For the perfect look & taste, bake it in microwave oven for 1 hour, at least. 
#7 Orange Wheat Shandy
It is one of the preferred beers which is made up of wheat beer, almond extracts & oranges. It's quick to make & best to enjoy. Just mix all the ingredients, stir well & it's ready to have.
#8 Orange and Parsley Salad
This salad is perfect for fighting back sudden mood swings. To make this, you need oranges, salt, olive oil, vinegar, feta cheese, olives & almonds. Remove the orange peel, cut it in pieces & mix all the ingredients well. It's ready to have.
#9 Jasmine Tea & Orange Cooler
This cooler drink is a perfect solution for dehydration. To make it, you need jasmine tea bags, orange slices & fresh orange juice. Start with brewing the tea, once cooled, add orange juice to it and have it with orange slices.
#10 Orange & Maple Granite Drink
Take orange juice, some maple syrup, salt, sour cream, and cardamom to make this drink. Mix maple syrup & juice, add salt, freeze it, and then add sour cream & cardamom for the perfect taste.
Do try these interesting orange recipes, and don't forget to share your experience with us! Also, for many more recipes like these, stay tuned!