Morphy Richards Icon DLX 1000-Watt Food Processor is an innovative appliance in the category of food processors. It is capable of mixing, blending or juicing the ingredients without any issues. In this generation of fast life one has to manage cooking along with other works, hence your true friend in that case is a food processor which has many utilities.
Introduction
Morphy Richards Icon DLX 1000-Watt Food Processor has been introduced to the Indian market and is widely accepted as a good performing food processor. It is preferred as it is introduced with a reputed brand which has built trust over many years.
Body
Morphy Richards Icon DLX 1000-Watt Food Processor consists of following features which are responsible for making it a bestseller:
Brushed metal square shape body
11 food processing attachments
Note: It is normal to notice smoke and noise, this goes away in few usage
Unique variomatic 7 step slicing blade
Full stainless steel disc blades for precision and long life
Extra long blades for efficient grinding
Quadra flow technology for super fine grinding and unique child safety lock
Warranty: 2 years of production
Power: 1000 watts
Includes: Food Processor, Jumbo size processing bowl (2.4 liter), SAN liquidizing jar (1.5 liter), Stainless steel 304 square jar for dry/wet grinding (1 liter), Stainless steel 304 jars for chutney/paste/small grinding (0.4 liter) and Spatula
It has inbuilt locking mechanism. To ensure consumer safety, the system is designed in a way that both the Operational jars (Processing & Mixing) have to be locked or closed properly to start the system
Performance
Morphy Richards Icon DLX 1000-Watt Food Processor is a little technicality advanced appliance and needs to be operated carefully. It is capable of mixing, chopping, blending and even juicing citrus fruits. It can be cleaned easily and can be operated for many purposes. The containers are very useful, especially the spice mixer.
Conclusion
Morphy Richards Icon DLX 1000-Watt Food Processor is recommendable for kitchen use. This bestseller is stylish and preferred by users all across the country. You should definitely go for it.
Planning to buy this model?
Find below the latest prices of this model from India's biggest eCommerce websites: Flipkart and Amazon. Compare the prices for the best deal for this model and click on Buy Now button to go to the respective website. BFYH always recommends buying from these websites for all your home electronics needs!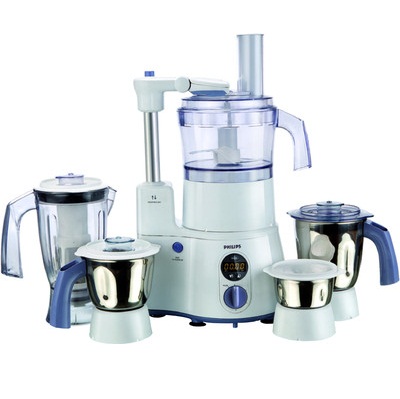 Did Not Find The Right Food Processors Of Your Choice?
Just click on the link below to find a great range of best selling Food Processors for your home at best prices.