Not all clothes are made ready to wear; some do need to be ironed. The fear of burning either hands or the precious fabric made it mandatory to be handled by professionals. However, gone are the days when smoothing out the wrinkles of clothes were left only to the professionals. Today almost everyone can iron garments like a pro. All you need is a quality steam iron and the knack of how to use steam iron.
Also Read : Best Steam Irons in India
How to use steam iron?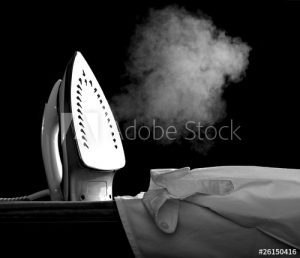 Restoring clothes from difficult to smoothen wrinkles using dry iron is a cumbersome task. Steam irons prove to be effective for deep tough creases and almost every fabric-type. Also, steam irons are easier to use. Basic operations remain uniform for various types of steam iron. However, each model has its own features and specifications. So it's recommended that you carefully familiarize yourself with the instructions that come with your product.
Steps before you actually start ironing
Check the fabric tags for ironing instructions on a garment that you wish to iron. This is important for determining the ideal temperature during ironing. For example Acetate, rayon, silk, and wool need low-temperature settings, polyester need medium settings and cotton requires high setting.
Prepping the ironing area involves setting up an iron board if you have it. Otherwise, arrange some even surfaced sturdy support like table or platform that can absorb heat and moisture. Take care is should not be inflammable. You can also cover the iron board surface with aluminium foil so that garments get heat from the foil as well as steam iron.
Few steam irons come with separable water tank while some come with attached water reservoir area. Just make sure to use clean, filtered water without fabric conditioners. This prevents unnecessary stains and calcium build up in the water chamber.
Arrange to be ironed garment on a flat surface. Turn the items inside out prior to ironing depending on fabric( like rayon or silk) and dark shades. Placing a damp cloth between the wool item and the iron prevent wool from shrinking.
Gather some paperclips to hold on garments with pleats to achieve those crisp lines while pressing them.
Keep the hangers handy along with a proper place to arrange ironed clothes.
Ironing the Garments
Fill the water chamber just below a maximum level as suggested in product instructions. Clip the tank carefully with lid .If the water tank is removable place it back as per user manual steps by the manufacturer.
Plug the iron to heat it up. Remember it's vital that you choose an appropriate setting to get optimal temperature based on fabric. Few models have indicators that go off at desired temperature but it's always better to go from low to high.
Once the press/iron is hot turn on the steam mode. Move the iron on the garment as per its grain of the fabric. It's better to iron in up and down motion rather than circular. Iron releases steam automatically so keep the iron away from you to avoid any casualties.
Hold the iron firmly and iron individual parts of clothes like cuffs, collar, sleeves etc. Avoid placing iron plated directly on the cloth. Maintain iron plates hold that's just above the fabric. Make sure the cloth is slightly damp even when you finish ironing.
Smooth out the wrinkles on a particular spot by using spray function and then move iron with appropriate pressure. Iron over a damp section to flatten any wrinkles.
Hang the ironed fabric on a clothes hanger and leave it to air dry.
Unplug the iron and empty water carefully while it's still hot. Set the iron on heels away from the reach of children when you finish ironing. Let it cool completely, wrap the cord and place it away.
Ironing laundry is a quite dull chore. To make this non-glamorous chore bearable you can listen to your favourite music or watch a favourite TV show while you iron.
Hope this article helps you speed up the process.