When it comes to choosing a modern décor for our home, under no circumstances can we leave out the classic elements that have stood the test of time and existed from time immemorial. Yes, we are talking about the wooden tables; and as far as enhancing the appeal of your apartment is concerned, there is hardly any other constituent that can precede its brilliance and charm.
However, cleaning your wooden furniture daily isn't enough to comply with its norms of maintenance; thus, the only means to protect it is by covering its surface with some other material. When you are choosing a table topper, the last thing that you would want to do is hide its attractiveness under a heavily designed opaque cloth or dining mats; therefore, the only recourse you can resort to in this case is a glass table cover.
In the following section we will be elaborating our assertion with a string of reasons so that by the time you reach the end of this article, you know what suits your requirements the best.
How to put a glass tabletop to cover a wooden table?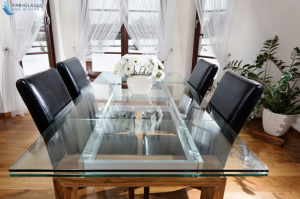 Whenever you are investing a generous chunk of your funds in procuring something, your instinct is to preserve its original luster and keep it as new-looking as possible and in case of a wooden table, a glass table top is an ultimate solution.
Coming to its installation, always have in mind that edging the glass table cover is as important as choosing the right thickness. For instance, a beveled edge can work perfectly to enhance the look of a long, low piece of wooden table or coffee tables.
Similarly, a seamed edge ideally eliminates the glaring sharpness around the corners and is appropriate for a situation where the edges aren't visible. Additionally, you also have a polished square edge and pencil edge to choose from with the former effortlessly furnishing a minimalist look and the latter makes the surface of the glass appear smoother.
Coming to picking the right size of the glass top, you should always be careful about the measurements so that the glass company can edge them to the right size. If you are still doubtful about the right dimensions, trace the sides of the table onto a paper template and then take it to the glass dealer to get the cover cut in the size of the surface. You can find right glass table top or cover according to your table base online.
Protection from water or any liquid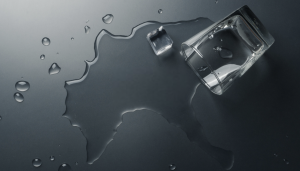 When wooden tables are laid bare without any cover, there is a string of issues that are welcomed by them. Firstly, if some liquid is spattered on its surface, removing it will make way for a lot of nuisance and secondly, even if the stubborn spot comes off, chances are that it will ruin the smoothness and color of the wooden surface thereby, wreaking the appeal of the table forever.
You'd not want the coffee from your favorite coffee maker to spill over your table and spoil it.
Nevertheless, maintaining a glass cover on your wooden table is incredibly easy and the best part about it lies in the fact that it sticks to the surface of the wood in such a way that there is no room for water or any liquid to seep in through any available space. Nevertheless, even if you accidentally spill any liquid on the cover, then here's how you can avoid or clean it.
Make certain that you are always placing coasters underneath the water bottles and glasses you are drinking the water or juice from.
Have a trivet on the table so that every time you are serving a hot meal, the mat protects the areas of the glass surface being used for dining.
Use a clean and dry piece of cloth to clean the liquid that has been spilled on to the glass surface. Additionally, to ensure further protection, you can simply rub off the entire tabletop once to safeguard it from any potential moisture damage.
Provides a shield against writing or drawing on the tabletop by your kids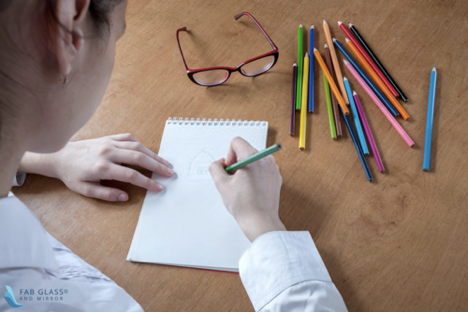 As an adult, we can understand how valuable and imperative the wooden tables are for us; but, one cannot always expect the children to spare the furniture from being used as the canvas that surfaces their creativity. For some reason, children find the wooden surface very intriguing and more often than not start carving letters and shapes either with sharp objects, pencils or even colors.
But, with a glass cover shielding the wooden surface, bid all your worries goodbye! The texture of the glass is such that it wouldn't let the marks delineated by a pencil or color stay on it. These days, there are several variants of glass covers available in the market that you can choose from; if you know that your child can possibly leave marks on the newly-obtained cover, then go for a scratch-proof glass that assures durability and integrity of quality.
How to clean the wooden table having glass on top?
Having a glass top on wooden furniture can really make your furniture stand out, until it is covered with fingerprints, food residue, or dust. But the positive thing is that getting your glass table top sparkly clean isn't really daunting task.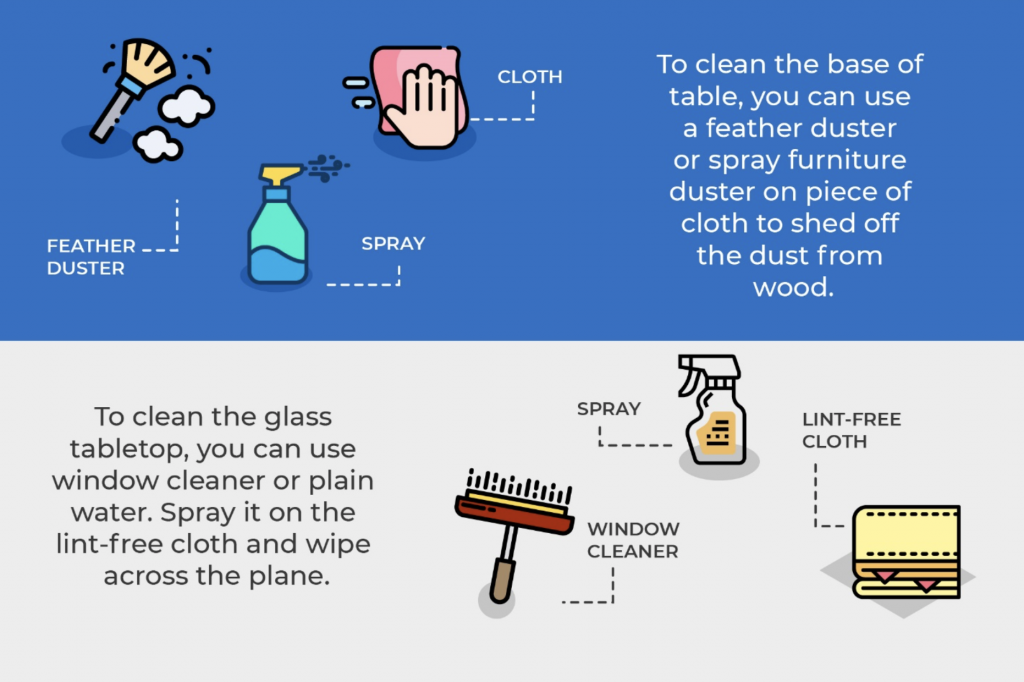 Get your glass tabletop sparkly clean by following these steps…
For the base: to clean the base of the table, you can use a feather duster or spray some furniture duster on a piece of cloth to shed off the dust from the wood. Nonetheless, keep away from wet fabric as it can lead to uneven cleansing and encourage the dust particles to settle in the spaces between the wood and its glass cover.
For the tabletop: everything works for the glass tabletop; from plain water to window cleaner, spray anything that is readily available on a lint-free, absorbent glass cleaning cloth (the ones made of microfiber) and wipe across the plane. However, if you want to go chemical-free, mix one tablespoon of distilled vinegar, with one-quarter water in a spray bottle and use it with a clean absorbent cloth to scrub the glass top.
Other advantages: protection with elegance
A glass top on a wooden table reduces the latter's vulnerability to stains, water rings, spills and wear & tear resulting from daily usage. Also, glass prevents UV rays from damaging the wood spread below it and, hence, increases its longevity by several years.
As mentioned earlier, wooden furniture complemented with a glass cover can complete any look you are aiming at. Moreover, glass renders a modern outlook to the room it has been placed in, which implies that you can keep your apartment stylish for several years even without any renovations.
Glass table covers are a superlative choice when you want to upgrade your existing furniture. if you have a small wooden table lying around for long, get it polished and install a glass top over it and see how it transforms the mien of the entire house when placed in the right corner.