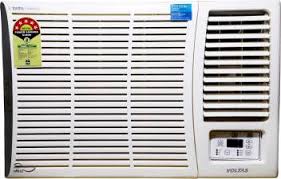 With every passing year, summer is getting worse than before, especially in India. The humid months of May to July can drain you out. AC's have almost become a necessity.
If you are particularly looking for a window AC, you have come to the right place. Before you invest the money, you need to do some basic research on the kind of ACs available in the market. There are several factors to look into when buying the best window AC in India, and it starts with size, power consumption, cooling capacity, inverter-powered, and star rating to save electricity bills etc. One of the benefits of a Window ACs it is compact and easy to install.
To make it easy for you, we have narrowed down the list to 6 best window ACs in India, considering various factors and key features.
6 Best Window ACs in India for 2021 – Reviews & Buyer's Guide
In this post, we're going to help you out by putting forth a list of the best options which you may consider in the budget category. The below-mentioned options are based on energy savings, star ratings, and the market reputation of the brand. So, scroll down and have a look at the six best window ACs in India.
1. Voltas 1.5 Ton 5 Star Window AC

This all-weather air conditioner provides comfort with high-ambient cooling, even at 50 degrees. Comes with multi-stage filtration and active dehumidifier, this Voltas AC creates a healthy and hygienic ambiance within the room. The 100% copper condenser coil makes sure this air conditioner is highly durable and delivers efficient cooling every time.
Features / Specifications
Eco Mode Available
Sleep Mode
Turbo Cooling
2 Stage Filtration Advantage
Self Diagnosis
Pros
5-Star Ratings
Auto-Restart, Timer, Sleep Mode, and Turbo Mode
Inbuilt Anti Dust Filter
Cons
Makes A Lot Of Noise
Not Suitable For Big Rooms
Planning to Buy This Model
Check Price on Amazon
2. Hitachi 1.5 Ton 3 Star Window AC

This AC is a one-stop cooling solution to not just too considerably lower your energy bills, but also keep you and your family cool & comfortable, even during the hot and humid summer days of North India. It comes with the auto-startup feature, and you are going to have a sound sleep. This Hitachi AC has a clean filter indicator that lets you know when you need to clean the filter. This Hitachi air conditioner has passed through 43 quality tests to ensure international standards.
Features / Specifications
100% Copper Condenser
Powerful Mode
Auto Climate Technology
Auto Fan Speed
Pros
3-Star Rating
Suitable For Medium-Sized Rooms
Easy Maintenance
Energy Efficient Cooling
Cons
Minor installation issues
Planning to Buy This Model
Check Price on Amazon
3. Blue Star 3WAE081YDF Window AC

This Blue Star air conditioner is carefully designed with in line with the harsh Indian weather all year round, as the highly-efficient rotary compressor provides ambient cooling. The Evaporator Fins ascertain that the water does not condensate, therefore significantly reducing the deposits of dust providing cool and healthy air. The sleep mode of this air conditioner varies the temperature in accordance with the indoor temperatures and adjusts the same accordingly, thereby keeping you comfortable throughout the night.
Features / Specifications
Economical & Easy To Install
Suitable For Small-Sized Rooms
Better Cooling and Require Low Maintenance
3-Star Rating
Pros
Cost-Efficient Buy.
Comfort Sleep Mode
It is Durable
Cons
Lacks in Terms of Dust Filters
Remote control Issues
Planning to Buy This Model
Check Price on Amazon
4. Whirlpool 1.5 Ton 5 Star Window AC

This 5-star rating 1.5-ton window AC senses the room temperature and adjust automatically to it, in order to ensure maximum savings. This latest MPFI technology of this window air conditioner coupled with the smart circuit and capillary design provides super-fast cooling and unmatched comfort. The sleep function of this AC lets you have a comfortable sleep as you won't have to switch off the air conditioner in the middle of the night.
Features / Specifications
5-Star Rating AC
Turbo Cool With MPFI Technology
6th Sense Energy Saving Technology
Requires Low Maintenance
Cool Even at 60 Degrees
Pros
High Energy Savings
5 Years on Compressor
Copper Cooling For Better Cooling
Self Diagnosis Ability
Cools Up to 27% Faster
Cons
No Anti-Dust Filters
Poor customer support
Planning to Buy This Model
Check Price on Amazon
5. Lloyd 1.5 Ton 5 Star Window AC

Power-packed with smart features, this Lloyd 1.5 window AC is powered by the BLDC motor to provide energy-efficient cooling during the summer months. The strong humidifier of this air conditioner regulates the humidity levels in the rooms for creating a perfectly comfortable environment. The 100% copper condenser assure long-term durability and less maintenance.
Features / Specifications
5-Star Energy Rating
Better and Energy-Efficient Cooling
Clean Air Filter
Self Diagnosis Function
Pros
Low Maintenance
BLDC Motor For Efficient Cooling
Cons
Only Suitable For Small Rooms
High Noise Levels
Planning to Buy This Model
Check Price on Amazon
6. LG 1.5 Ton 3 Star Window AC

100% copper with ocean black protection, this revolutionary window AC from LG is carefully designed for the Indian regions offering better cooling and deterring industrial smoke and pollutants to get into the room. The gold fin condenser of this window AC ensures the unbeatable of this AC. The 4-way air deflection provides pleasant, cool in all directions.
Features / Specifications
1.5 Ton AC
3-Star Rating AC
100% Copper Condenser
Gold Fin Condenser
4-Way Air Deflection
Pros
High Energy Savings
Better Cooling Even At Hot And Humid Summer of India
Dehumidifier
Anti-Bacterial Coating
Cons
Doesn't Have Anti Dust Filters
Planning to buy this model
Check Price on Amazon
Best Window ACs Buying Guide and Tips
Windows air conditioners are designed to quickly cool off any room while considerably lowering the energy bills. There are numerous factors to look at when buying a window AC, and in this guide we're going to help you out: –
Cooling Capacity
Whether you are investing in a window or split AC, the cooling capacity must be your priority. The cooling capacity value is measured in terms of British Thermal Units. For having better efficiency and cooling effectiveness, you must go with a BTU value that is specifically designed to line with your room.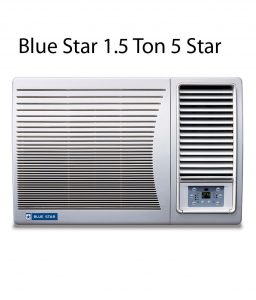 If you choose an air conditioner having a low BTC value, then it will consume more units of electricity to cool a bigger room. On the other hand, if the BTC value is too high, then it won't be able to properly cool and dehumidify the space evenly. Therefore, this contributes to forming hot and cold packages within the room.
Therefore calculate the size of the space before deciding on a Window AC. There is a proper chart to establish this relation; for instance, for cooling a room having the size of 100-150sq feet, get a window AC with 5,000 BTUs. On the other hand, for larger rooms 1,200 to 1,400 sq feet, a window AC having 23,000 BTUs is most suitable.

Installation
Most of the window air conditioners are carefully designed to fit inside the double-hung windows easily. However, there are certain window AC models that can be installed within any custom wall space with the use of special-purpose mounting hardware.
For windows installation, you need to note down the window frame dimensions and pay attention to the width of the AC. It would be best if you considered the max and min-width dimensions of the AC under the AC installation specifications. However, don't worry, if your window AC doesn't extend to fit the window frame exactly, as generally, window ACs have special installation kits.
For the wall installation of this window AC, make sure the model you are buying accommodates to the type of installation you want and have the appropriate installation kit.
Electrical Requirements
Window air conditioners are highly robust in comparison to any other home appliance, and you need to ascertain that your existing home electrical system meets the requirements. Most of the window ACs operate at 220 volts with a cooling capacity of 15000 BTCs. It is best if you talk to a highly experienced electrician to ensure that the electrical requirements for operating the AC are met.
Energy Efficiency

Generally, the windows ACs are powerful and cost-efficient than the central air conditioners. They are pocket-friendly-and if sized properly-the window ACs are easy to operate for the long-term. To gauge the energy efficiency of the window AC, you got to look at the two aspects of the product specification. One is the Energy Star Rating, and the other being the Energy Efficiency Ratio.
Conclusion
When searching for best window ACs, be sure that the unit you buy is in line with the size of the space that you need to cool and the electrical requirements before deciding on the model. Still, have questions regarding best window ACs in India? Share in the comment section of this blog post, and we will be glad to answer all your queries!