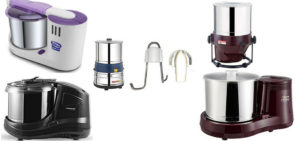 We know how a wet grinder is important in India: Each family who makes dosas, idlis or other Southern Indian dishes uses wet grinders. With that, this review article is divided into two parts. In the first part is where we gained a list of the best wet grinder models through comprehensive research amongst 100s of brands available online. We know this could greatly help in your search for the best model that is worth every penny you'll spend.
In the second part is where we provided a handy buying guide, a list of important tips, as well as the frequently asked questions that will help you get the most suitable wet grinder for your budget, needs, and preference.
7 Best Wet Grinders in India – Reviews
It is hard to pick amongst 100s of models out there. But because we've done the work for you, we were able to eliminate it to the best wet grinders you can choose from. We are sure you won't have any regrets getting any of the models listed below.
Just have your needs and wants list for a wet grinder handy now before you continue browsing on the list, so you can have your own checklist. Don't worry, as all of those will be ticked with a check mark and know just the one for you.
1. Butterfly Rhino 2-Liter Table Top Wet Grinder (Cherry)
This model is a combination of good design and durability. It has an aesthetically appealing body and color. At the same time, it is made of high-quality material. It is compact in size so very portable.
Features / Specifications
2 cylindrical stones
2-liter grinding capacity, stainless steel drum
Ventilator to regulate body heat
Easy Lock System
Transparent arm Lid
150 watts low power consumption motor
1300 RPM motor ensures faster and effective grinding
Less weight (11kg) and Compact size easy Handle
2 Liter capacity
5 Years Warranty
Pros
Low power Consumption motor
Detachable parts, making it easy to clean
Portable and Compact size
Safety lock system
Cons
A bit too noisy
Not high quality grinding output
Planning to buy this model?
2. Butterfly Rhino Plus 150-watt Wet Grinder (Grey)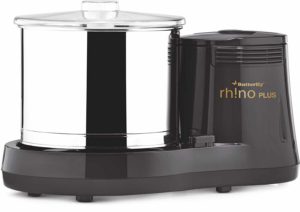 This model comes with good innovation, providing you with an enjoyable kitchen experience through its smart efficient technology. It is also compact enough perfect for small kitchens.
Features / Specifications
Body made of ABS Plastic which makes it shockproof and heat resistant.
Dough Kneader, a pack of 3 jars with an aesthetically designed big jar, mixer mate jar and a medium jar with polycarbonate lids.
With Coconut Scraper attachment
The motor is equipped with protection against malfunctioning due to either overload or overheating.
5 Years Warranty
2 Liter Capacity
900 RPM
Pros
ABS Body- The plastic is tough enough that it doesn't easily break
Unbreakable and transparent arm lid made of polycarbonate material
Detachable SS drum for easy operation
Lightweight
Outer plastic smooth enough so it is easy to maintain
Cons
High consumption of power
Takes too long to grind the batter
Planning to buy this model?
3. Elgi Ultra Grind+ Gold 2-Litre Table Top Wet Grinder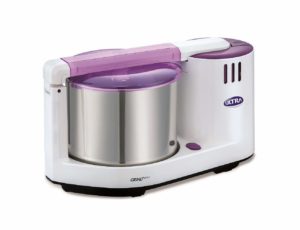 This is both the best choice for your family and your kitchen boasting with good quality ABS body, multi-utility drum, and its batter cleaner attachment, all adds delight to your cooking experience.
Features / Specifications
ABS Body material
Lightweight but durable
With sleek features that make your kitchen extra classy.
Ultra Grinders come equipped with AISI Stainless steel drums.
Its 150-Watt heavy duty motor is perfect for swift and even grinding. It keeps the pace steady and doesn't heat up the batter.
With 2 Patented Conical Stones
With motor overload protection
1350 RPM
2 Liters Capacity
5 Years Warranty
Pros
Conical grindstones, Fitted with a sturdy and durable motor
Noiseless and vibration free operation
Patented Conical grinding stones- which results in better batter output and less wear and tear of the stone
Spatula and Batter Cleaner attachments
Cons
Planning to buy this model?
4. Butterfly Matchless Pro 2-Litre Table Top Wet Grinder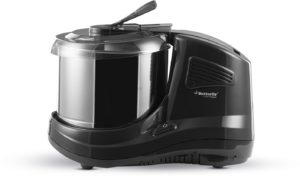 Aesthetically designed and made from high-quality ABS plastic, this 2-liter wet grinder helps you perform tough kitchen tasks, such as kneading a dough, with ease. And the output looks like a chef made it.
Features / Specifications
Made from shockproof ABS Plastic
Dough Kneader
Coconut scrapper

Sturdy single phase high torque motor

2 Liters capacity
3 Conical stones
4 Way grinding system
Aesthetically design, compact and lightweight
With a ventilator which prevents it from overheating
5 Years Warranty
900 RPM
Pros
With Coconut Grater and Atta Kneader attachments
Uniform grinding pressure
Detachable stainless steel drum
Easy to maintain and clean
Fast grinding
Cons
The handle is very delicate
Quality of lid not that good
Planning to buy this model?
5. Elgi Ultra Dura+ 1.25-Litre Wet Grinder (Purple)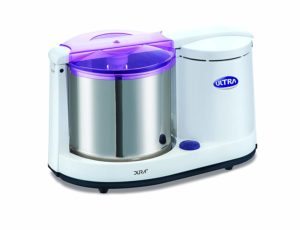 This model leads the revolution in compact table top wet grinders. Famed for its patented conical stones and its new generation digital timers, this boasts of its seamlessly blended convention and technology. On top of it is its very appealing design perfect for the modern kitchen.
Features / Specifications
AISI 304 stainless steel drum
2 Patented Conical Stones
1.25 Liter capacity
5 years warranty
1350 RPM
85 Watt heavy duty motor
Pros
Multi-utility drum
With spatula and batter cleaner
User-friendly
Easy to clean
Cons
Too small capacity
High priced for its specifications
Planning to buy this model?
6. Pigeon Platino 12726 2-Litre Wet Grinder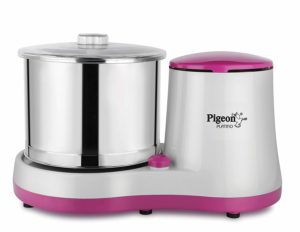 Unlike the other wet grinders, this has a body made of high-quality ABS material and comes in a convenient compact size making it very portable. This also comes in a very girly pink and white color perfect for the female homemakers.
Features / Specifications
Virgin ABS shockproof and rust proof body
2 Non-Absorbing, non-contamination stones
Double side ball bearing motor
Detachable stainless steel drum for easy operation
2 liters capacity
5 years Warranty
Pros
This wet grinder comes with a compact tabletop body
High quality grinding stones
Coconut scraper and kneader attachment.
It's quieter: The advanced interlocking mechanism ensures proper alignment of the roller shaft, reducing noise while grinding.
Unbreakable food grade polycarbonate lid
Cons
Low plastic body quality
Heating issues of the product
Planning to buy this model?
7. Elgi Ultra Perfect+ 2-Litre Wet Grinder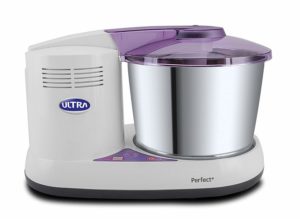 This cute looking wet grinder will have a large place in your heart and a small corner in your kitchen. Packed with features that are a perfect blend of health and taste, the highlights of Perfect+ include a digital timer, multi-utility drum.
Features / Specifications
2 Patented Conical Stones
AISI 304 Rust Resistant food-grade Stainless Steel for healthy food
2 Liter Capacity
With Electronic Timer with Buzzer, Beep alert and auto switch-off on preset grinding time
Powerful 150 Watts Motor for better grinding
ABS Body – Lighter Weight, Longer Life, and Great Looks
10 Years Warranty
1350 RPM
Pros
Dish Shaped Multi-utility drum
Grinds ingredients in the finest way
With Motor Overload Protection
Compact size
Cons
Slow to grind the batter
The body heats fast
Planning to buy this model?
You will have no worries about getting any of the product models listed above. These are the best in the market that's why.
Types of Wet Grinders
Before you can inch into your best wet grinder selection process, you need to know first its two common kinds that are used in Indian homes:
1. Table Top Wet Grinder
As the name suggests,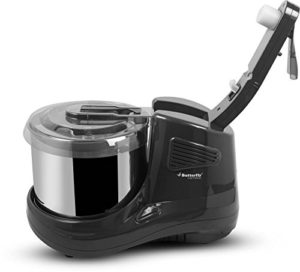 it is a type that is small enough to be used on a tabletop conveniently. It is made up of 2 to 3 conical or cylindrical shaped stones. The grinding drum is either made up of stone or stainless steel. This is very easy to use and lightweight so it is very portable as well.  This type is perfect for small families and those who intend to cook small amounts of wet batter regularly.
2. Tilting Wet Grinder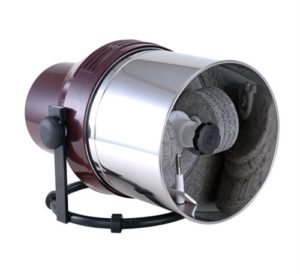 This is the type to go for if you are eyeing for convenience when it comes to grinding. The batter or the mixture can be easily collected as this can be tilted. The only inconvenience it can give is that, if it has a fixed drum, as it will be harder to clean. Some can even have dry ingredients grinding capabilities.
Now that you know which type would be perfect for your home, we can proceed with the things you need to keep in mind before buying wet grinders.
Best Wet Grinders Buying Guide
Here are the things you need to check before buying the best wet grinder for you:
1. Motor
Motor's technical specifications are important. If the motor's power is greater, then the grinding procedure will be faster. So choose what fits your cooking pace.
2. Drum Capacity
You'll have to select the right drum capacity depending on the number of your family members. Small families may use the 1.25L model, while a medium or large families need either the 1.5L or 2L model.
3. Number and Types of Grinding Stone/s
Wet grinders are basically designed for having 2-3 grinding stones. However, 3 stoned grinders are high performing and are faster. For the stone type, granites are the ones used in conventional wet grinders. Conical shaped stones, on the other hand, are the most efficient.
4. Design and Aesthetics
There are various colors and designs available. If you're conscious about design and aesthetics, you can then choose based on your preference and how it can perfectly blend in with your kitchen's design.
5. Maintenance Efficiency
Ease of maintenance is one of the essentials when choosing a wet grinder. Homemakers prefer wet grinders with parts that can be easily cleaned besides its durability.
6. Features
Because homemakers always look for what will be their perfect wet grinder partner in their kitchen, features such as if it can be tilted, if it has overload protection and if it has free extra attachments are given great consideration. Just make sure you will really need these features, as you know an added feature is equivalent to an additional cost in a way.
Those are just six guidelines, it will be easier to put it all to heart and have fun in your selection process.
Frequently Asked Questions:
Here are the top questions buyers and even users of wet grinders usually ask that are relevant for them to maximize the use of their units.
1. Do you need to order the atta kneader and coconut scrapper separately or is it part of the same package?
No, you don't need to if you don't think you will need those. For some models, these are already included.
2. Which one is better, a granite or synthetic stone?
The Granite stone is more effective than synthetic stones. The reason why conical granite stones are faster to grind any batter.
3. What does RPM stand for?
RPM means Revolution or Rotation per Minute. This states how fast the wet grinder's work.
These FAQs are just a few of the things you need to know but the tips below are what you truly need to keep in mind.
Wet Grinder Buying Tips
To wrap things up, here are the things you need to keep in mind when buying the best wet grinder for you:
1. Drum Material
A stainless drum will save you money because it is durable and has a longer lifespan. You also need to consider the size: the bigger the drum the more output it can make. The output of your chosen wet grinder must be enough for the size of your household.
2. Capacity
We have 1.25-liter, 1.5-liter, and 2-liter wet grinder capacity. Choose what's perfect for your household size. The most popular size is the 2 liters.
3. Power Consumption
Knowing the appliance's power consumption is very important for you to know how much electricity it consumes and which ones will help you save some of it. Always go for the energy saver as it will save you money in the long run.
4. Maintenance
Is it easy to use and maintain or not? These are the things you also need to consider as you intend to use it for a longer term. The wet grinder must provide great ease of use and maintenance for you as a homemaker.
5. Warranty
Always know the coverage indicated in the warranty. This is always indicated in the user manual. The longer the warranty period the better.
That's all the tips you need to keep in mind while going through your wet grinder selection.
We know you did enjoy this review as much as we did doing it. Always go for the best wet grinder that perfectly fits your needs and wants after considering all the things we said above. Have a happy shopping experience, guys!
Wet Grinder Maintenance Tips
Here's a video that will be very useful for you after you have bought that best wet grinder for you!
https://www.youtube.com/watch?v=I4VY_pQlS_4