Laundry work is both time-consuming and stressful. It is no fun task. And time is money. With the advent of innovative technology, you shouldn't be wasting valuable time washing your clothes. Leave that for the best washing machines.
Talking about the best washing machines in India, knowing the right one for you can be challenging. There are thousands of washing machines on the Indian market and take it from us, many are truly beautiful junks! You can't take the risk and purchase anything on the market – the odds of getting a genuine washing machine this way is never in your favor. You don't want your hard earned money going down the drain, do you?
With a lot of washing machines having different capacities, size, and other additional attributes, knowing the one that matches your needs can be a problem. Don't get me started on those product descriptions on several e-commerce sites; much of those claims have turned out false. This is why we decided to put together this review for you – to assist you to make the right call without bias.
You will see the list of the ten best washing machine models in the first part. In the second part are important details such as the Best Brands, Buying Guide, FAQs, Buying Tips, and other helpful info. Enjoy!
10 Best Washing Machines in India – Reviews
In this section, we will take a look at some of the best washing machines available on the Indian market and what makes them thick. If there is anything we have learned from the Internet, especially e-commerce, it is that things are not always what they seem. This review segment is aimed at taking an in-depth look at these washing machines through our discerning eyes. Let's get started!
1. Samsung 6.2 kg Fully-Automatic Top Load Washing Machine (WA62M4100HY/TL, Imperial Silver)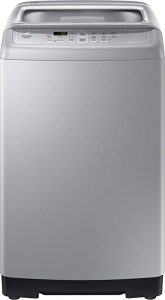 This washing machine from the stable of the electronics giant, Samsung, has the typical attributes of a top loading washing machine. Its use of an impressive filter, a distinct drum build, and an eco-friendly approach to ensuring the machine stay clean are some of the many features of this Samsung washing machine which puts it at the top of the pecking order. But the unit remains haunted by a few significant drawbacks considered below.
Specifications
It has a carrying capacity of 6.20kg
Filtering action
Eco-clean course
Tempered glass cover
Monsoon friendly air drying option
Child lock
Auto-restart
Smart operation
Pros
Durable product
Relatively affordable
2-year warranty product
Optimal functionality
Aesthetics isn't bad
Near noiseless operation
Cons
The motor could be better
Consumes a significant amount of water
Installation is challenging
Occurrences of tangled clothes are much more frequent
Operation time is slower than expected
Planning to buy this model?
2. Haier 5.8 kg Fully-Automatic Top Loading Washing Machine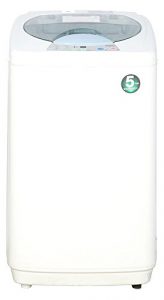 The Haier brand is relatively popular in India, and their fully automatic top loading machine has several attributes up its sleeve. Its modest capacity, faster spin speed and other interesting specifications highlighter below put this washing machine on this list.
Specifications
8 L drum capacity
A spin speed of up to 1000rpm
Multi-segment display
Quick wash
Quadra flow pulsator
Plastic outer body
Memory function
Child lock
Fuzzy logic
Pros
Affordable appliance
Its memory function ensures it continues the washing process during a power outage
Compact design
Fast operation
1-year warranty service
Cons
It lacks a lot of innovative features
Its drum size means it is not suitable for a regular Indian household
Installation is a major headache
Planning to get this model?
3. Bosch 7 kg Fully Automatic Front Load Washing Machine with In-built Heater Silver (WAK24168IN)
Another product worth a mention on this best washing machines review is this Bosch product. With its higher spin speed, a significant number of washing options, and its stain steel drum, you can't help considering the front loading washing machine.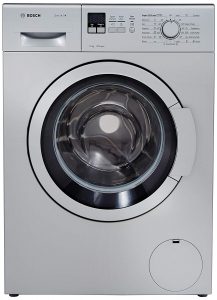 Specifications
7.0 Liter drum capacity
15 washing programs
Stainless drum
Active water plus technology
Antivibration design
Variodrum setting
Child lock
Low water pressure
Water filter
Volt check
Drum clean
Reload function
Pros
Water conservative appliance
Near noiseless operation
Useful washing programs
Compatible with a sizeable household
Power saver
It doesn't consume a lot of detergents
Fast operation which can be adjusted
Cons
The installation process takes time
Design issues
Expensive
Planning on buying this model?
4. LG 6.2 kg Fully-Automatic Top Loading Washing Machine (T7281NDDLG/ T7288NDDLG/GD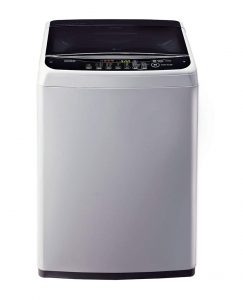 The 'Life's Good' slogan might have become famous, but is this LG any good? Well, if it wasn't, we wouldn't consider it in this review. The appliance has several washing modes, distinct smart functions and appears well built. Here is a look at some of its features:
Specifications
Smart diagnosis
Auto restart
Child lock
Plastic drum
Turbo drum washing mode
Air dry
Pros
Decent array of washing programs
Smart appliance
Near noiseless operation
Saves you money on your electricity bill
Cons
Air dry is a sham
Built is prone to deterioration – plastic top and drum
Washing operation is not exactly automatic as claimed
Spin speed is rather poor.
Planning on buying this model?
5. Whirlpool 7 kg Semi-Automatic Top Loading Washing Machine (Superb Atom 70S)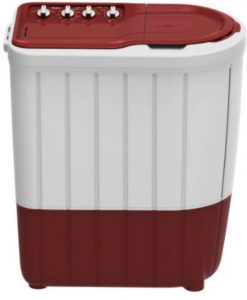 Besides being affordable, this Whirlpool washing machine appliance packs a punch. Its tremendous spin speed, sizeable drum capacity and an array of smart functions would endear the appliance to a moderately sized household. Below are some of the attributes that make this washing machine stand out:
Specifications
340W motor
Super Soak technology
0 L drum capacity
Lint collector
In-built scrubber
Memory function
Smart Scrub station
Pros
Fast operation
Enhanced washing functions
Decent load capacity
Noise level is quite low
Affordable
Cons
Mostly plastic parts mean its durability cannot be trusted
The semi-automatic process is stressful
Design flaws
Planning on buying this model?
6. LG 6.5 kg Semi-Automatic Top Loading Washing Machine (P7550R3FA)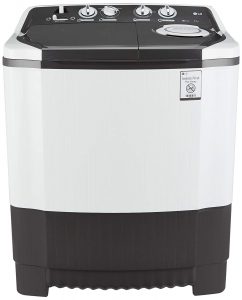 This semi-automatic top loading machine appears to have a higher spin speed than the previous LG appliance considered in this review, and it is more affordable too. While its washing programs are relatively few when compared to many others, its drum size and spin speed could atone to an extent for this flaw. Below are some of its specifications:
Specifications
The spin speed of 1300 rpm
3 washing options
Roller jet pulsator
Air dry
Collar scrub function
Lint collector
Rat away technology
Pros
Power saving appliance
Fast operation
Affordable
Cons
Design errors, like the narrow water inlet channel
It is not very durable
Noisy operation
Few washing modes
Planning on buying this model?
7. Bosch 6 kg Fully-Automatic Front Loading Washing Machine (WAB16060IN)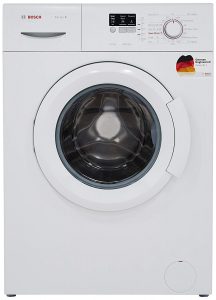 While its price might appear steep, this Bosch front loading washing machine has more strengths than weaknesses. Its build, alone, inspires confidence in any potential buyer. Its fully automated operation is something you would expect in a device this expensive. Below are some of its specifications:
Specifications
30 washing programs
700rpm spin speed
6L drum capacity
Pros
Water conservative machine
Near noiseless operation
Excellent build
Automated functionality
Cons
Drum capacity is rather low
The digital display is lacking
A rather slow operation speed
Expensive
Planning to buy this model?
8. IFB 6.5 kg Fully-Automatic Top Loading Washing Machine (TL-RDW 6.5kg Aqua, Ivory White)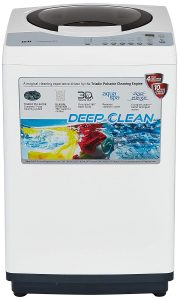 This automatic top loading washing machine has a myriad of attributes that you would find interesting. While the 8 washing programs have nothing on the Bosch highlighted earlier, it still delivers clean clothes which is what is expected of a washing machine.
Specifications
5 l drum capacity
720 rpm spin speed
8 washing modes
LED display
Smart sense technology
Child lock
Pros
Works fine
Decent array of washing function
Modest load capacity
Cons
Design flaws
Durability isn't assured
Installation is a minefield
Planning to buy this model?
9. Bosch 6.5 Kg Fully-Automatic Top Loading Washing Machine (WOE654W0IN, White)
Don't think it is an all Bosch review, but when you consider the products on the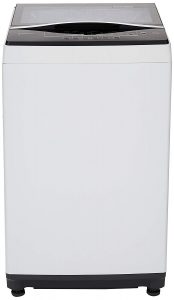 Indian market, you'd understand why the brand makes a significant number of appearances on this review. Also, unlike the previous Bosch washing machines considered, this one is a top loading unit. Below are some of its attributes:
Specifications
Toughened glass top cover
Smart control panel
5 L Drum capacity
680 rpm spin speed
Steel drum
Dual dispenser
Power wave washing mode
Child lock
One touch start
Pros
A useful array of washing modes
Efficient washing operation
Sturdy build quality
Noise level is low
Fully automatic operation
Durable steel drum
Cons
Spare parts are expensive
Installation and customer service are rather poor
Confusing to use without the demo – which appears difficult to get
Planning to buy this model?
10. LG 7.5 kg Semi-Automatic Top Loading Washing Machine (P8541R3SA, Burgundy)
This semi-automatic washing machine from LG has ample drum space and an impressive spin speed in its favor. While convenience might not be considered the strength of a semi automatic top loading machine, this one is bound to minimize the stress through some remarkable attributes.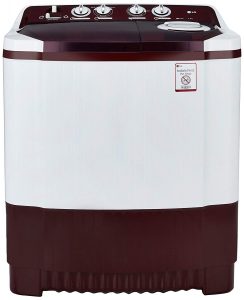 Specifications
1400 rpm spin speed
5 L drum capacity
Lint filter
3 different washing modes
Collar scrubber
LG's rat away technology
Pros
Fast operation
Impressive drying speed
Decent washing capability
Affordable appliance
Can take more clothes than many similar washing machines
Cons
Design flaws
The plastic build isn't durable
Planning to buy this model?
Having assessed some decent washing machines on the Indian market, it is time to look at some of the best washing machine brands in India.
Best Washing Machine Brands in India
It becomes easy to make a decision on which washing machine to buy if you know about and can trust the brand you're buying for and it's quality and after sales services. Here are some of the best brands of washing machines in India (in no particular order) with their brief information.
Haier
Haier is a Chinese group with its headquarters in Qingdao, Japan and was introduced in 1984 which is 33 years ago. You can click on the below link to view some washing machines of Haier. The manufacturing products include air conditioner, air coolers, water heaters, washing machines etc. The Haier is the best selling brand in this category and was reported to be the highest manufacturer of white goods in 2004. You can click on the below link to view some washing machines of Haier.
Bosch
It is the largest automobile parts manufacturing company measured in 2011. The headquarters of Bosch is at Gerlingen, near Stuttgart, Germany on November 15, 1886. Volkmar Denner is the CEO of the company. The core manufacturing products are automobile parts like brakes, fuel systems etc. The Bosch machines are the best sellers in this category. You can click on the below link to view some washing machines of Bosch.
Hyundai
Hyundai is a multinational company with its headquarters in Seol, South Korea. It was founded by Chung Ju-Yung. in 1947. Hyundai is today fragmented to various parts and Hyundai Motors is the most common of them all. They have industries in manufacturing electronics, tourism, home appliances etc. You can click on the below link to view some washing machines of Hyundai.
LG
The LG group was founded in 5th January 1947 and has its headquarters in LG twin towers, Seoul by Koo in-Hwoi. LG has its industry in electronics, chemicals, and telecom products. LG has become an important brand in India and has earned a lot of consumers because of its after-sales services. You can click on the below link to view some washing machines of LG.
IFB
IFB Home Appliances was set up in Goa in 1974 and has provided and manufactured various home appliances for almost four decades. All kinds of appliances like washing machines, microwave ovens, dishwashers etc are provided by this group. IFB washing machines are the best in the category of technology and come with all modern technology required in a washing machine. You can click on the below link to view some washing machines of IFB.
SAMSUNG
It is a multi-national group and was founded on 1 March 1938 by Lee Buyong Chul and it includes food processing, textiles, insurance, securities, retails etc. Samsung has become an important brand in the field of home appliance and also guarantees quality and product efficiency. The Samsung brand is a mother brand of all home appliances and also assures about the quality and service. You can click on the below link to view some washing machines of SAMSUNG.
Whirlpool
Whirlpool was founded on Nov 11, 1911, and has its headquarters in Benton Harbor, Michigan by Louis Upton. It is the world's largest appliance maker and is engaged in manufacturing home appliances like washing machines, television, air conditioners, etc. Whirlpool washing machines come with trendy designs especially in attractive colors like white and grey. They have a great market reputation. You can click on the below link to view some washing machines of WHIRLPOOL.
Now that we already have the best washing machine models and brands in India, let's now proceed to the different types of washing machines.
Types of Washing Machines
Knowledge of the different types currently available in the market will definitely help our cause. Below you'll find the different types of washing machines and also list of top models that we've reviewed for each type.
Following are the types of washing machines based on the position of door: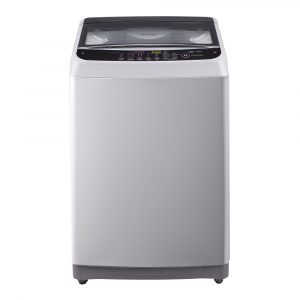 1. Top Load Washing Machines
Pardon our being Captain Obvious, but clothes are inserted into the machine from the top. To ensure the efficiency of the washing process, there is a transparent cover at this rear end of the machine. Usually, this type of machine saves you the effort of bending over just to load the machine with clothes.
Read: Best Top Load Washing Machines in India
2. Front Load Washing Machines
Unlike the top loading variety, this type of washing machine has the aperture for loading clothes in front. If you settle for this, you will always have to bend over to load the machine with clothes. Despite this seemingly negative attribute about the front loading machine, their consumption of resources is much lower compared to the top loading type.
Read: Best Front Load Washing Machines in India
Also, washing machines can be categorized into several categories based on their distinct compartments and operations, and this includes: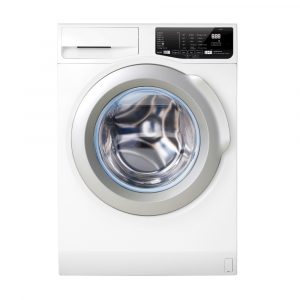 1. Semi-automatic washing machines
They have two distinct compartments with different controls. With the washing compartment, you load your clothes through the top with the right amount of water and detergent and set the control of the unit accordingly. The drier of this type of washing machine is done within a separate compartment which requires you to move the cloth into the vessel yourself and utilize the settings judiciously. While this gives you the opportunity to sundry, so you avoid adding more electricity cost, the lack of a unified automated process with this type of top loading machine isn't exactly endearing.
Read: Best Semi-automatic Washing Machines in India
2. Fully Automatic Washing Machines
With this type of washing machine, you don't have to adjust any setting on the unit. Just turn on the device, load the clothes through the top, and add enough water & detergent while the machine handles the rest. The automatic top loading machine has just one compartment for washing, rinsing and drying, so you might have to be cautious about the kind of clothes you are loading at once. There is a storage space where more detergent can be added to ensure the process go smoothly.
With the types of washing machines out of the way, let's look at some salient things to remember prior to purchasing a washing machine.
Read: Best Fully-automatic Washing Machines in India
Best Washing Machines Buying Guide
While the best washing machines might have so much working for them, buying a washing machine goes beyond looking at what you can get, but what fits your need. Below are some of the things you want to remember before you swipe your payment card:
Size
When picking a washing machine, size matters. With these units coming in different sizes, you don't want something that would take up the available space in your home – you are not running a laundry service. If you have space challenges, you will need to assess the washing machine that would fit in. Usually, the front loading type is much more compact and can be reconfigured to reduce the amount of space the unit uses.
Load capacity
The load capacity of a washing machine is judged by its drum size. The higher the drum size, the higher the number of clothes the washing machine can take. Your household size would decide if a drum size is a good fit or not. The average drum size could fall within 4 – 6 cubic feet and depending on how often you want to do the laundry, this could either be rather discomforting or satisfactory; so just pick a washing machine with the right drum size for you. Take caution when picking a top loader that uses an agitator, that singular addition takes a significant percentage of the space in the drum.
Compartment material
If you want a washing machine that would last, you have to look at the type of material used to make the compartment. While a stain steel compartment is quite durable, machines with such are bound to be expensive. Low budget washing machines usually have porcelain enamel or plastic compartments.
Water source
Washing machines might depend on water for their operations, but the front loading type takes the cake for those that use the most water. If an uninterrupted water supply is a problem for you, just avoid the front loader else it becomes just another piece of furniture in your home.
Spin Speed
The speed of the operation of a washing machine especially the drying segment depends on its spin speed. If you are looking at putting on your clothes immediately after washing them, you should look at the spin speed of each unit.
Dryers
While some washing machines don't have an inbuilt dryer, others do. This would save you the space required to have a secondary dryer and the risk of depending on the sun.
With the buying guide for choosing the right washing machine treated adequately, let's take a look at the questions others have been asking regarding washing machines.
Frequently Asked Questions about Washing Machines
Before we go on to take in some of the questions and answers common with washing machine users in India, it is important to understand FAQs on this subject matter would assist you in the purchase of a decent washing machine.
Is a front loading washing machine better than a top loading washing machine?
While the word to use wouldn't be 'better' as this varies with product & brand, front-loading washing machines have proved to be more efficient than the top loading variant. In the long-term, they would save you tremendous resources.
What is the number of clothes I should put into the washing machine?
The trick is to put the clothes loosely into the drum without forcing it as the appliance needs to move water around the fabric. Remember to select the kind of clothes carefully to avoid ruining the delicate ones.
Do washing machines work fine with salt water?
This depends on the washing machine. Some washing machines require you to install a softener while a few don't demand such. Just be sure to read the manual of the machine before you use hard water in the machine.
I heard some washing machines use a direct drive motor while others use a belt drive motor, what is the difference?
Washing machines with direct drive motors are faster while producing less noise and minimal vibration, but they are expensive and breakdown sooner. Belt drive motors are cheaper and last longer, but they are not as efficient as the direct drive motors.
What is fuzzy logic?
The programming of a washing machine to automatically analyze the fabric of the clothes loaded into the machine and decide the right amount of water, detergent, and temperature required for the washing task. With a washing machine equipped with fuzzy logic, you don't have to apply any settings. The machine decides the speed of the washing process and how long it should take.
With some of the questions commonly asked by buyers and users highlighted above, let's move on to some buying tips.
Washing Machine Buying Tips
To help you to make the right decision regarding the purchase of one of the best washing machines available on the market, here are some tips to remember when buying appliances of this kind.
Picture your home with this appliance
The nature of your home would be decisive on what you should opt for. If space is an issue, a front load is recommended. Water supply and the number of people that would use the machine are also factors that could sway your decision. Front loading washing machines are more efficient savers compared to the top loaders.
Features matter; choose them wisely
The features available will depend on the product. If you want to wear your clothes as soon as you wash them, washing machines that operate faster and dry faster should be in your sight. If you are looking at a picking a durable appliance, then consider the drum and motor makeup.
Your budget is important
As with most things, owning a washing machine doesn't come cheap. You will have to set aside a decent sum to own one. And as these appliances vary in cost, you need to opt for one that matches your financial capacity.
With some buying tips outlined above, it is time to say our goodbyes.
Conclusion
Washing machines might have evolved over time, but the market hasn't changed a lot. Junks abound, and this piece was geared at putting together the best washing machines available on the market. Hopefully, it helped you immensely in this regard.