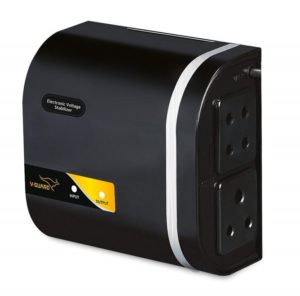 Voltage Stabilizers are important for your home's proper power management. Choosing the best stabilizer for ACs and TVs and other appliances can be difficult.
With 100s of best stabilizer models and brands available in the market, it can be a rigorous task to find one that fits your home requirement. But worry no more, because we have listed the best stabilizers for your home. You'll be surprised how the selection process can be as easy as 1,2,3.
This thorough review is generally divided into two parts: the first one tackling on the 5 best stabilizer models; while the second one discussing the best buying tips, buying guide, frequently asked questions and other helpful relevant info.
5 Best Stabilizers for ACs and TVs in India – Reviews
Now let's go through the top stabilizers that we've found after our search through hundreds of stabilizer models present in the market. You wouldn't go wrong choosing among any of these. Here are the best stabilizers based on usage and relevant reviews:
The 1st, 4th and 5th are best for small appliances like TVs but the rest 2 are best stabilizer for ACs.
1. V-Guard Mini Crystal Voltage Stabilizer for up to 32 inch TV (90 – 290 V) (Black)

The voltage stabilizer best for your 32 inch TV and more! It is also compatible with a wide range of devices, such as your DVD players and DTH set-top boxes. It may look small but it is durable and looks more premium in design.
Features / Specifications
It has Output voltage correction which makes it efficient in a wide range of input values.
It has an air conditioning balance time with an intelligent time delay.
It can easily stabilize the voltage up to 1.3 Amps, with voltage variations from 90 to 290 V. It has a 290 V input high voltage cut off value.
Has built-in thermal protection.
Pros
A wide range of useful features
Long lasting & Durable as it is made of ABS construction
Easily mountable in walls and floors
3 Years V-Guard India Domestic Warranty
Small and Compact
Cons
Very small space for in-between plug points
Packaging is of low quality
Price is a bit high
Cable quality is average
Many reports of defective/damaged units
Planning to buy this model?
2. V-Guard VG 500 Voltage Stabilizer for AC up to 2 Ton (170 – 270 V) (Grey)

This is just the product everyone is looking for when it comes to a higher voltage capacity for their air conditioner. This is suitable for 1 Air Conditioner up to 2 Ton. Its grey color makes it more superior in design. This is also one of the best stabilizers for ACs.
Features / Specifications
Built-in thermal overload protection
Operating Voltage range (Input): 170-270 volts, the product will cut-off outside this voltage range
3 years Warranty on the product
Made with ITDS Technology & HMC Technology
The initial time delay system
Low and High voltage cut-off protection
Pros
Handles voltage fluctuations well
Durable
Easily mountable
Cons
No IP/OP voltage display
Bad packaging
Limited voltage input capacity
Limited voltage capacity
Planning to buy this model?
3. Monitor 4-KVA Wall Mountable Voltage Stabilizer For 1.5 Ton AC (100% Copper)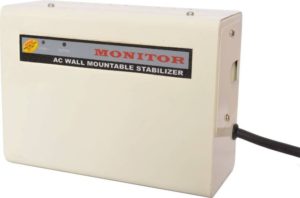 This voltage stabilizer is only suitable for 1 Air Conditioner up to 1.5 Ton. This white unit is the perfect combination of sleek, compact and easy to install design. This has been a favorite product for people looking for the safety of their air conditioning device. This is one of the best stabilizers for ACs.
 Features / Specifications
100% Copper Winding transformer

Power Saving
Better Conductor
Better Power Factor

Operating Voltage range (Input): 170-270 V
5 – Year Replacement Warranty
High Voltage Cut-Off Protection
Pros
Compact & Elegant Design
Easy to install/mount
Good value for money
Good performance for AC
Cons
Warranty only available in limited areas
Issues with voltage fluctuations (low voltage)
Planning to buy this model?
4. V-Guard TV Stabilizer Crystal Plus Smart (3 Ampier) for LED/3D/Smart TV Up to 47 inch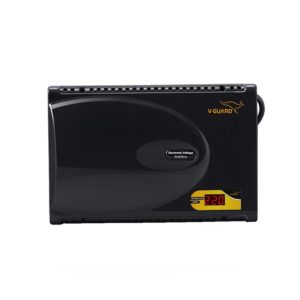 This classy black stabilizer is packed with a lot of features buyers are looking for. It also boasts of its wide input range besides its durable cabinet that can be easily mounted on walls.
Features / Specifications
Suited for Smart, 3D, LED, LCD TV up to 47 inches plus HD or SD, set-top box, home theater system, gaming console and Blu-Ray player (total load of 3 Amp)
Seven segments of digital display
Working Range: 90 – 290 V
3 years warranty on the product
With Smart Voltage Correction Technology
Digital Micro-Controlled Operation
Protection Mechanism

Low and high voltage cut-off
Built-in thermal overload protection
Spike protection
Short circuit protection
Pros
Slim, Compact, Light Weight
Good Voltage Display in LED
Wall mount facility is available
Packed with features
Cons
Plastic material looks cheap
Quality of socket assembly is not good
Planning to buy this model?
5. V-Guard TV Stabilizer Mini Crystal Supreme (1.3 Amps) For 32 Inch Television (Black)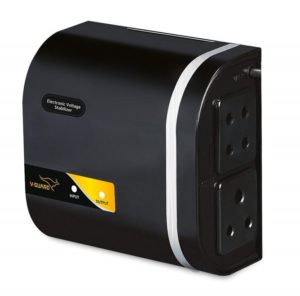 This is a voltage stabilizer with an elegant and refreshing compact design. Its user-friendly LED indicator is everyone's favorite feature of this product. It may look small but it is not small when it comes to its features.
Features / Specifications
Suitable for 1 unit of Television up to 32″ and 1 unit of Set-top box, (Total capacity of 1.3 Amp)
Working range: 90 – 290 V
3 years Product Warranty
Short circuit protection
LED Status indication
Pros
Compact & Elegant Design
Good packaging
The good Time Delay system
Easy to mount
Does not heat up
Lightweight
Cons
The product is different from the image in packaging
A bit high priced
Has some voltage fluctuations issues raised
The wire is too short
No on/off switch
Planning to buy this model?
There you go with the 5 best stabilizers for ACs and TVs and other appliances you to choose from! You'll never go wrong with any of these.
Why do you need Stabilizers?
Stabilizers can be compared to human anatomy. As our body must maintain a normal temperature to be in good condition, otherwise it can put us in grave health risks. That's just the same with a home without a stabilizer. In most places in India, the electrical supply is not even, which can lead to inefficient power consumption by the electrical appliances, in turn, causing damage to the electrical devices or worse, some electrical safety issues like a short circuit.
It's important to look for an appropriate stabilizer so you don't end up buying the wrong one and lose money or bring damage to your expensive devices at home. So quality shouldn't be compromised.
With that, let's look into the types of Stabilizers:
Types of Stabilizers
Knowing the different types of Stabilizers would be very useful in choosing the best stabilizer, as it must be the most suitable for your equipment.
1. Relay Type Voltage Stabilizers
As it was named, this type of voltage is being stabilized through switching relays. As soon as the unit detects a rise or fall in the input supply beyond the reference value, it switches the linked relay to join the required tapping for the buck/boost function.
These types are commonly used for low power rating appliances such as those for home use.
2. Servo-based Voltage Stabilizers
It is through the use of a servo motor where the voltage is being regulated. This works through a closed loop system by comparing input and output signals. To put it simply, this type has high precision on its stabilized output and very flexible in the random influx of currents, which also means that it's highly reliable. But as this is made of a motor scheme, periodic maintenance is required. This is not commonly used in homes.
3. Static Voltage Stabilizers
The voltage is stabilized through a Power Electronic Converter Circuit. This has no moving parts compared to that of the servo type. It can produce more accurate voltage regulation. This is also very popular than servo types as it has no maintenance and is highly efficient.
Now that we discussed the different types of stabilizers, let's talk about the important things you need to note when buying stabilizers.
Buying Guide to find the Best Stabilizers for ACs
Before purchasing the best stabilizer for your home, here are some easy guidelines for you to consider:
1. Power Supply in the Area
You should know the voltage fluctuations and power variations in your locality. Through this, you can gauge which type of stabilizer you will be needing. Choose the one that will be suitable for the voltage fluctuations in your area. Information regarding this range is readily available in the product description or the user's manual. You may want to consult with an electrician for this part.
2. Current Rating of the Equipment
You need to note the power rating or voltage of the devices you intend to protect with the stabilizer- these are usually measured in KW, KVA or in Amps. The compatibility of these two is important for the safety and efficiency of your devices so this should be a priority.
The power rating (KW, KVA or Amps) should match the input requirement of the stabilizer you are getting.
3. Relevant Features
Indicators:  Common models just show an indicator when it is on, while advanced ones have a display of the voltage that is being regulated. New models coming out now are even with LED enabled indicators.
Time Delay Systems: It is a safety feature so that the built-in compressor gets enough time to balance the current flow when the power is cut in short duration. This could give you peace of mind and worry-free use of the stabilizer.
Thermal Overload Protection: It switches the stabilizer output off in case a short circuit or any kind of overload burn-out occurs. This is a feature everyone looks out for as it not only diminishes safety risks but can even 100% prevent it.
Warranty Period: Longer warranty periods mean longer peace of mind for your stabilizer's efficiency to be maintained. It will both save you time and money in the long run.
Mounting: As stabilizers work with electric current, it is important to put it in an area free of wet, damaged or unsafe surfaces. Also a place safe from your family especially your small children, to avoid the risk of electric shock. This is the reason why it can be mounted at a higher area/place.
Digital Features: Digitization of stabilizers makes them more accurate and highly adaptable to a variety of devices. These latest models have shifters depending on the device it will regulate. This will not just add on its appeal but also on its convenience of use. So for some, it wouldn't hurt for them to get a model with this feature.
Taking note of all the things listed above will prevent you from having any regrets on not obtaining the stabilizer that you truly need for the long run.
Frequently Asked Questions about Stabilizers
Here are the usual and most relevant questions buyers ask. For sure, you'll be asking or encountering any of these too:
1. Is a particular stabilizer just useful for the specific device it is said to be suitable?
No. It can be used on any device, as long as it is within the voltage capacity of the stabilizer. But some stabilizers are solely for specific appliance only, such as those strictly for air conditioning. Therefore, be sure to read the user manual for complete details.
2. Will the stabilizer still work even if it isn't mounted?
Yes. It is just a recommendation for safety that it should be mounted.
3. What if our voltage at home does not fit the voltage range indicated in the product? Will it still work?
No. It will just work on the range provided. See user manual for complete information.
4. Which is the better stabilizer? The one with aluminum or the one with copper wiring?
Copper wiring is better. It has more benefits than that of aluminum, especially because of its efficiency, durability, and reliability with its function.
If you have any other questions, it is always best to go for the brand's customer service or the user manual indicated with the product.
Best Stabilizer Buying Tips
These are the final details you need to take note before getting the best stabilizer for your home.
1. Calculation is key
You need to calculate the total power that is being consumed by the plugged appliance when connected to the stabilizer. With this, you have a reference if the stabilizer would be a perfect fit for your intended appliance. You can choose amongst available models that are fitting in your requirement.
You can check on the power rating of the appliance, usually in KW, KVA or in Amps.
2. Time Delay System
Many buyers miss out the importance of this. It can equate on the efficiency of the stabilizer. The time delay is the time it needs to process the current that needs to be balanced or stabilized. If the product has it too short or to some none, it may mean that it is defective and is not working.
3. Choose What's Suitable
If you want a truly efficient stabilizer for your appliance, go for the stabilizers specific for your appliance. That is often already indicated in the product description. Thus, it wouldn't be hard for you to figure that out, like the ones suitable for your TV or AC. Because that means that stabilizer is optimally engineered for that particular device.
4. Protection Mechanisms
It always feels good when the stabilizer has added features for safety and protection. It makes it more worth every penny spent into getting it. The Thermal Overload Protection and the Short Circuit Protection are the top protection schemes you must look for.
Make sure that you follow these tips when buying the best stabilizer for your home, so you won't go wrong or miss anything.
We have covered all the things you need to know about stabilizers. It should now be easier for you to take home with full confidence, which from the 5 best stabilizers indicated above would soothe your needs perfectly.
For some of you who are interested in the inner workings of a Stabilizer, you may want to watch the video below:
https://www.youtube.com/watch?v=qFexafctaf8