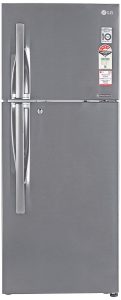 Note: During a recent update, we updated the sequence of the best refrigerators and removed 2 less popular models to make the list of best 10, instead of best 12.
If you are planning to settle in a new place the first thing that comes to your mind is a refrigerator. It's quite advantageous to have a refrigerator at home as it stores your food and is capable of preserving fruits and vegetables for the week as well as cool water all through the summer. Of course, you would want to have the best refrigerator (fridge) when purchasing one.
There are however certain factors to be considered before purchasing your refrigerators at home. You also have to consider the best refrigerator brands that are available in the market. Look for brands that are stable and have good customer service.
That's why this article is divided into two parts so you will easily find what you need: the first part is where you can see the best refrigerators in India. In the second part is where you can see additional details such as buying tips, best refrigerator brands and commonly asked questions; among others.
10 Best Refrigerators in India – Reviews
Having a refrigerator is essential for one's home. The appliance serves to store our food and helps keep it fresh and cool. Most refrigerators bought are taller than an average human, since we tend to keep a considerable amount of food that may last for a week or so. However, there are refrigerators that are small enough for personal use or for family starters. Here, we have gathered the most efficient refrigerators that can be found in Indian online e-commerce sites so you could at least get a satisfying experience in getting a suitable refrigerator. We found the best refrigerators that have been reviewed for you.
1. Haier 320 L 2 Star Inverter Frost-Free Double Door Refrigerator (HRB-3404BMS-E, Moon Silver)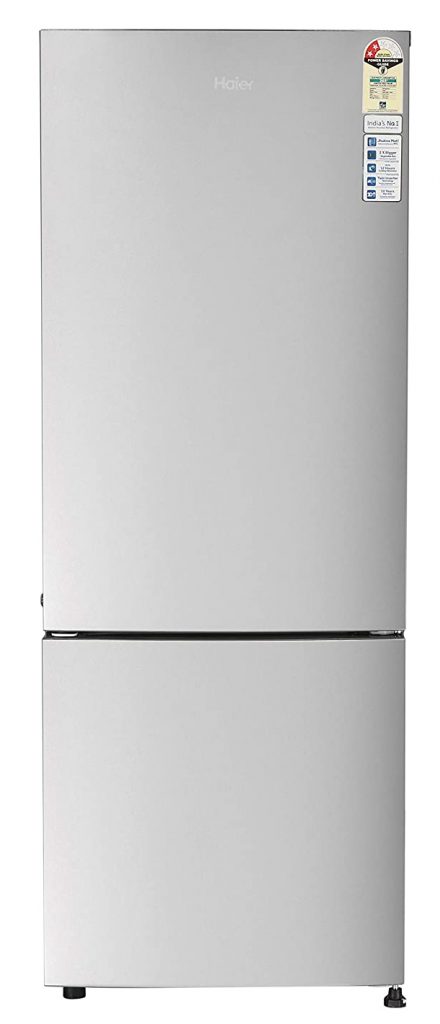 The Haier 320 L 2 Star Frost Free Double Door Refrigerator is an efficient appliance suitable for small families. This ref has a 360-degree airflow to keep your food fresh and cool through the power of one-hour icing technology. The model has a voltage of 240 volts and a food capacity of 234 liters. It was rated as a 2-starred rating for its performance and received positive feedbacks.
Pros:
Frost Free
Double Door with bottom door
Auto defrost to stop ice-build up
1-Hour Icing Technology
360 Degree Cooling
Twin Twist Ice Tray
Stabilizer Free Operation
Top LED and Toughened Glass (interior)
Cons:
Needs inverter
Common locking system for both doors
Limited space/storage on the door
Planning to buy this model?
Check Price on Amazon
2. Samsung 253 L 2 Star Frost Free Double Door Refrigerator(RT28M3022S8, Elegant Inox, Inverter Compressor)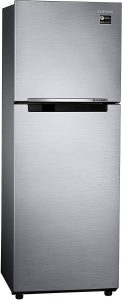 The Samsung 253 L 2 Star Frost Free Double Door Refrigerator is a double door type and features well-grounded operations through the help of digital inverter technology. It features an easy side shelf design which helps you avail your food easily. The model is compatible with an inverter as well. It also maintains the temperature equally from top to bottom to keep your food fresh.
Pros:
Frost Free
Digital Inverter Technology with Smart Connect Inverter
Recess Handle
Twist Ice Maker
All Round Cooling
LED Lighting with Toughened Glass (interior)
Stabilizer Free Operation
Anti-Bacterial-Gasket
Cons:
Has only 2 shelves
Non-freezer compartment space not maximize
Planning to buy this model?
Check Price on Amazon
3. Whirlpool Fp 263D Royal Frost-free Multi-Door Refrigerator (240 Ltrs, Alpha Steel)


Whirlpool Fp 263D Royal Frost-free Multi-Door Refrigerator (240 Ltrs, Alpha Steel) is a three-door refrigerator with a total capacity of about 240 Litres. The Whirlpool is a reputed brand and also provides inbuilt technology like- Moisture Retention Technology, Macroblock, Freshkeeper, Air Boosters, and 3 Door Format. The refrigerator is very modern and compact and totally steals your eyes in the kitchen. It is one of the best selling refrigerators and has been successful in winning many hearts online. It is totally recommended for all household needs.
Pros:
Multi-Door
Frost Free
Zeolite Technology with Active Fresh Zone
Moisture Retention Technology
Customized Cooling Technology with Air Boosters
Microblock Technology prevents microbes
Cons:
No lights at Freezer compartment
Difficult to clean
Planning to buy this model?
Check Price on Amazon
4. Whirlpool 190 L 3 Star Direct Cool Single Door Refrigerator(WDE 205 CLS 3S BLUE-E, Blue)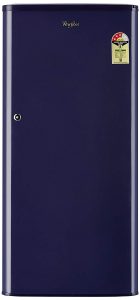 This elegant blue refrigerator is a modernized version of many's favorites. It's stabilizer-free so it is reliable on occasions of voltage fluctuations. It also has 9-hour cooling retention should the power cuts off. It's a refrigerator integrated with technology built for an Indian household. It also comes with a removable anti-bacterial gasket perfect for sophisticated housekeepers that always want their fridge perfectly germ free. The shelves of this model are a wired type shelf. It received a 3-star rating and is recommended.
Pros:
Elegant Modern Design
Quick Ice Zone
Removable Gasket
Reciprocatory Compressor
9-Hour Cooling Retention
Stabilizer-Free Operation
Cons:
Manual Defrosting
Only for small family
Planning to buy this model?
Check Price on Amazon
5. Haier 195 L 4 Star Direct Cool Single Door Refrigerator(HED-20FDS, Brushed silver/Dazzle Steel)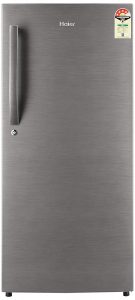 Haier 195 L 4 Star Direct-Cool Single Door Refrigerator (1954BS-R, Brushed Silver) is a perfect refrigerator with a capacity of about 195L. It can reach up to 240 voltage and it is energy efficient. It also features direct cooling as its defrost system. The refrigerator comes with a year's assurance in the form of warranty. Haier is a reputed brand for its design and durability and therefore is a bestselling product online. This is recommended for all household purposes.
Pros:
1 Hour Icing Technology
Stabilizer Free Operation
Toughened Glass
Sleek and Easy Clean body design
Door Lock
Cons:
Must unscrew water storage
Only for a couple or small family
Planning to buy this model?
Check Price on Amazon
6. LG 260 L 4 Star Frost-Free Double Door Refrigerator (GL-I292RPZL, Shinny Steel)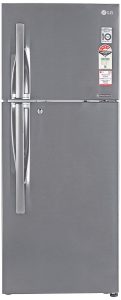 LG 260 L 4 Star Frost-Free Double Door Refrigerator (GL-I292RPZL, Shiny Steel) is a classy steel material coated refrigerator of LG and is very common because of its best after-sale services. Its performance and power will surely satisfy you in keeping your ingredients in quality. This model also a smart invertor compressor for great operations. LG has won worldwide appreciation because of its customer satisfaction. It is totally recommended.
Pros:
Smart Inverter Compressor
Smart Diagnosis Feature with Auto Smart Connect
Frost Free
Moist Balance Crisper
Operations are Silent
Cons:
Frequent Maintenance is Required
The freezer compartment has no lighting
Planning to buy this model?
Check Price on Amazon
7. LG 190 L 4 Star Inverter Direct-Cool Single Door Refrigerator (GL-B201ASPY, Scarlet Plumeria)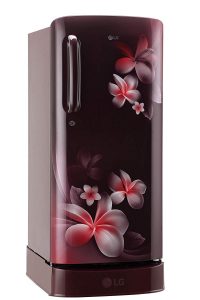 This lovely floral ref is the LG 190 L 4 Star Direct Cool Single Door Refrigerator is an advanced and efficient energy compressor. The model uses Smart Connect technology for great performances. It is also compatible with inverters, so no worries when you power get interrupted! It has been testified that this appliance is reliable and durable and great for heavy food ingredients.
Pros:
4-Star Rated Model
Made of Steel
Lovely Floral Design
Performs Silent Operations
Energy Efficient
Smart Inverter Compressor with Smart Connect
Base Stand with Drawer
Toughened Glass Shelves
Anti Bacterial Gasket
Stabilizer Free Operation
Cons:
Single Door
Not suitable for bigger households
Requires manual defrosting
Planning to buy this model?
Check Price on Amazon
8. Samsung 212 L 3 Star Direct Cool Single Door Refrigerator(Elegant Inox, Inverter Compressor)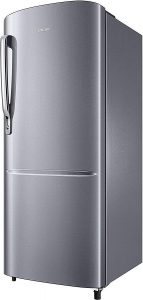 This classy looking Samsung 212 L 3 Star is a single door but a fully functional refrigerator. It has a good capacity of 150 kilograms built with a toughened glass to support it. Not only is it classy in front but also at the back. It has a safe clean back that protects the internal components of the refrigerator and also makes it easy to clean at the backside. It also features a digital inverter compressor that makes sure the pressure is just the right one you need.
Pros:
Digital Inverter Compressor – Energy Saving
Built-in Stabilizer
Toughened Glass (inside compartments)
Seamless Crown Design
Anti-bacterial Gasket
Cons:
Requires Manual Defrosting
Water Storage Container not easy to remove
Very Light Weight
Planning to buy this model?
Check Price on Amazon
9. Whirlpool 245 L 2 Star Frost Free Double Door Refrigerator(Neo FR258 CLS Plus, Galaxy Steel)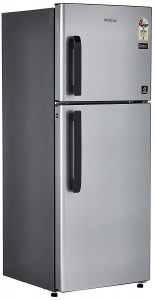 This Whirlpool 245 L 2 Star double door refrigerator makes more space for your frozen delights. This ref has a capacity of 245 liters while its voltage reaches to 250 volts.It comes with the 6th Sense DeepFreeze Technology that provides deep freezing with a circular air flow while consuming minimal energy. This Whirlpool refrigerator not only have an anti-odor feature but has a fresh flow air tower that keeps a long-lasting freshness. It also comes with a user manual for further instructions.
Pros:
Deep Freezing Technology
Microblock Technology
Stabilizer-Free Operation
NeoFresh Advantage keeps a long-lasting freshness
Auto Defrost
Cons:
Planning to buy this model?
Check Price on Amazon
10. Godrej 260 L 4 Star Inverter Frost-Free Double Door Refrigerator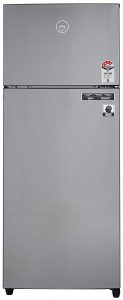 This double door Godrej 260 L is an excellent front-free refrigerator from the brand and comes in a sleek silver finish which looks very classy. It comes with 1 year product warranty and 10 years of compressor warranty, so when you buy this you do not worry to worry about it maintenance a lot. Being 4-star its highly energy efficient will will save you a lot of money with electricity bills. It is also environment-friendly. So if you want a refrigerator that got everything for its purpose – a freezer and a cooling place with a large vegetable tray then this Godrej model is perfect for you.
Pros:
Jumbo vegetable tray
Bigger Vegetable Space
Low Starting Voltage
Environment-Friendly
Cons:
Installation might take time in some cities
Planning to buy this model?
Check Price on Amazon
There you go! Those are the 10 listed best refrigerator reviews we have online. Now, let's jump to the best refrigirator brands in India.
Best Refrigerators Under ₹15,000 & ₹30,000 in India
Have a specific budget for your refrigerator purchase?
The above list gives you an overall list of the best refrigerators in India but if you have a specific budget in mind, you might like to read our articles where we researched refrigerators for the specific budget range. You can read these articles by clicking on the links below.
Or else, continue to read on…
Best Refrigerator Brands in India
There are various brands with various specifications manufacturing refrigerators and each has got its own reputation over the customers and therefore we have chosen the best refrigerator brands among them for you.
Samsung


It is a multi-national group and was founded on 1 March 1938 by Lee Buyong Chul and it includes food processing, textiles, insurance, securities, retails etc.
Samsung has become an important brand in the field of home appliance and also guarantees quality and product efficiency. The Samsung brand is a mother brand of all home appliances and also assures about the quality and service.
Samsung Refrigerators are the bestselling brands because of their in-built technology and stylish look and sleek design. They are totally made for modular kitchen concept and the best part is the warranty that comes with the product.
You can click on the below link to view some refrigerators of SAMSUNG.
LG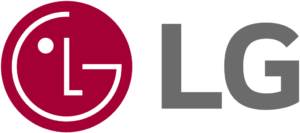 The LG group was founded in 5th January 1947 and has its headquarters in LG twin towers, Seoul by Koo in-Hwoi. LG has its industry in electronics, chemicals, and telecom products.
LG refrigerators are the second best selling refrigerator brands online and the only reason is that this brand just never leaves your hands and if there is any issue just replaces the product or maybe repair it. It's an important factor as it is a machine and machine break down at some point in time.
LG has become an important brand in India and has earned a lot of consumers because of its after-sales services.
You can click on the below link to view some refrigerators of LG.
Whirlpool


Whirlpool was founded on Nov 11, 1911, and has its headquarters in Benton Harber, Michigan by Louis Upton. It is the world's largest appliance maker and is engaged in manufacturing home appliances like washing machines, television, air conditioners, etc.
Whirlpool refrigerators with trendy designs especially in attractive colors like white and grey. They have a great market reputation. Whirlpool is known for its durability and hence it is preferred other brands.
You can click on the below link to view some refrigerators of WHIRLPOOL.
Haier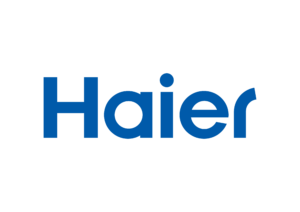 Haier is a Chinese group with its headquarters in Qingdao, Japan and was introduced in 1984 which is 33 years ago. The manufacturing products include air conditioner, air coolers, water heaters, washing machines etc. The Haier is a best selling brand in this category and was reported to be the highest manufacturer of white goods in 2004.
The Haier Refrigerators are preferred because of their look and durability and not to forget the warranty that it comes along with. They are perfect for you if you are a perfectionist.
You can click on the below link to view some refrigerators of Haier.
Kenstar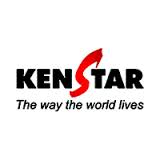 It is a subsidiary of Videocon which was founded in 1979 by Venugopal Dhoot. The headquarters are at Mumbai. This brand has 15 sites all over the world including India. Kenstar is a brand of home appliances by company Kitchen Appliances India Limited at 1996.
It manufactures all home appliances like Television, air coolers, water heaters etc. Kenstar is a newer company as compared to Bajaj and Symphony however it has made a position in the market because of the durable and quality products.
Kenstar refrigerators are perfect budget friendly refrigerators if you are looking for a refrigerator that suits your budget and also doesn't require you to get another one if it breaks down.
You can click on the below link to view some refrigerators of Kenstar.
Types of Refrigerators
It is a large appliance and hence it is obvious to do proper research. We have brought down the list of the best refrigerators for you in this post which you can purchase online.
Single Door Refrigerator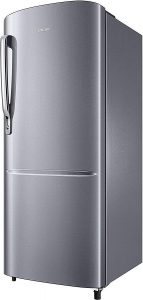 This is the most common type of refrigerator that we all have at home. The freezer has a separate inner door and the fridge includes a vegetable box at the bottom. Not only is this type the most common, more often it is also the cheapest. With new technology and innovations added to all different kinds of refrigerators, this one-door type is getting all the upgrades and are still loved by many. Generally, single doors also consume less power compared to multi-doors plus if you only live alone or a couple or with just one or two kids, this is still the best kind of refrigerator for you.
Top Freezer Refrigerator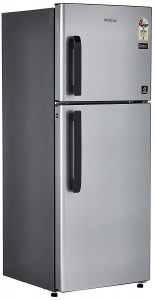 Varying from different sizes, this type of refrigerator usually has a lower level for easy reach for the top. Although it may sound too short for your taste, the top freezer refrigerator is ideal when we talk about budget friendly. It is less heavy in the pocket than most refrigerators do.
Side-by-side Refrigerator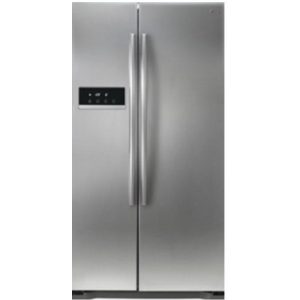 Side-by-side refrigerators feature the freezer and refrigerator standing vertically right next to each other. Both sections are slimmer than most ref models, and upon swinging one of the doors open, it helps saves a lot more space. It is also one of the affordable types out there.
French Door Refrigerators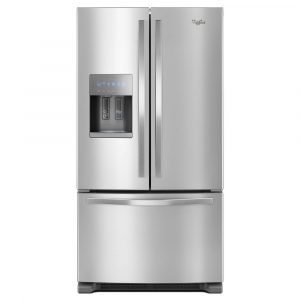 This type of refrigerator gives your kitchen a fancy restaurant look. With three doors to open at a time, escaping of the cool air is minimal, meaningless expenses on electricity bills. French door refrigerators are usually large and take up a lot of space, though.
Mini Fridge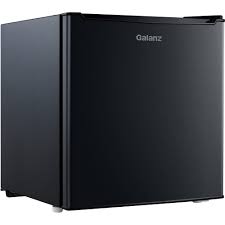 Mini fridges are ideal for those who live by themselves or for newlyweds to start anew. From the name itself, this small package provides the average power of cooling food. This type can come in different variations.
Now that we have discussed the different types of refrigerators, you can now be more confident in your decision regarding which refrigerator would be best for you or your family.
Best Refrigerators Buying Guide & Tips
Here are additional considerations to help you find the best refrigerator for your needs. We want you to think wisely and be well informed about your refrigerator buying decision, so here's a brief buying guide and tips for you.
Size
Before buying a refrigerator, consider its dimensions. Will it fit through your front door? Will it take too much space in your kitchen? Will it fit through the reserved space meant for installation? Will it store enough food for you until the next time you buy groceries? Use a measuring tape to measure up your space for installation, as well as all the doors where the appliance will have to go through.
Arrangement
Consider how your food compartment and freezer is laid out. If you're one who doesn't eat frozen food on a regular basis and considers their diet on fresh food, then it is ideal for you to buy a top freezer refrigerator. If you want to keep an equal amount of both fresh and frozen food, a side-by-side refrigerator is more likely for you to buy.
Shelving
From wire shelves to glass shelves, they can be available in refrigerators bought online. Check your ideal refrigerator if they are adjustable, spill-proof, and such.
Budget Friendly
It is a large appliance and costs around 10-30k depending upon the cavity space as well as the features inbuilt within the machine. The price is a big factor to decide which machine to opt for.
User-Friendly
It should be easy to use as it is an appliance to be used by all the members of the family. The settings might be needed to be changed at different weather due to the different settings needed. Hence the machine should be easy to handle.
Compact and Space
In the days of modular kitchen space is the very important factor that needs to be considered and hence you need to choose the appliance according to your requirement, for example, a small refrigerator for a family of four and a medium refrigerator for a family of 6.
Durability
The one and only factor considered before purchasing any appliance is the durability of the appliance as no one wishes to buy a large appliance again and again after a major breakdown. There are many brands which offer a year or two's warranty and it proves to be an added advantage for the buyer.
We have given you additional guides to choose the best refrigerator, so make sure to use them. Now check the questions that are often asked by many in relation to the use or purchase of their refrigerator. This may help you look for the one you want.
Frequently Asked Questions
Here are a few questions that you would often find yourself asking before buying a refrigerator. We have gathered them for you and hope it answered something you were thinking about.
Do I need a stabilizer for my refrigerator?
Generally, no. Most refrigerators are stabilizer-free or have a built-in stabilizer. But should your area be frequented with a power outage or you have large size refrigerator, it is best to check if you would need a separate stabilizer.
What does toughened glass mean?
It means that the glass racks inside your refrigerator can bear heavy items and not break. It means you can put your bowls of salads and baked goodies without worrying if the compartment can carry it.
What is the power consumption per year?
This all depends on how you use your refrigerator. The typical annual power consumption ranges from 180 to 220 units.
Does my refrigerator need yearly maintenance?
Yes, just like most appliances, refrigerators needs to be check at least once a year. Ask the manufacturer if this is included in your warranty and include maintenance tips you may do on your own, too.
Can I extend my warranty after I purchased my refrigerator?
Yes, and sometimes there are discounts upon purchased. But first, check if you are already offered a good warranty. Most refrigerators now offer 10 years warranty.
Should I be worried if I hear sounds from my refrigerator?
First, determine what kind of sound you are hearing. If you hear a blowing or air rushing inside, these are most like cause by the fan inside. If it's a dripping sound, try to check if it's dripping due to water being drained out during a defrost cycle. If you just turned on your refrigerator and you hear the motor running loudly, this is normal at start. This should tone down after it balances the pressure inside. If not, you may need to have it check.
We hope we got you thinking about the best refrigerator for you. We know you can now choose from the best refrigerators reviewed by many consumers. Share this guide to family and friends looking for a new refrigerator to help them find the best there is, too.