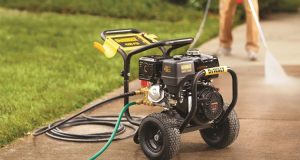 Pressure washers are used for a variety of outside cleaning tasks, and these include washing the patio furniture, cleaning the backyard, washing cars, windows, or preparing the surface before painting. The best pressure washers not only add value for money investment in maintaining the high aesthetics of the house but also save time & money. Today, there are pressure washers by top brands exclusively designed & developed for smaller jobs at our homes.
5 Best Pressure Washers in India – Reviews
With endless options on the market, deciding on what to buy can become a big riddle, especially for those who have any technical knowledge with regards to a pressure washer. But, you don't need to worry as here in this post, we've rounded up five best pressure washers. The list is curated based on several factors, which include the efficiency of the product, the capacity, and the pricing factor. So, let's compare and and make a sound decision.
1. Bosch Aquatak 125 1500-Watt High-Pressure Washer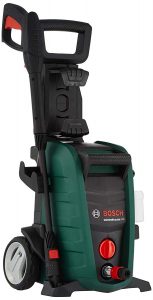 This pressure washer from Bosch is a quick & effective solution for a myriad of residential outside cleaning jobs. To get started with this pressure washer is straightforward; all you require is to make a few secure push-fit connections. The pressure washer is lightweight and compact, so you can easily keep it anywhere in the house, won't take a lot of space.
Features/Specification
3-in-1 Effective Nozzle
Folding, Telescopic Handle
Quieter Operations
6 Months Warranty
Planning to Buy This Model
Check Price on Amazon
2. ResQTech 1700-Watt High-Pressure Washer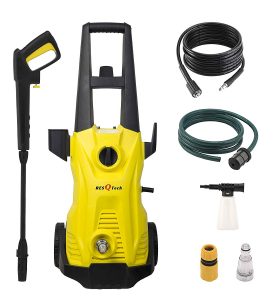 This high-pressure washer is useful to clean every minutest particle at your garage, backyard, or car. Powered with a 1700-watt motor, the pressure washer generates 135 bar of water pressure and 380 lt/hr water flow to clean up tree sap, rust stains, garden dirt, and concrete deposits. This best pressure washer in India also comes equipped with a dedicated detergent spray bottle.
Features/Specification
Self Priming
2 Years Warranty
1700-Watt Motor
TSS Total Stop System
Planning to Buy This Model
Check Price on Amazon
3. American Micronic 1500 Watt Pressure Washer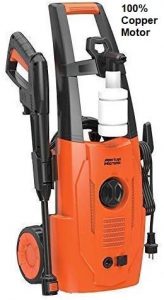 This best pressure washer for home use by American Micronic can be effectively employed for home and car washing, it does the job with the minimum of effort. The pressure washer has a multi-functional nozzle that allows you to perform various cleaning jobs effortlessly, and these include a terrace, rooftop, courtyard or vehicle.
Features/Specification
1500 Watt Motor
Adjustable Spray Gun
No Assembly Required
1 Year Warranty
Planning to Buy This Model
Check Price on Amazon
4. Karcher K2 Compact 1400-Watt Pressure Washer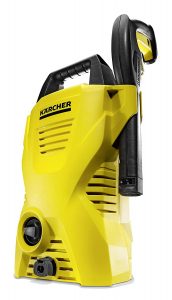 If you are seeking after the best pressure washer that delivers not only amazing results but also easy to carry along everywhere, then this 1400-watt pressure washer is the right buy for you. The rotating pencil jet gets rid of those stubborn stains and dust marks which are not going even with daily cleaning.
Features/Specification
Integrated With 2 Suction Mechanism
Sits Comfortably In the Hand
High-Pressure GAun
1400-Watt Motor
German Design
Planning to Buy This Model
Check Price on Amazon
5. Bosch 1300-Watt High-Pressure Washer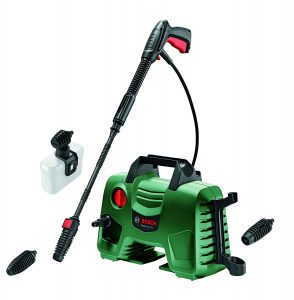 This versatile cleaning equipment performs a range of cleaning jobs, spanning from sparkling, clear widows, freeing the garage from dust to cleaning your hatchback. This 1300 watt motor high-pressure washer is precisely designed to finish all kinds of cleaning tasks effortlessly & correctly.
Features/Specification
Self Priming
1300-Watt Motor
No Assembly Needed
6 Months Warranty
Planning to Buy This Model
Check Price on Amazon
Best Pressure Washers Buying Tips
There are many uses of a pressure washer in our homes; thereby, it's of paramount importance to make sure that you invest in the right one for all your needs. Today, in this quick guide, we'll make you aware of the things to mull over when buying the best pressure washer.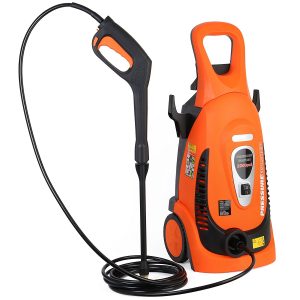 Gas Vs Electric
The gas-operated high-pressure washers are louder yet delivers more power to deal with complex cleaning jobs. The electric pressure, on the other hand, is quieter but delivers less purpose; additionally, they are compact & lightweight. So, you got to make the decision wisely.
Warranty
Don't just know the number of months or years the warranty is valid, and you must be fully aware of what is covered in the warranty period.
Portability
How easy the pressure washer is wheel around & store must be in your mind when selecting a pressure washer.
Conclusion
Before you commence, it is a no-brainer to have a budget in mind as the pressure washer vary primarily in terms of pricing. But, at the same time, the price must not be the only factor when buying the best pressure washer.