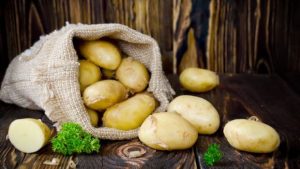 Many say potato contains a high amount of fat, adds to obesity, and develops acidic elements in the food pipe, upsurge sugar level, and whatnot. Despite all these factors, potatoes are one of the most-loved and versatile vegetables present in almost every cuisine.
It is the only ingredient that is enough to help you set your entire dining table with different dishes ranging from cutlets to pies.
Let's check out the 5 simplest, delectable, and easy-to-cook potato recipes to soothe your hunger pangs. 
Best Potato Recipes
#1 Honey Chili Potatoes
This one is a perfect starters dish for all your unannounced guests. It hardly takes 30-45 minutes to cook while you engage your guests with some starter drinks. All you need to make it includes- long-sized potatoes (often used for French fries), Oregano (for seasoning), Chili flakes (for seasoning), Onion greens (for garnishing), Salt (to taste), Honey, Black pepper, Flour, Cornflour, Ketchup, Soya sauce, Schezwan sauce and oil (to fry).
Begin with cutting potato wedges in uniform size, take some water for potato blanch boil. As soon as you cut the potato wedges, put them in hot water for 10 minutes. Take out potato wedges from water & let dry. Soak the water with a kitchen napkin, coat the potatoes in cornflour & flour mixture well & fry. Deep fry the potatoes on your gas stove twice. Begin with half fry and then fully fry in the second attempt. Now take a pan and pour 1 tablespoon oil.
Put finely chopped onion & saute for 1 min on low flame. Put salt, black pepper, soya sauce, ketchup, schezwan sauce, and stir. Pour half glass water and add a mixture of cornflour water & stir constantly. Add oregano and chilli flakes and 1-2 tablespoon honey. Put fried potatoes in it, mix well and sprinkle some onion greens to serve.  
#2 Cutlets
A much-preferred breakfast dish for kids is quite easy-to-make. To make all you need is- potatoes, oil, breadcrumbs, black pepper, salt, onion, red chilli powder, cutlet cutter (optional), masala or herbs, and cornflour. To start with, boil potatoes, put some oil in the frying pan, so the oil is well-cooked to evenly fry the cutlets. Peel and mash the boiled potatoes.
Add salt, chopped onion, red chilli powder, preferred herbs and a pinch of black pepper. Mix it well. Add breadcrumbs and knead the dough until stiff. Mix cornflour and water in equal quantities. Cut the dough with a cutlet cutter or create a cutlet shape manually. Now dip the cutlets in the cornflour mixture and coat a layer of breadcrumbs. Fry cutlets instantly. Let it fry for 3-4 minutes on low flame.
Serve it with mayonnaise dip or ketchup.  
#3 Spicy Hash Browns
An apt recipe to bring a smile on your loved one's face. To make the perfect hash browns you need potatoes, onion, black pepper, eggs, all-purpose flour, red chilli powder, oil, masala or preferred herbs (to taste), salt (to taste), and coriander. Thinking how to make it? Well, start with peeling off the potatoes. Rinse thoroughly in cold water or take water from your water purifier. Grate potatoes and put in ice-cold water for 10 minutes.
Rinse excessive water using a cotton cloth. Let potatoes dry completely. Add 1-2 eggs, herbs, black pepper, red chilli powder, coriander, salt, flour and mix it well. Heat a pan. Pour some oil for shallow fry. Pour the potatoes mixed with a spoon in the pan. Shallow fry from both sides until cooked properly. Serve with mayonnaise or ketchup.  
#4 French fries
This is one of the snacks that make everyone forget their age and hop on it. French fries are quick to make and quick to finish too. Here is all you need to make it- potatoes, oil, salt, oregano, chilli flakes, all-purpose flour and cornflour. Now if you are thinking about how to cook it, follow these steps.
Begin with cutting the fries in a uniform size. Blanch boil for 10 minutes. Let fries dry for 2-3 hours. Coat with all-purpose & cornflour. Pack in a zip-lock package. Freeze for 6-7 hours. Fry on low flame. Double fry for perfect crisp and at last add herbs, salt, chilli flakes.  
#5 Garlic Potato
This one is a healthy yet tasty option to bake in your microwave oven in no time. To make it you require- potato, garlic, black pepper, olive oil, rock salt, all-purpose flour and herbs. It's quite easy to cook it. Just cut the potato slice evenly, put in cold water for 15 minutes. Then rinse excess water & let it dry for 30 minutes.
Jacket potato with herbs, black pepper, chopped garlic, and all-purpose flour well. Pour olive oil and sprinkle rock salt to taste. Bake for 25-30 minutes at 180 degrees in a preheated oven. Serve with mayonnaise
Do try these & share your feedback with us.