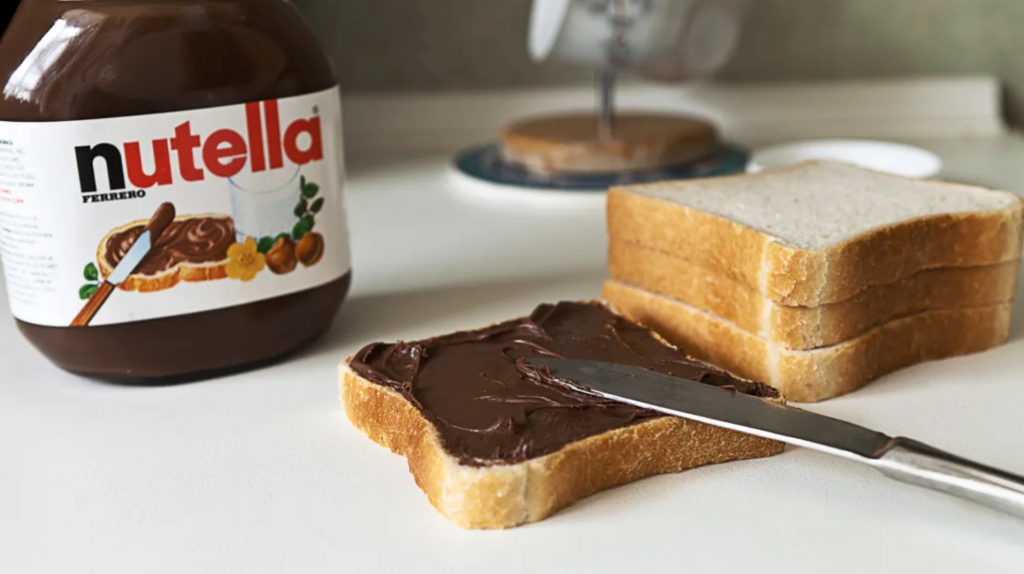 Regardless of age, Nutella is unarguably the most sought after snack. But, are you bored with all the tried & tested Nutella recipes that have been left by our forefathers? It's time to try something new and exciting. With this in mind, we've curated a mini list of creative & delicious Nutella dishes that will get you drooling. The recipes are quick & easy and prepared with ingredients commonly found in our kitchen. So, without wasting any time, let's get on with it…
Best Nutella Recipes
1. Nutella Toast
Add a tasty twist to your bland morning toast by spreading a layer of Nutella on. This recipe is easy-peasy and hardly takes a few minutes to serve it appetizingly to your family.
2. Nutella Crescent Roll
If you are seeking a delectable treat to surprise your kids and your someone special with the Nutella crescent roll, grab a box of crescent rolls and layout Nutella on the dough. After that roll it and put it into the oven. Take it out of the oven, then you'll have Nutella filled crispy, gooey, and ready-to-serve hot as a snack anytime.
3. Nutella Pizza
While this recipe isn't as easy as the above two, it is still worth the effort. This is a healthy version of pizza, where the warm dough is combined with graham cracker bits, gooey marshmallow, and the most important element, Nutella. It is, without a second thought, the most wonderful thing in the world. To make it more healthy, you add some bananas and strawberries and put it in your microwave oven. If you easily make this pizza with the ingredients available in your kitchen.
4. Nutella Popcorn
So, it's Friday night, and you're ready to watch your favorite Bond movie, right? Without popcorn, your movie will be incomplete. But, this time, we are going to try the Nutella popcorn. Add a good amount of Nutella in a bowl of corn and microwave it for one minute, and enjoy your binge-watching session.
5. Nutella Covered Strawberries
Melt the Nutella and dip the strawberries and then place it in the tray into the refrigerator for two to three years. This is a perfect anytime snack to fill your tummy.
6. Nutella Marshmallow Cookies
If you want to enjoy the goddess of the Nutella, while enjoying the toothsome marshmallow, then Nutella marshmallow cookies are best to have with a glass of milk in the evening. Making this recipe easy, first of all, put a piece of marshmallow over a cookie, then pour Nutella over it in a melted state. Leave the marshmallow into the refrigerator for a couple of years, and enjoy the mouthwatering bites.
7. Nutella Cookie Cups
You probably come across the recipe many times over Instagram or Pinterest; the Nutella cookie cups are surprisingly easy to prepare anytime. All you've to do is to crash a pack of biscuits and thoroughly mix it with 500 grams of butter. Once the mixture is prepared, you next have to delicately pour it into a non-sticky special muffin, making utensils and baking it into the preheated oven for some time. Finally, take out the biscuit cups and pour melted Nutella into the cavity, and not forget to serve it warm with milk.
8. Iced Nutella Coffee
Anything on the list can't be any more delicious than this. In a blender, add two cups of milk, two teaspoons of instant coffee, the vanilla extract's one teaspoon, four tablespoons of Nutella, and sugar as per your taste. Mix it well, chill it out in the fridge and serve it cold.
9. Nutella Truffles
Nutella truffles are another quick and easy way to pamper your taste buds with the delicacy of Nutella. First, chop the chocolate into smaller chunks into a large bowl, keep it aside. Pour butter and heavy cream onto the saucepan, put it onto the medium flame, make sure the butter is thoroughly melted.
Now pour this mixture over the chocolate chunks, stir it until it is smooth. Then pour Nutella and cover the bowl with a plastic cover. Put it inside the refrigerator and let it cool for at least two to three hours, until it is firm and easily scoopable.
Use a scoop to roll out the mixture, grease your hands with hand or oil, and start making balls. Roll in cocoa powder or any sprinkles, and serve as a surprise Sunday after-dinner dessert.
10. Nutella Mousse
To make this hearty recipe, add Nutella into a safe microwave bowl, and then microwave it for ten seconds, until it is soft. Then, add heavy cream till the time it forms stiff peaks. After that, you'll have to transfer the mousse to a piping bag. In case the mousse is somewhat fluid, then refrigerate for an hour. And, finally, pipe into serving dishes and refrigerate for four hours. Don't forget to top with nuts and chocolate.
Conclusion
Last but not least, take Nutella on your spoon, lick it, and believe me, you'll find it tough to resist it. Do you've something to add to this list, share with us in the comment section of this blog post!