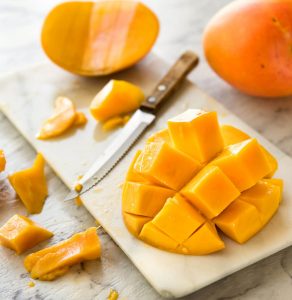 Aam ka season hai bhai!!!
The first thing that strikes our mind with temperature soaring is the delectable taste of mangoes and their mesmerizing aroma that has an uncanny candy to cool us off. Today, in this post, we've rounded with ten delicious recipes to try with mangoes. So, without wasting any time, let's check them out…
Best Mango Recipes
#1 Mango Shake
If you've missed something delicious, if you haven't sipped mango shake during your summer vacation, this recipe includes tossing sliced mangoes with half a glass of milk into a juice blender (or a mixer grinder) and thoroughly preparing the shake. You can add some chunks of mango pieces, so you drink and eat mangoes together. The mango pieces add fantastic texture and make this shake more satiating. You can have it with French toasts or to satisfy your hunger pangs anytime.
#2 Mango Chocolate Smoothie
Mangoes are power-packed with nutrition and have a velvety texture that makes it a perfect choice for preparing your favourite chocolate smoothie. This smoothie is rich in Vitamin A & C, antioxidants, and fibre. There is so much more you can do when it comes to smoothies with mangoes. There are a variety of ways you can try mango smoothies, as per your taste.
#3 Aam Panna
This summer beat the heat with a glass of salubrious Aam Panna. This drink comes with a myriad of health benefits. Mangoes being the raw ingredients, which makes it a delicious and healthy beverage. The twist of lemon, mint, and honey make it a perfect serving for social gathering. Aam Panna is a traditional drink with the uncanny ability to make you feel refreshed on hot and humid summer days.
#4 Mango Mousse
You can't resist fluffy, creamy mousse. This is a quick and easy recipe that you can whip up to surprise your guests. The mango mousse can be seasoned with dry fruits and some chocolate chips. In a blender, add diced mangoes and then sugar or honey as per your taste. Blend it to become smooth. Beat cream till it becomes soft and fluffy, and then you have to add mango puree to the mix and serve chilled thoroughly. And, finally, garnish the mango mousse with chopped dry fruits or chocolate shavings.
#5 Mango Iced Tea
This drink is an excellent alternative to soft drinks and regular sodas. It's rejuvenating, refreshing, and lip-smacking, loved by people of diverse age groups. It is a bolt of energy during the hot and humid months of summer. Peel and chop the mangoes and put them in a blender, puree it, and chill it in the refrigerator for a few hours.
#6 Mango Rice
Mango sticky rice is a tangy, sweet, and delectable dessert that is a popular street food of Thailand. The most traditional method of preparing this recipe is overnight soaking of rice, streaming it in the morning. Add diced mangoes and whip up with coconut lime sauce. For the best texture and flavour, serve it hot as soon as possible.
#7 Mango Salad
If you are on a diet, but still want to enjoy tasty mangoes, then try this mango salad recipe. This is a great dish for lazy beach days by the seashore or busy weekdays. It is best if you choose frozen and freeze pulp of mangoes for best taste.
#8 Mango Coconut Chutney
This recipe is a great way to use the mangoes that have become too ripe to try the above recipes. This chutney is delicious to try on breakfast toast, in curries or vinaigrettes, it's also a stunning addition to every dish. This recipe is easy to prepare, and all you require is a few available kitchen ingredients.
#9 Tuna Poke with Avocado & Mango
The avocado and tuna poke makes this dish a protein powerhouse; add sliced mangoes to exciting flavours. You can serve it hot with steamed brown rice. This dish is widely popular in the Asian region, especially Japan. Make sure tuna is fresh for a delectable taste.
#10 Mango Cream Pie
Add mango nectar to the cream filling and then top the pie with the mind, whipped cream, and mango slices. It is a perfect dessert for the festive season of Christmas and New Year. Your kids will fall for this savoury treat. This dish is healthy and heavy to fill your tummy.
Conclusion
Lastly, try these mango recipes this summer. Did you like it? Share your opinion in the comment section of this blog post. Also, don't forget to recommend your favourite mango recipe.