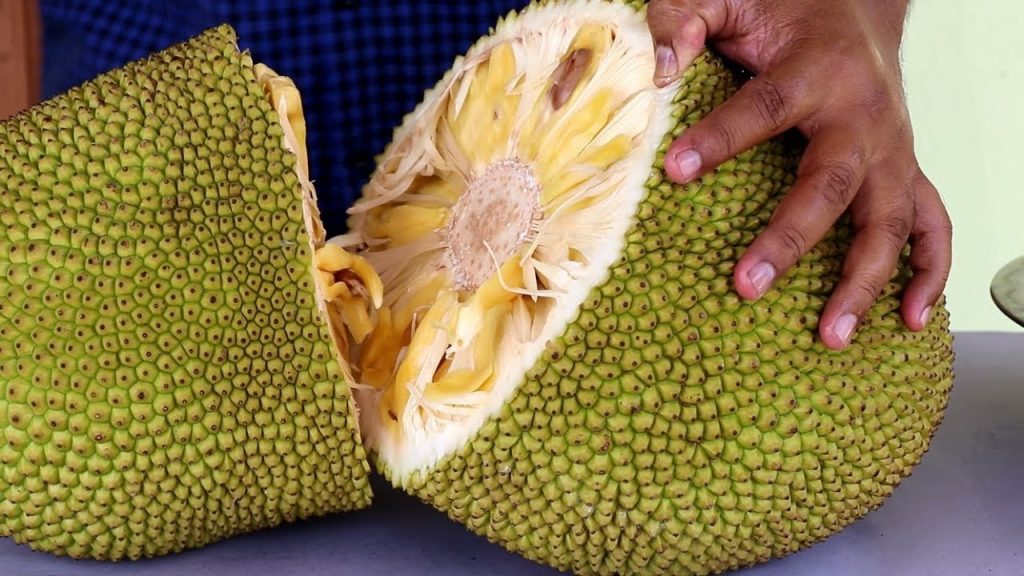 Jackfruit, also known as 'kathal' is loaded with a lot of health benefits and tastes that you will crave for. Nutritionists highly recommend it to fight back wrinkles, eliminates the chances of anaemia, ensures good eyesight and healthy hair, strengthens the muscle, and eradicates indigestion.
However, jackfruit comes with a lot of health benefits; still, people find it a rare choice to be included in their mealtime. Why? Well! Because of its unique taste. Many dieticians name it a vegan superfood that helps to lower down the calories and is enriched with protein and vitamin C, antioxidants, magnesium, calcium, and works as an instant energy booster too.
So, if you have been finding it difficult to have jackfruit, then check out these coolest, easy, and tasty recipes to hop on. So turn on your gas stove, start your kitchen chimney and let's get started…
Best Jackfruit Recipes
#1 Jackfruit Biryani
Biryani is a forever love, especially for every Indian for sure. It is not just one of the royal dishes India has, but it consists of a lot of nutritious and other goodness that makes it a perfect meal to go with.
Jackfruit biryani is a perfect option for you if you are vegetarian yet want to have the taste of non-veg biryani. If you have been feeling low for a long time, this biryani recipe is a perfect choice to tantalize your taste buds at its best. The process of cooking this biryani type is somewhere similar to the ordinary biryani.
The only major change here is putting well-cooked pieces of jackfruit in biryani along with coriander, turmeric, biryani masalas, and nuts to give it a perfect royal touch. 
#2 Jackfruit Melt Sandwich
If you are one of those who love to grab new tastes, dishes while keeping a check on the right amount of calorie intake, then hopping on this jackfruit tuna melt sandwich is the best option looking at you.
It is one of the delectable grilled cheese sandwiches loaded with jackfruit filling to maintain its nutrient values. To make this sandwich for your perfect breakfast meal, you need to mix tuna and grated jackfruit mix, apply it on the well-roasted bread, and you are done.
If you are crazy about maintaining the right taste, I suggest adding some cheese to the top. 
#3 Sloppy Joe Jackfruit Slider
So you have made up your mind to give up on meat and other junk food options? Yet can't resist its taste? In that case, make yourself a sloppy joe jackfruit slider, which gives you all the good of a non-veg healthy burger while making you feel like you have your favorite meat meal. To make it taste well, you can add red chili powder, garlic, soft toasted buns, and other preferred herbs.
#4 BBQ Jackfruit Stuffed Sweet Potatoes
If you want to know what a healthy meal looks like, you must give a try to the BBQ jackfruit stuffed sweet potato loaded with multiple veggies and unlimited tastes.
All these factors make this dish a perfect alternative to meat cuisine. The recipe is quite simple, tasty, and nutrients-rich in every manner. However, it tests your patience, but once it's ready, you will realize it was worth waiting for it. To relish the best taste, at least cook the jackfruit for 5 hours on low flame.
After you cook it for 5 hours, it is time to shred it with a fork, stuff it with potato, paneer, chicken or any other preferred stuffing. To enhance its taste, go with different sauces. 
#5 Jackfruit Pot Pie
No one would have ever imagined having a jackfruit as a pie. And if you have not tried it yet, you are missing out on one of the best dishes on this earth. To make this pie, you may need to have different types of ingredients for different purposes. Right from filling to the pie assembling, the ingredients differ.
Some of the most common ingredients include- bay leaves, unsweetened almond milk, yellow onion, potatoes, olive oil, frozen peas, garlic, rosemary, plain flour, butter, and carrots. Before you start with the jackfruit pot pie preparation, don't forget to preheat the oven at 375f.
Then rinse the jackfruit in water from your purifier and keep it aside. Start heating the olive oil in a pan, add rosemary, milk & other ingredients. Cook on a simmer. Make a perfect dough using the plain flour, set on the baking tray well, and once the jackfruit filling is back to the normal temperature, pour it in between the dough. Bake it for 15-20 minutes in your oven until brown and relish it with your family. 
So, when are you giving a try to these dishes at your home? Also, don't forget to share your cooking experience with us, and yes, if you have a better and any other jackfruit dish in your mind, do share it with us!
For more interesting dishes, stay tuned here!