Straightening the hair can dramatically transform your appearance regardless of the attire you have. Whether it is formal, ethic or semi western, it will make it easier for you to blend in any occasion. A lot of women may have naturally straight hair, but there are also a large percentage of them who will go the extra mile in order to have this type of hair.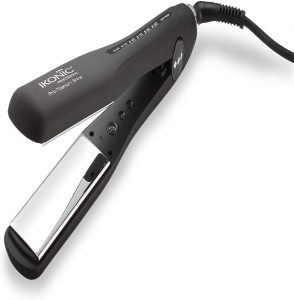 If you belong to this second category, don't despair. Investing in a quality hair straightener will make your hair smooth, soft and above all-beautiful. The only trick is to ensure that you choose the best hair straightener. The tool should have adjustable heat settings, and the iron should be made of titanium, ceramic or tourmaline.
Another important consideration is ensuring that the hair straightener does not break your hair. There are also other vital features that should be considered when purchasing a straightener. So we have made things easier for you by compiling the top 8 hair straighteners in India.
Best Hair Straighteners in India – Reviews
Here are some of the most recommended and best hair straighteners in India that you can consider investing in. Our review is based on several factors which include the quality of the product, ease of use, durability and other important features.
1. Philips HP8316/00 Kerashine Hair Straightener With Keratin Ceramic Coating


The Philips hair straightener is made with ionic technology and keratin coating, both of which will ensure that you get straight and beautiful hair in as little time as possible. It has extra-large plates which are designed to achieve long and thick hair with minimal damage. The plates are quite smooth and can easily glide through the hair causing less friction and less heat exposure.
Specifications
Keratin ceramic coating
Swivel cord
Ironic care
Storage hook
Plate lock
Cord length of 1.8m
Heat up time of 60 seconds
2 years warranty
Pros
Gives smooth and shiny texture
Easy to use
Ion plates protect the hair
Gives shiny silky look
Fast
Cons
Hair becomes thick and rough
Hair curls fast after heating
Planning to purchase this model?
Check Price on Amazon
2. Havells HS4101 Hair Straightener with Ceramic coated plates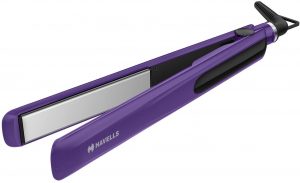 The product has an improved PTC heating element that prevents it from overheating. It evenly distributes heat down the hair without causing any damage. The hair straightener also has floating plates that allow you to create the style you want in the comfort of your home. It is also easy to store and carry the device.
Specifications
2 years warranty
Affordable
Straightens and curls the hair
45 seconds of quick heating mechanism
Advanced PTC heating element
210 degrees of temperature setting
Pros
Ceramic coated plates that take less time to heat up
Handy swivel cord technology that rotates to prevent twisting and tangling of wire
Can be used for curls
Long cord of 1.8m
Cons
Planning to purchase this model?
Check Price on Amazon
3. Philips BHS386 Kera Shine Straightener


The Philips BHS386 hair straightener is infused with keratin ceramic coating and ionic care. These features play an important role in protecting the hair during styling. it can easily help you achieve the long and smooth hair that you really desire. The plates are smooth and silky to prevent excessive heat exposure. They can glide through the hair with minimized friction. The device has optimized temperature to achieve silky, smooth and beautify straightened hair.
Specifications
1.9m cord for maximum flexibility
Fast heat up time
Long plats for easy and fast straightening
Swivel cord to prevent tangled wires
Can be used anywhere with universal voltage
Pros
Does not cause hair breakage
Plates get locked easily
Makes hair smooth and silky
Ionic care eliminates static when conditioning
The effects can last for up to 3 days
Cons
Takes time to straighten hair
Makes a buzzing sound after heating up
Planning to purchase this model?
Check Price on Amazon
4. VEGA 3 in 1 Hair Styler (VHSCC-01)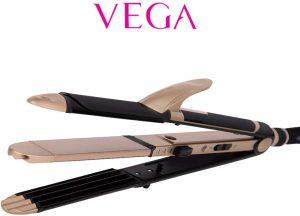 Vegas is one of the most popular brands that produces high quality hair straighteners. The VEGA 3 in 1 Hair Styler (VHSCC-01 has ceramic coated plates for high gloss and shine. The machine has one single button, but it can allow you to style the hair in the best way you like. With the appliance, you can even try out a new style every day. The hair straightener can also be used for curling, which means that you won't need to spend more on a different product.
Specifications
3 in 1 hair styler (straightener curler, crimper)
Easy lock system
360 degrees swivel cord
2 years warranty
One switch for all styles
Pros
Can curl or straighten hair
Comes with ceramic plates for quick heat up
Evenly distributes heat
Single button makes it easier to use
Auto shut off feature to prevent accidents
Quality and affordable
Cons
Can only be used on dry hair
Planning to purchase this model?
Check Price on Amazon
5. Ikonic PTS Pro Titanium Shine Straightener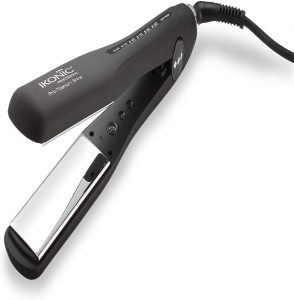 The hair straightener is made of titanium plates to achieve thick and curly hair. It has one hour audio shut off option and a 360 tangle free cord. The device is black in color. It also durable and works on hair while removing fizziness.
Specifications
Maintenance free
Multipurpose use
Heavy duty
Styles all type of hair
Heat up time of 0 seconds
Advanced floating titanium plates
Pros
LED displays the heat setting
Floating plates to auto adjust while gliding
Eliminates fizziness
Sleek and shiny finish
Long lasting
Cons
Planning to purchase this model?
Check Price on Amazon
6. Havells HS4152 Hair Straightener with Titanium Coated Plates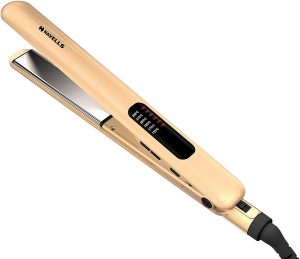 Just like the name suggests, Havells HS4152 Hair Straightener is coated with titanium which eliminates fizziness. It can also be used for different types of hair. The device has an attractive golden color and it is also easy to carry around. It has safety pointers that auto shut off after an hour.
Specifications
2 years warranty
Plate lock system for easy storage when travelling
Thin plates can be used to make bouncy curls
6 adjustable temperature settings
Titanic coated plates for frizz free hair
Pros
Floating plates to prevent hair damage
Travel friendly
Plate locks automatically when not in use
Cons
The corpus gets heated easily
Planning to purchase this model?
Check Price on Amazon
7. Ikonic S3B Hair Straightener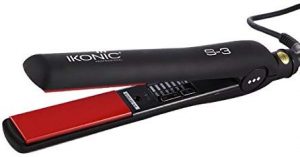 The hair straightener is made of ¾'' ceramic plates. It can be a good option for short hair and bangs. The device is also designed with negative ion technology that eliminates frizz. It has a digital led indicator that indicated when to power if off. It is one of the best products that can achieve shiny, smooth looking and straight hair.
Specifications
Advanced ceramic heat technology
Ceramic plates emit gentle, far-infrared heat
3/4′ slim plates
Pros
Ceramic technology makes hair shiny
Can be used for curls and waves as well
Heat is evenly distributed
Seals cuticle to lock moisture
Cons
Planning to purchase this model?
Check Price on Amazon
8. Corioliss C1 Carbon Fiber Hair Straightener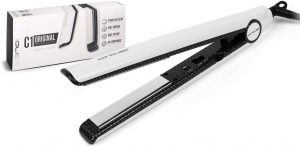 The straightener looks stylish, is easy to manage and can work on different types of hair. It can be a perfect alternative to getting straight hair without using harsh chemicals. The machine is made with better technology that other brands, causing minimal damage to the hair. it leaves a soft and smooth finish to the hair.
Specifications
Titanium plates
Dual voltage
Pro 360 degrees swivel cord
Far infrared technology
Negative ion
Pros
Sleek and easy to use
Adjustable temperatures
Lasting results
Hair does not dry out after use
Heats up quickly
Cons
Expensive
No lock to close the straightener
Planning to purchase this model?
Check Price on Amazon
Best Hair Straightener Brands in India
Most women adore straight, smooth and beautiful hair. This is not surprising, considering that straight hair is easy to style and maintain. In the early days, women used to straighten their hair using hot comb and iron. These were however replaced by straighteners that are easy to use and cause minimal hair breakage. Here are some of the most reliable hair straightener brands in India
Philips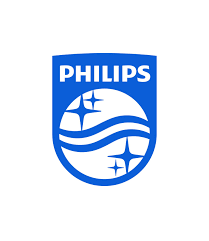 This is an international icon and leader for different types of electronic products. The company produces some of the most trusted hair straighteners in the market. The devices are designed to offer precision styling with smooth and shiny results. Philips hair straighteners are an excellent choice for quick fix and polish look.
Havells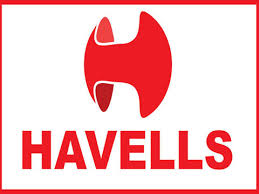 If you are looking for style versatility, Havells hair straighteners should be your number one choice. The devices are made of high quality materials and can guarantee a lavishing look. Most of Havells hair straighteners are also very affordable. The products do not only minimize hair damage, but they also work faster compared to other models.
Ikonic


Ikonic hair straighteners work well for frequent travelers who want their hair to look glossy and gorgeous. The hair straighteners are light in weight. They plates can be used for a wide variety of hair. And with all these benefits, Ikonic hair straighteners are also very affordable.
Vega


Vega also produces some of the most efficient hair straighteners that can easily glide through the hair without snagging. The hair straighteners take less time to heat up and can give you a perfect shiny look without spending much of your time. The products also use less power which can help save your electricity bills even with frequent usage.
Corioliss


Corioliss is one brand that is characterized by satisfied customers in all areas of operation. They produce some of the highest quality hair straighteners with features that are rare to find in the country. The products are made of titanium plates which do not cause hair damage.
Types of Hair Straighteners
Unlike the past, there are different types of hair straighteners available today. This is why it is always important to know exactly what you need to ensure that your hair straightening and curling needs are easily met. Here are the different classifications of hair straighteners
Ceramic hair straighteners
These hair straighteners use ceramic plates that distributes heat evenly. They do not create hot spots which can damage the hair. The straighteners also seal cuticles and locks moisture to ensure that you get a shiny and freeze free look.
Tourmaline hair straighteners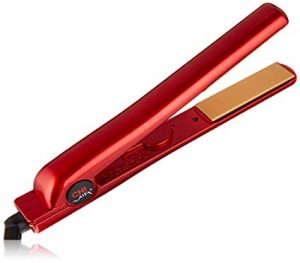 Tourmaline hair straighteners have plates that are made from crushed gemstone. These plates produce negatively charged ions that close hair cuticle to seal in moisture. They also eliminate static without drying the hair.
Infrared hair straighteners
These types of hair straighter use UV rays to relax and soften the hair without causing severe damage to the hair cuticles.
Ionic hair straighteners
The devices create negatively charged ions which helps in neutralizing the hair strands leaving your hair straight and static free.
Best Hair Straightener Buying Guide and Tips
Taking time to find the best hair straighten is always an important decision. A quality product can last for years, protecting your hair against unnecessary damage and help you achieve beautiful look. The right hair straightener is more than just a service straight and shiny hair. The products are versatile and can also be used as curling tools. With the right product, you can easily style your hair without worrying about heat damage or uneven textures. So how can you ensure that you select such a product? Here are some important features to look for;
Size
Hair straighteners are classified into mini, medium and huge sized. Purchasing the right size is always crucial for efficient hair styling, and it will also cause less damage to the hair strands.
Temperature
Some hair straighteners work below 360 degrees while others have heating capacity of up to 410 degrees. You can choose the temperature depending on your hair texture. In this way, you can be able to achieve smooth and healthy hair with less hassle.
Plate type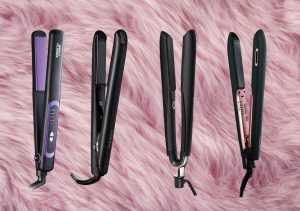 Hair straighteners are also available in different shapes and sizes. From heavy duty straighteners to mini travel ones, each of them come with specific plate sizes. Generally, the more full the plates, the quicker it takes to get smooth hair. The different types of plate materials include ceramic irons, titanium and tourmaline.
Shape of the straightener
If the plates have sharp edges, it can have a negative impact on its versatile. On the other hand, plates with round and smooth edges are quite easy to use.
Plate width
The wider the plates the faster it will take to straighten the hair. If you plan to use the hair straightener when travelling, ensure that you find a straightener with slightly narrower plates. This will make it easier for the product to fit in your bag. If you have fine hair, ensure that you avoid wider plates since they tend to produce more heat which will eventually damage the hair.
Auto shut off feature
The auto shut of feature allows the hair straightener to shut off even if you forget to do so. They are actually the safest products in the market. If you leave the device on, it will simply deactivate on its own.
Additional features
Besides the above mentioned, there are many other important features that you should look for in the best hair straightener in India.
Frequently Asked Questions
In this section, we are going to discuss the common questions that most people have concerning hair straighteners. They will give you an idea of what to expect concerning the purchase and usage of hair straighteners.
How often should I clean my hair straightener?
Burnt hair and product build up can reduce the effectiveness of a hair straightener. It is therefore important to clean the tool after every use. The good thing about hair straighteners is that they are very easy to clean.
Can I style my hair every day?
When you straighten the hair on a daily basis, it can easily dry, freeze or get damaged. So you should avoid frequent usage of the hair tools.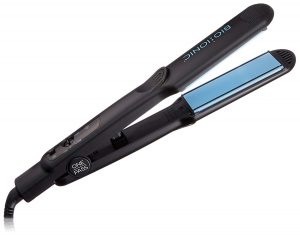 Why do my hands feel hot when holding the hair straightener?
Some plates like titanium tend to emit intense heat. For comfortable use, try to use heat resistant gloves to protect the hands.
Can I use the straightener when my hair is damaged?
No. instead, try to repair the hair before using a hair straightener. If you really need to sue the tool, pick one that can cause the least damage.
Can I iron wet hair?
No. if you iron the hair when wet, it can completely dry out before styling
Do hair straighteners cause hair loss?
This depends on the type of straighter you use. The best straighteners are usually effective, producing a considerable amount of heat which won't really affect the hair.
Are there cordless hair straighteners?
Yes. These straighteners use rechargeable batteries instead of electric power
Conclusion
Just like any other product, there is a massive range of hair straighteners in the market. It can especially be overwhelming for a person who has never used the product before to pick the right option. This is where our review comes in. Our list includes some of the best hair straightener models in India that you can find today. They are also very affordable and can help you rock a gorgeous look without breaking the bank.