Over the decades, technology has improved our day-to-day lives in countless ways, the electric shaver stands out when it comes to male grooming. Nowadays, more and more men are preferring electric shavers over the convectional razor for its great ease and convenience.
Although the manual shaving still provides the closest shave, the best electric shavers have made significant advancements to become skin-friendly and time-saving.
5 Best Electric Shavers in India for 2019-Review
Electric shavers are more safe to use as it prevents bruises and cuts. Today, in this post, we've rounded up five top-selling, value-for-money best electric shavers in India for 2019, for let's scroll down and have a look.
1. Philips Aquatouch AT 620-14 Electric Shaver


The Philips Aquatouch AT 620-14 electric shaver lets you have a smooth razor-like without damaging the skin. This is the best trimmer for grooming the mustache & sideburns. You can use this electric shaver with both gel or foam for an enhanced, refreshing skin feel. Or you can also use it dry for a quick, convenient shaving experience. When you are done with the shaving, you can simply remove the hair struck by simply placing the shaver under the running water.
Specifications
Skin Protection System
100% Waterproof
30+ Minutes Shaving Time
Close Cut Blades for a Smooth Finish
2 Years Philips Warranty
Planning to purchase this model?
2. Philips 5050/06 Aquatouch Electric Shaver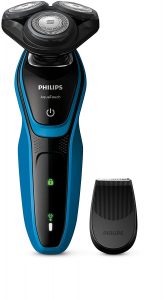 Wet or dry, this Philips 5050/06 Aquatouch electric shaver lets you enjoy a comfortable shave while protecting your skin, owing to the ComfortCut blades. The rounded slides move smoothly throughout the skin and safeguarding the skin against the cuts & nicks. You can use this electric shaver with gel or foam for a quick yet comfortable shaving experience.
Specifications
ComfortCut Blade System
30 Minutes Cordless Use
SmartClick Precision Trimmer
Heads Flex in 5 Directions for a Faster Shaver
Planning to purchase this model?
3. Braun Series 3 310s Rechargeable Wet & Dry Electric Shaver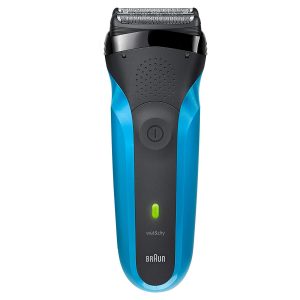 Braun is an internationally eminent German brand that has a robust image in the world of world-class precision shavers. The Braun Series 3 310s rechargeable electric shaver is simple and intuitive in design. This electric shaver promises advanced shaving, because of the 3 specialized shaving elements that unify in tandem for a gentle and close shave. The Braun's patented SensoFoil safeguard the skin against the ultra-sharp blades. This electric shaver provides perfect adaption, as the three-elements moves finely over the different contours of the face to ensure maximum skin contact.
Specifications
100% Waterproof to Use
Shave Both Wet or Dry
2* Long Life Batteries
Planning to purchase this model?
4. Syska SH7200 Electric Shaver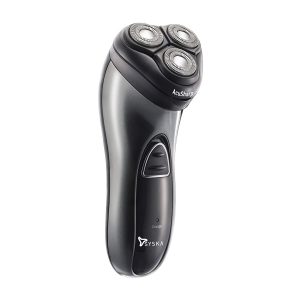 The Syska electric shaver is powered with the technology of SensoCut for a close and comfortable shave. Faster, sharper and smoother, this electric shaver has a triple head dual-track shaving system to prevent nicks & cuts. This electric comes with best-in-class skin-friendly, self-sharpening blades. The dual-track 360 rotary system ensures close and fast shave in lesser time. The first blade is ultra-thin, which performs the purpose of raising the hair, and then the other two blades cut off the thick & long hair. In a matter of seconds, you'll have a clean detailed shave.
Specifications
Charging LED Indicator
Travel-Friendly
Hassle-Free Maintenance
2 Years Warranty
3D Floating Head
Planning to purchase this model?
5. Havells RS7130 Electric Shaver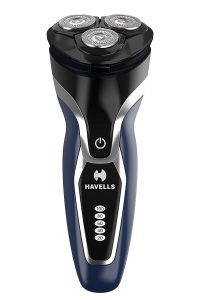 Havells is a well-renewed electric brand in India, which has on offer a spectrum of men grooming products, but this electric shaver is a top-selling item. This shaver comes with 4D floating blades that finely adjust to the face contour, and the cut-blade system ensures faster close shave.
Specifications
Use Both Wet & Dry
Two-Track Multi-purpose Precise Cut Blade System
Ease of Handling
Planning to purchase this model?
Best Electric Shavers Buying Guide and Tips
Whether you are buying your first electric shaver or upgrading your old one, the below mentioned quick buying tips are here to help you out.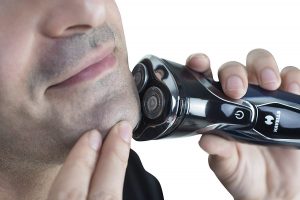 Have Clarity on The Features And Specifications
Make Sure You Buy from A Reputable Brand
Look into the Charging Aspect of the Electric Shaver
Have a Budget in Mind
Conclusion
It is important to weigh the pros and cons of top-selling electric shavers in your budget to make a smart buying decision. And, lastly, it does take time for the skin to adjust to the best electric shavers so give it time & be presisent to have a comfortable shaving experience.