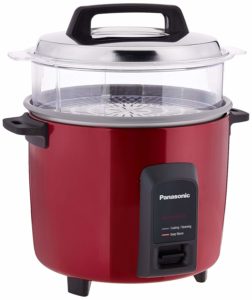 Electric Rice cookers have long been one of the appliances that households wouldn't miss on having. It just simply adds convenience to every home. But it's not a secret that choosing the best electric rice cooker to buy is no convenience, the total opposite.
You need to research on all the available reviews online and browse through 100s of electric rice cooker models in the market and read on all the information that would help you out on the process.
Good thing, I am here to help you out and remove that burden on you. This article is divided into two parts. I have listed the top 10 best electric rice cookers in India in the first part. In the second part, I have summarized all the useful information and reviews you'll need. I assure you that after reading this full article you'll be in a good position to choose the rice cooker that best matches your needs.
Also Read: Best Pressure Cookers in India
10 Best Electric Rice Cooker in India – Reviews
From amongst the many cookers available in the market, it will really be mind-boggling to choose the best electric rice cooker that your family will need and love to use. The models listed below are the top and the best in the country. I have filtered it in a way that will really be useful, to satisfy all your needs and wants in a rice cooker. I am sure you will find out one that will not just satisfy your preference, but even exceed it. Here they are:
1. Prestige PMC 2.0 Multi Cooker with concealed base

This will definitely be your favorite companion in the morning. This multi-purpose cooker can help you cook and make not just rice but also noodles, boil eggs, soups, tea, and coffee. This is also multi-featured, making it very convenient and hassle-free to use.
Features / Specifications
Concealed heating element
Variable temperature control
The automatic cut-off for dry heating
Durable Stainless Steel body
360-degree Swivel Base
Capacity: 1 Liter
1 Year Prestige's Warranty
Voltage: 230V
Wattage: 600W
Pros
Stylish glass lid
Ergonomically designed handle
Close Fit Lid
Cons
Uneven heating
Good with boiling but not cooking
Not good quality steel pan
Planning to buy this model?
2. Prestige PRWO 1.8-2 700-Watts Delight Electric Rice Cooker with 2 Aluminium Cooking Pans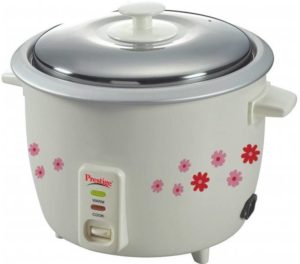 This stylish cooker is a must-have with its steam feature that comes handy in your kitchen. Packed with controls that will make your cooking experience hassle-free. This is also ideal for soup making.
Features / Specifications
Control switch lever for automatic cooking
Cook and Warm Mode indicators
Voltage: 230V
Wattage: 700W
Capacity: 1.8 L
1 Year Warranty
Pros
Cool Touch Handle
With Additional Cooking Pan, Measuring Cup & Scoop
Close Fit Lid
Cons
Container too thin, Rice sticks at the base sometimes
Slow to cook
Average performance
Planning to buy this model?
3. Prestige Delight PRWO 1-Litre Electric Rice Cooker

This small cooker is the best option if you have a limited space in your kitchen. This is also everyone's favorite as it does not only cook rice. You can cook porridge, soup, stew, pulao, idlis, and vegetables.
Features / Specifications
Control Switch
300 watts power
1 Year Warranty
Capacity: 1 L
Auto Keep Warm Function
Pros
Close Fit Lid
Cool Touch Handle
Good Design
Cons
The lid is not a see-through glass
Too Small in size
Planning to buy this model?
4. Panasonic SR-WA10 450-Watt Automatic Cooker without Warmer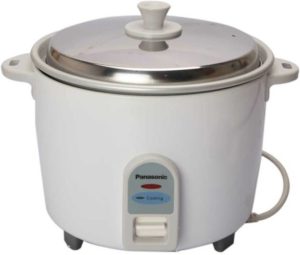 If you're just looking for a basic electric rice cooker that has a minimalist look, this model is for you. It boasts of its anodized aluminum pan that prevents food particles to stick on it and its long period warranty. It doesn't have that many features but it definitely does its job well cooking rice.
Features / Specifications
Automatic cooking
Auto cut off
Anodised aluminum cooking pan
Premium quality CRCA body material
Capacity: 1 L
2 years Warranty
Pros
Compact
Energy efficient
Equipped with a scoop holder
Heat resistant plastic handles
Easy to Clean
Inexpensive
Cons
The lid is not a see-through glass
No Keep Warm option
Too small
Slow to cook
Planning to buy this model?
5. Prestige Delight Electric Rice Cooker Cute 1.8-2 (700 watts)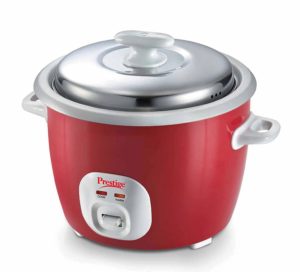 If you are looking for an edgy contemporary designed cooker, this fits you well. Its red color is not to miss. You can cook not just rice but porridge, stew, idlis, and vegetable hassle-free in here. It also has 5 years warranty on its heating plate.
Features / Specifications
Auto Keep Warm Function
Capacity: 1.8 L
Multicooker
Automatic cooking with control switch lever
1-year Warranty
Pros
Has Water Level Indicator
Measuring cup included
Cool touch handles
With an additional cooking pan
Close fit Lid
Cons
The lid is not a see-through glass
Slow to cook
Rice sticks and burns at the bottom
Planning to buy this model?
6. Bajaj RCX 5 1.8-Litre Rice Cooker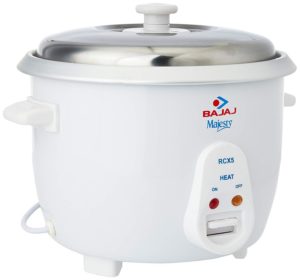 This is a perfect choice if you are looking for a neat looking and stylish cooker, as this has an all-white body. On top of that, this good-looking unit has user-friendly controls. This is also perfect for small families with its cooking capacity.
Features / Specifications
Aluminum Cooking Pan with Anodized Finish
Capacity: 1.8 L
Voltage: 230 V
Wattage: 550 W
2 Years Warranty
Pros
Cool Touch handle
Low power consumption
The lid has steam vents
Cons
The lid is not a see-through glass
Slow to cook
Has no Keep Warm mode
Hard to clean the pan as rice gets burnt
Planning to buy this model?
7. Panasonic SR-WA18 E 4.4-Litre Automatic Rice Cooker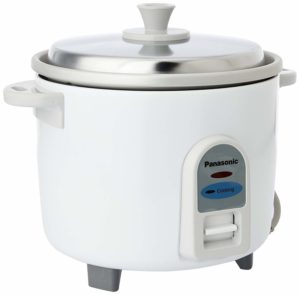 This sturdy looking cooker is an Amazon's Choice, the reason you wouldn't regret getting this elegant electric rice cooker. This is lightweight but very durable. This also has good cooking performance and everything you want to have in your basic rice cooker.
Features / Specifications
Anodized aluminum cooking pan
Capacity: 1.8 L
Wattage: 660 W
Automatic power cut-off
Automatic cooking
Pros
With scoop holder
5 Years warranty on the heating plate
Heat resistant handles
Low Power consumption
Cons
Rice gets stock at the bottom making it hard to clean
A bit high priced
It has no Keep Warm Mode
The lid is not a see-through glass
Planning to buy this model?
8. Bajaj RCX 3 Mini 0.4-Litre Multifunction Rice Cooker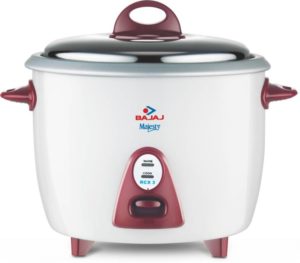 It has a super clean surface finish, making it very attractive. Indeed the best choice for a household who's looking for an electric rice cooker that will add class and sophistication to their kitchen. It also boasts of its additional safety feature which is the thermal fuse.
Features / Specifications
Capacity: 1.5 L
Automatic cooking
2 Years warranty
Compact & Portable
Wattage: 350 W
Cool Touch body
Pros
Thermal fuse for extra safety
Lid with Steam Vents
With Keep Warm mode
With an additional cooking bowl, measuring cup & spatula accessories
Cool Touch handle
Cons
Cooking Pan is too delicate
Low product performance
Slow to cook
Planning to buy this model?
9. Panasonic SR-W18GH 270-Watt Automatic Cooker Warmer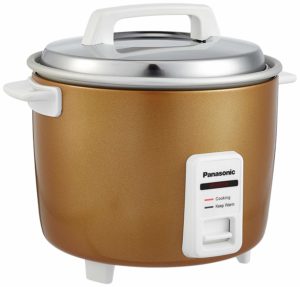 This is a complete set rice cooker everyone would love to have. It is a multicooker that every homemaker would love to have as it would make them feel like a chef. Its color, finishing, and design give sophistication to any kitchen it will be in.
Features / Specifications
Capacity: 1.8 L
Cooking, Steaming & Warming Options
Auto Keep Warm Function
Wattage: 660 W
Volts: 220-240 V
Anodized Aluminium cooking pan
Auto cooking
2 Years warranty
Pros
Accessories: Single Deck Steamer, 2 Dish Separator Pan, Stainless Steel Idli Maker
With an additional Measuring cup, Steaming basket and spatula
Convenient Bridge Handle
Cons
High priced
Rice gets burnt when in keep warm mode
Planning to buy this model?
10. Panasonic SR-Y22FHS 750-Watt Automatic Electric Cooker with Non-stick Cooking Pan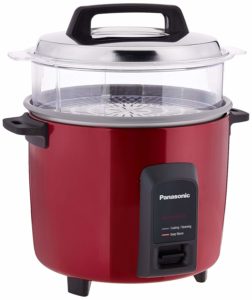 This burgundy electric rice cooker with a clear steaming basket is a must for every kitchen. It also has a higher cooking capacity best for big families. Its body, as well as its basket, are both of premium quality so it is guaranteed durable. It also has a longer time of Keep Warm mode.
Features / Specifications
Convenient Bridge handle
Auto Cooking
5 hour Keep Warm mode
Heatproof plastic handles
Capacity: 2.2 L
Wattage: 750 W
Simultaneous Multicooking Option
Pros
Non-stick cooking pan
Durable Steaming basket
Food-grade plastic CRCA body material
Thermostat for Precision Control
Japanese Technology
Cons
High priced
Good with rice cooking but average on other types such as steaming
Delicate Teflon coating
Planning to buy this model?
I am sure you've found the one amongst the top 10 listed above that you've liked best. And I know you won't regret getting that for that would be the best electric rice cooker for your home.
Types of Electric Rice Cookers
You'll be surprised how electric rice cookers have evolved and now has four types. See the list below to help pick on that'll suit your needs.
1. Standard Rice Cookers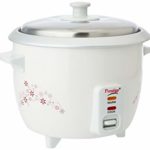 This is the most inexpensive type. This is simple to operate, just add the rice and water and push the ON button. Once it is done cooking, it will automatically switch to warming mode. This comes with a detachable cord, a non-stick cooking pan and in different sizes.
2. Improved Rice Cookers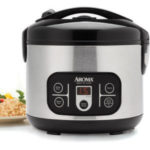 From the word itself, it just adds few improvements to the standard type and lets you do some additional things. Such things are: they have settings for cooking different types of rice each, steam feature, digital timer, and additional heat warming functions.
3. Multifunction Rice Cookers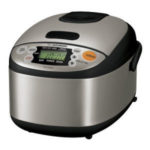 This boasts of its versatility having lots of rice cooking settings to choose from. This is possible as it uses an advanced control technology. It usually has a digital display and delay settings such as extended warming and reheat processes.
4. Induction Heat Rice Cookers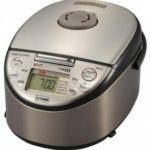 This is the king amongst all types and a high tech piece of cooking appliance. With this said, this is the most expensive type of electric rice cookers. This makes better rice consistently as it produces a magnetic field that heats the pot quickly and evenly. It has digital and multi-function control options.
Now, let's move forward to the things you need to keep in mind when deciding on which electric rice cooker to go for.
Best Electric Rice Cooker Buying Guide
Here are the things you need to take into consideration when looking for the best electric rice cookers:
1. Cooking Capacity
You should know how many you are in your household as that is the top information you must have with you before choosing the one to buy. The cooking capacity of the electric rice cooker must be enough for everyone in your house and even a bit more so that it can still come on handy on celebrations or gatherings you might host in your homes. A rule of thumb is a cooker with 3 to 5 liters capacity is enough for 5 to 6 members of a family.
2. Features
Following are some features to look for:
Self-timer – It lets you set a specified time for you to be able to anticipate when your rice will be cooked.
Keep Warm Feature – Ensures that your rice is warm but not overcooked after the actual cooking is done.
Texture Setting – You can select different rice textures such as soft, normal or firm.
Reheat Cycle – Warms back your rice every 5 to 10 minutes.
Automatic Switch Off – As soon as the rice is cooked the cooker turns off.
Steaming Tray – You can steam other food even while cooking your rice. With some models, you can use the steamer even when you are not cooking any rice.
Fuzzy Logic technology – Senses the changes in the internal temperature and adjusts the time to cook the rice with precision.
Digital Control Panel – Display panel shows temperature and other other important details that adds ease of use and convenience while cooking.
3. Easy to Clean
Choose a guaranteed non-stick pan so it would be easier for you to clean it.
4. Exterior Design and Safety
Don't just look at the aesthetic charm of the model but make sure that it has the safety stay-cool handle and has a glass top you can see through while the rice is cooking.
It's not that long of a list. I am sure it won't be hard for you to keep all these in mind.
Frequently Asked Questions
Here are few of the common and important questions answered for electric rice cooker buyers:
1. What size is best for my family?
Take note that electric rice cooker capacity can be measured by cups. With this, you can choose which will fit the size of your family. For small families (3-5), a 3 cup cooker would be enough, for medium families (5-7), a 6 cup and for big families (10-15), the 10 cup rice cooker is best.
2. Can I use this cooker for cooking other food?
Not all models have multi coking function. Refer to the specifications first to check what other food it can cook before trying on anything.
3. Are all models with additional accessories?
No, but some models have add-on accessories like measuring cup, spatula, and another pan.
4. Do all models automatically turns off when the cooking is done?
No, because some models have the keep warm automatic mode after cooking.
Next stop is the few reminders you need to know when finalizing your buying decision. See below.
Electric Rice Cooker Buying Tips
Here are the final details you need to know before purchasing that best electric rice cooker for you and your family:
1. Budget
Set a limit to how much you want to spend on getting that electric rice cooker for your home. Bear in mind the features you just need and don't go overboard getting the multi-featured model if you will not be needing it. It will just be a waste of money.
2. Warranty
Always note the warranty period and the restrictions of it as well. Not all parts are included in the warranty so it really pays to know that beforehand.
3. Design
It is important to prioritize the capacity of the cooker equivalent to the size of your family. But it would also be good to consider if the design of the cooker will fit your kitchen's interior design and size. You will surely find one amongst the models listed above.
4. Cooking Style
If you are looking to have the most convenient type, go for the model with multi cooking capabilities. It may be a bit expensive but it will be worth your hard earned money. It will also give you versatility on your cooker that you will always love about your electric rice cooker.
I am sure you are now 100% harnessed onto getting the best, among the best electric rice cookers out there, for you and your family. I hope you enjoyed this comprehensive article on electric rice cookers.
To wrap up below is a video to show you why you truly need an electric rice cooker at home:
Happy shopping!