Buying the best coffee maker for the everyday sip of your favorite coffee can be a challenging task, especially when you're new to the world of coffee makers and have your money at stake.
With hundreds of coffee maker brands and models to choose from, finding the best coffee maker that suits your coffee requirements can get frustrating.
But you don't need to worry anymore. If you are looking for the best coffee maker for your coffee needs, you have arrived at the right place. Finding the right coffee maker for your home/office has never been so easy.
This generously written review is split into two parts. The first part covers the ten best coffee makers in India, while the second part covers the other necessary information such as the different coffee maker types, helpful buying guide and tips, and so on…
10 Best Coffee Makers In India
On this page, we've reviewed the top 10 coffee maker from the various models of various brands available online. We've only chosen the best Coffee Makers in India according to user response from different online shopping sites like Flipkart, Snapdeal, Infibeam and a couple of other sites. Each user response was fully taken into account while selecting these coffee makers in India.
Let's go through the reviews of these 10 coffee makers from brands like Morphy Richards Fresco , Morphy Richards Europa, Sunflame SF 721 etc:
1. Café JEI French Press Coffee and Tea Maker 600ml with 4 Level Filtration System, Stainless Steel, Heat Resistant Borosilicate Glass

Café JEI French Press Coffee and Tea Maker is a manual coffee maker that works perfectly fine for make-your-own coffee and tea. For those who can't start their morning without a fresh coffee, this is a good buy for you. You can take this literally everywhere you go. With your ground coffee ready, just heat your water with the right boiling temperature and then pour it into this durable French Press. Wait for 3 to 4 minutes, then press it down for a ready to serve coffee! This can serve two large (300ml) cups of coffee or six (6) espresso size in an instant!
Features and Specs
4 Level Filtration System – 2 screen filters, 1 plunger, 1 top lid strainer

Made of high-grade steel

Made of heat resistant borosilicate glass

Has a sturdy non-slip handle

Comes with a measuring spoon
Pros
Durable; Trusted brand with high-quality material

BPA Free

Easy cleaning feature because of good glass and steel

Portable and no need for electricity

Can make 2 large cups or 6 espresso cups in an instant!

With warranty: One-year replacement against any manufacturing defects
Cons
Filter screens are smaller than the glass diameter so coffee granules come out to the side
Planning to buy this model
2. InstaCuppa French Press Coffee Maker with 4 Part Superior Filtration 600 ML, Stainless Steel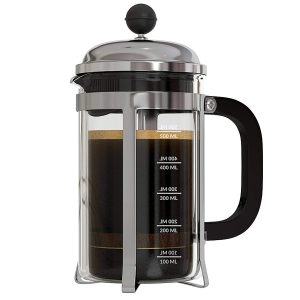 A stylish elegant InstaCuppa French Press is a good company for those who want instant brewed coffee. It has a 4-part microfiltration system that works in keeping those coffee granules away for a smooth coffee drink. The glass comes with measurement marking so it helps when you want to prepare just the right amount of coffee to drink. With a capacity to serve 6 100-ml cups or 2 large regular brews, it's a must-have for coffee lovers.
Features and Specs
4-Part Micro Filtration System

Premium Grade Borosilicate Glass

Heat Resistant Handle

BPA Free

Measuring Marking on the glass

Dishwasher Safe and Easy to Clean feature
Pros
Portable and No electricity needed

Stylish and elegant

Comes with measuring markings so you can prepare the right amount of coffee

4-in-1 Use: Pitcher, Milk frothing, loose leaf brewer and coffee/espresso maker

With Warranty: 1-year warranty for any manufacturing defects
Cons
Not so fine coffee, still with few coffee granules

The glass is not so durable, cracks and breakage complains are posted
Planning to buy this model
3. Morphy Richards Fresco 800-Watt 4-Cups Espresso Coffee Maker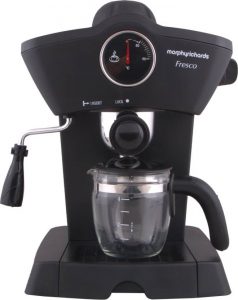 Morphy Richards Fresco 800-Watt 4-Cups Espresso Coffee Maker is capable of preparing fresh heavenly espresso for you and your family in just a few minutes. The espresso tastes like that prepared in Starbucks or Cafe Coffee Day. The Morphy Richards Fresco 800-Watt 4-Cups Espresso Coffee Maker is preferred as the coffee prepared in just perfect with cream on top just like that offered in any coffee parlor. The coffee lovers now don't need to spend a lot on their favorite espresso. This beauty is just perfect to be a part of your modular kitchen.
Features and Specs
It is capable of preparing 4 cup coffee with milk frothing

Heat resistant grip all along with drip tray

The glass carafe allows the coffee to be visible.

The temperature indicator helps in displaying the temperature.

Power: 800 watts; Operating voltage: 210-250 volts
Pros
Looks elegant and stylish

Efficient espresso machines

A capacity of about 4-6 cups

Perfect milk frothing

The drip tray is accessible

With warranty: 2 years on product
Cons
No temperature control

It is good to use a cup or pitcher for frothing the milk as the machine is not big enough.
Planning to buy this model
4. Preethi Dripcafe Coffee Maker (White)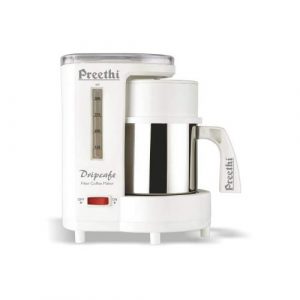 If you want well cook and filtered coffee and have the time to wait for it, then this Preethi Dripcafe Coffee Maker is a perfect suggestion. It's a drip cafe so that means it will take a few minutes for proper heating the ground coffee than having it filtered. The process may take some time but the absolute produce is fine smooth coffee cooked in the right temperature.
Features and Specs
Concealed 450W heating element for faster brewing

Microfine filter for fine decoction

High-quality heat-resistant plastic

Sturdy stainless steel jar

Accurate temperature control and heat-sensitive thermal fuse
Pros
Produces fine and good quality coffee

Lightweight

Fast brewing, fine decoction

The machine keeps decoction warm while on

With Warranty: One year on product
Cons
Outdated design

Plastic doesn't look durable
Planning to buy this model
5. Philips HD7431/20 700-Watt Coffee Maker (Black)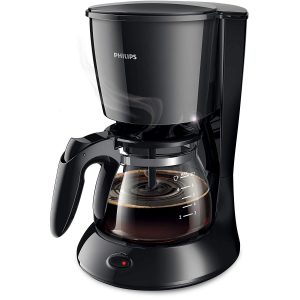 Looking for a coffee maker with no fuzz and just coffee?  Philips HD7431/20 700-Watt Coffee Maker is that option in this list. It's a simple coffee maker that can serve you up to 7 cups of tasty brewed coffee. It has the AromaSwirl nozzle that evenly mixes the filter coffee to maximize your coffee powder. A great tasting coffee will surely be served after.
Features and Specs
It has an AromaSwirl nozzle for optimal aroma distribution

Has a drip-stop feature that interrupts coffee brewing whenever you stop it

Non-slip and illuminated power switch

Up to 7 cups capacity

Space saver design
Pros
Dishwasher safe parts and easy to clean model

Comes with a built-in washable filter

With Warranty: 2 years on product
Cons
Brewing time is 10 mins, quite longer than others

Quick filtration so don't expect thick decoction
Planning to buy this model
6. HELICON Strong Stainless Steel Body Tea and Coffee Maker Electric Kettle (2L)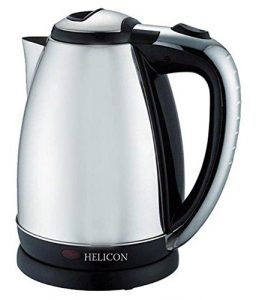 If you're looking to serve multiple coffee cups every time, then this is a good find! HELICON Strong Stainless Steel Body Tea and Coffee Maker Electric Kettle have a capacity of 2 liters and that's a lot of cup of coffee or tea. This stainless steel elegant electric kettle comes is cordless and has an auto shut-off function. Not only is this good for boiling water but this could definitely serve a good purpose for instant coffees and teas.
Features and Specs
A stylish mirror stainless steel body that suits all kitchen design

A wide outlet for a kettle best in serving fast hot drinks

Convenient Locking Lid to ensure safety while boiling

360-degree rotating base

Automatic shut-off technology that prevents damage from overheating
Pros
Best for serving more than 6 cups of coffee or tea

Simple and quick boiling for instant preparations

Cordless and with ergonomic handle for portability

Automatic shut-off feature gives you more focus on doing something else

With warranty: 1 year
Cons
Best for instant coffees and teas only

Not for coffee grounds

1500 watts high electric consumption
Planning to buy this model
7. HOLME'S Kettle TSQ0051/Electric Kettle/Kettle/Tea Kettle/Tea and Coffee Maker/Milk Boiler/Water Boiler/Tea Boiler/Coffee Boiler/Water Heater/Stainless Steel Kettle/1.8 Liter Stainless Steel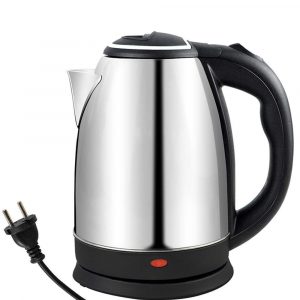 HOLME'S Kettle TSQ0051 is another good option if you are looking for an electric kettle. It has a capacity of 1.5 liters and is best when serving a big number of guests. Should instant coffee, tea, or chocolate be the preference, electric kettles are the best. Especially when you are in a rush to serve some hot drinks.
Features and Specs
1.5 Liter capacity

Elegant handle with single-touch lid locking for safety while boiling

Automatically cuts-off power when the temperature exceeds desired levels

Concealed heating element for fast boiling

Optimal spout design for easy pouring

360-degree swivel base
Pros
Elegant stainless design to suit any kitchen

Big capacity to serve more than just 6 cups

Auto shut-off feature prevents overboiling

Portable and easy to lift design
Cons
No warranty on the product

1500 W electric consumption too high for regular use
Planning to buy this model
8. Morphy Richards Europa Espresso / Cappuccino 4 Cups Coffee Maker (Black)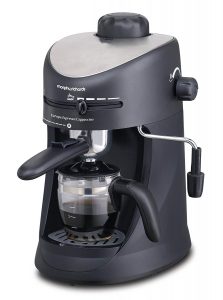 This coffee maker makes you feel like a professional barista maker. Morphy Richards New Europa is built for professional and home use. It isn't an ordinary coffee maker for brewing and espresso only but it's a Drip type that makes cappuccino and latte. So if you love making your own cappuccino and latte, don't forget this among your options. It comes with several features like strength selector, turbo steam nozzle, steam power selection, and heat resistant carafe. So be sure to read the manual to get to know more of this elegant Europa model.
Features and Specs
Comes with an 800-watt motor for optimal functionality

Has a Turbo Cappuccino Nozzle for a satisfactory froth

Has a removable drip tray for easy cleaning

Has a coffee strength selector best for selective taste-buds

Comes with stainless steel cup filter, no waste paper filters

Can make up to 4 cups of coffee

Has to overheat protection for safety
Pros
Professional look

Not just an ordinary brewing coffee maker

Have safety features like the overheat protection and anti-slip base

Best for cappuccino and latte lovers

With warranty: 2 years on products
Cons
Dedicated for cappuccino and latte making besides brewing

A bit pricey for added features
Planning to buy this model
9. Prestige PCMD 1.0 650-Watt Drip Coffee Maker, Multi Color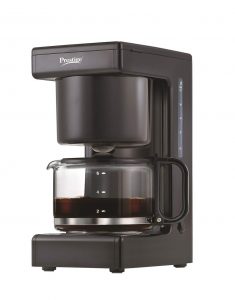 Another Prestige on the list to consider in your coffee maker selection. This unique design Prestige gives a different feel on your kitchen from the typical round design ones. It offers to serve 2 to 4 cups of drip coffee that have settled for a good decoction. Making good tasting coffee all by the machine.
Features and Specs
Drip coffee type – best for rich taste and aroma

Advanced mesh filter with a handle that's convenient for cleaning

Translucent water gauge

Anti-drip valve

Steam vent for excess steam
Pros
Elegant and stylish design

Brew basket with handle makes it easier for cleaning

Anti-drip valve is good for maintenance and cleaning

A trusted brand with high-quality materials

Uses advanced brewing technology for good tasting coffee

With warranty – 1 year on product
Cons
Can only serve 2 to 4 cups of coffee

Cannot make a thick decoction

Not for making froth or cappuccino or latte
Planning to buy this model
10. PRESTIGE PCMD 3.0 650-Watt Coffee Maker (Black)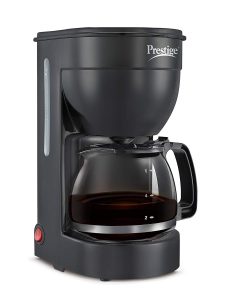 Prestige a known appliance company has created a drip coffee maker for coffee lovers! This PRESTIGE PCMD 3.0 650-Watt Coffee Maker comes with an anti-drip mechanism, advanced brewing technology, and advanced design mesh filter to deliver perfect-tasting coffee from your own kitchen. Prestige aims to simplify your coffee making routine in the morning by providing a good quality model that suits your kitchen, too.
Features and Specs
Advanced design filter for a thick decoction

Translucent water gauge

Brew basket with filter handle – easy for cleaning!

Elegantly designed glass carafe

Anti-drip valve that prevents dripping when carafe is removed

Steam vent for excess steam
Pros
Simple but elegant design to match any kitchen

A capacity of 6 cups

Simple and easy to use

Functional filter design for good decoction and easy cleaning

Advanced brewing technology that good tasting coffee

With warranty: 1 year on product
Cons
Doesn't produce a thick or strong coffee

Few reviews on anti-drip mechanism not working well
Planning to buy this model
Best Coffee Maker Brands in India
It is important to do a little study about the brands before purchasing this appliance as all might not suit your requirement or budget. Here are some of the best coffee maker brands in India which are trusted by the customers.
Morphy Richards


It has its headquarters in Swinton Meadows and was founded on July 8, 1936, and has its specialization in home appliances like induction oven, kettles, coffee makers etc. This brand is engaged in making coffee makers which is one of the favorite and highest selling appliances of Morphy Richards. The coffee makers are of great quality and are capable of preparing a cafe like coffee. The coffee makers are the highest selling in the Indian Market.
Philips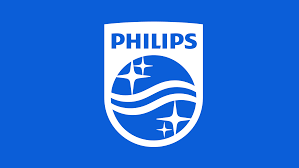 It is a Dutch Technology brand and has its headquarters in Amsterdam. It was founded on 15 May 1891 by Gerard Philips and Frederik Philips. This brand has focused on the field of electronics, lighting, and healthcare. It was the worlds largest manufacturer in the year 2013 revenues. In India Philips is like a mother brand for all electronics and lighting and we often don't even care about the product specs by just looking at the brand. The Philips coffee makers are the most demanded coffee makers and are preferred for its compact and stylish design, moreover, it is budget friendly and suits the preferabilities of Indian Market.
Prestige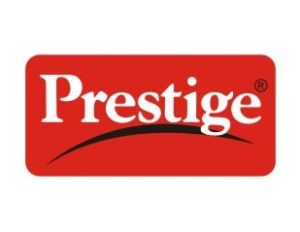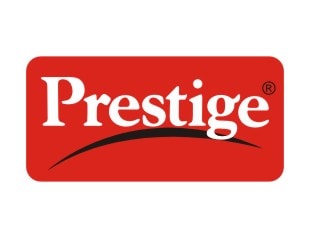 This brand was set up in 1996 and this brand is engaged in manufacturing and supply of healthcare and household appliances. This brand by the name itself has a great reputation in the Indian Market and are trusted by millions of users. The Prestige coffee makers are durable and efficient and have all inbuilt features required in a perfect coffee maker.
Preethi


It is an Indian leading home appliance brand and has its presence over 10 billion households in India and abroad. The modern technology is used to build these appliances and hence it caters to the needs of modern households. This industry was set up in 1978 and engaged in building kitchen appliances. Preethi coffee makers are perfect for small needs and are capable of delivering coffee for the household.
Coffee Types and Cultivation
Coffee is either arabica or robust beans or a combination of both. Arabica beans are usually more expensive and tastes better. They are usually cultivated at the tropics of cancer and Capricorn, Brazil being the top producer of Coffee. There are different types and they again taste different so you should be careful before choosing one for your machine.
The following video shows glimses of coffee cultivation in India.
Coffee is usually found in Colombian, Kona, Kenyan, and Sumatran region and is usually believed to be first found in Ethiopian region by a goat herder when his goats behaved started behaving strangely. In India, it is cultivated in the southern parts like Coorg and Karnataka.
Buying Guide For Selecting the Best Coffee Maker
Now let's look at a few points to be remembered for finding the best coffee maker for your home. These points will help you find
Preparation – This means how the coffee is supposed to be prepared, good quality coffee just tastes perfect black whereas average coffee requires little sugar and milk to taste good. In the case of poor quality coffee, even cream doesn't work and this is the reason for preparing coffee in so many types.
Temperature for Brewing – This is an important factor as average coffee makers don't follow the basic guidelines that is the perfect temperature required is 195 to 205 degrees during brewing. Any alteration to the temperature destroys the essence of the coffee beans and makes it taste bitter.
Fresh Grinding – In case of using the coffee maker always remember using fresh ground coffee as the pre-ground coffee doesn't taste as good as compared to the freshly ground coffee. The aroma is always present in fresh ground coffee and in the case of pre-ground coffee the aroma is somehow lost.
Types of Coffee Makers
Following are different types of coffee makers present in the market:
Single cup Coffee Makers – This coffee maker is capable of preparing one single cup of coffee as the name suggest itself. It is very efficient as you don't need to guess the quantity of coffee that needs to be brewed and hence the coffee just tastes perfect.
Drip Coffee Makers – This is the kind present in most of our houses. The smell of coffee spreads all across the room in the morning when you wake up. Some of the Drip Coffee Makers come with the feature of automatic brewing and this is an added benefit when it comes to the taste.
Cappuccino and Espresso Machines – The Cappuccino and Espresso Machines are the professional coffee makers for your favorite Cappuccino and Espresso. Every machine differs from each other depending upon their caffeine fill. You can find these in most of the coffee parlors.
French Press – This is a variety for coffee lovers who like to brew the coffee using their own hands as it doesn't come without any plug or setting. The French Coffee is prepared using this procedure. This is not so common in India but again its good to be an exception.
Percolators – This coffee maker is similar to electric coffee pots where there is a small chamber near to the source of heat where the coffee is brewed and then the whole process is executed.
Frequently Asked Questions
Following are some of the frequently asked questions that'll help you find the best coffee machine:
1. Which coffee makers make the hottest coffee?
All the coffee makers are efficient and make hot coffee as they use electricity which brews the coffee and therefore all you get is a hot glass of coffee that freshens you for the day's work. All single cup coffee makers, drip coffee makers, and espresso machines are efficient machines.
2. Which is the best coffee machine to buy?
We have listed on this page the best coffee makers to be purchased in India depending on the taste we prefer usually however before purchasing any coffee maker make sure what kind of coffee you desire the most as even for similar coffee makers the taste differs.
This is because every coffee maker uses different caffeine levels and what differs is the brewing that is how the coffee is brewed as some might have automatic brewers.
3. Can you make espresso with ninja coffee bar?
The Ninja Coffee bar cannot make espresso however if a part of water is mixed with the ground coffee the brew is light and perfect like latte or cappuccino. The taste is also quite similar however if you are good in identifying the taste of coffee you might not be satisfied with the result.
4. What is the best espresso machine?
Morphy Richards Fresco 800-Watt 4-Cups Espresso Coffee Maker is the best espresso machine available in India and you can find this appliance is most of the coffee parlors. 
It is capable of making perfect espresso without spoiling the taste or essence of coffee.
Buying Tips for Choosing A Coffee Maker
1. Budget Friendly
Budget is an important factor before you purchase any home appliance as it's not necessary that the cost price of the appliance matches your budget.
You should make a rough estimate of your requirements and then chose the appliance that is efficient as well as budget friendly. In this manner, you might find out that two different appliances with the same efficiency costs different hence a little research help you to save money.
2. Easy to Use
The coffee maker is very easy to use and there is no challenging procedure involved in the making of coffee. The appliance needs certain steps to be followed and the rest is done automatically.
Some machines are automatic with a timer and it lets you know when the coffee is ready by the beep noise all you need to do is fill the machine with beans or coffee sugar etc beforehand.
3. Quantity
This is a very important factor and you should be clear whether you need:
Single Cup Coffee Maker- This coffee maker is capable of providing one single cup at a time and is just perfect for fewer requirements or requirement at different times by different people.
Multi Cup Coffee Maker- This coffee maker is capable of preparing about 3-4 cups of coffee at a time and is for those who need to prepare three to four cups at a time.
4. Category
In India usually we prefer a latte, cappuccino, and espresso coffee and this is the important criteria as there are many professional coffee makers which are efficient and capable of preparing this professional coffee.
Now coffee makers can prepare your favorite cafe quality latte at home.
5. Safety
Any appliance that runs in electricity should be shock proof as safety is the one thing that should not be compromised. In case of overload, the circuit breaks and the appliance stops working.
This factor should never be underestimated as in case of an overload there might be chances of shock.
6. Easy to Clean
Usually, coffee makers have the coffee jar which can be detached and can be cleaned regularly and the filter inside the coffee maker can be removed after some time of usage.
Coffee Makers Technology – How Does it Work???
The Coffee maker technology is an easy and efficient procedure and the only thing that one needs to do is follow the simple steps so as to not get confused.
The following procedure demonstrates the coffee making procedure and also explains the type of coffee that can be used individually. You can get a rough idea about the brewing procedure involved in the process.
A coffee maker is a utility appliance for you if you are a coffee addict and can't imagine your day without coffee.
I hope you found this article helpful in finding the best coffee maker of your choice. Happy brewing!
Find The Complete Range Of Best Coffee Makers >>