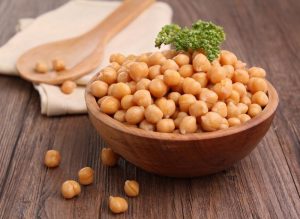 Foodies across the globe love chickpeas. Dried or canned, they occupy the prime spot in our kitchen cabinets. With high nutrition value, the chickpeas are power-packed with protein and fibre. A one-half cup serving of cooked or canned chickpeas contributed to 14% of your daily fibre need, 10% iron, 6% protein, and not to forget calcium and potassium.
Several foods and medical research show chickpeas help in overall weight management, enhancing heart health, and regulate glucose & insulin. With so many benefits, it is imperative to include chickpeas in our diet, and in this post, we've come up with ten popular chickpeas recipes you must try.
Here, are top chickpea dishes you will love to make and serve!
Best Chickpea Recipes
#1 Chana Masala
Chana Masala recipe is the heart and soul of vegetarian Indian cuisine. This spicy yet taste buds captivating curry is made from all the common ingredients in our kitchen. These include the fusion of spices, chopped onion, garlic, and tomatoes. Not only it tastes fantastic, but also the finish appearance of this garnish with dhaniya makes it perfect for a few Insta snaps.
As soon as put on gas stove, the aromatic species used to prepare this Indian curry will fill your house with mouth-watering aromas. Chana masala complements well with white rice or Tandori Rotis.
#2 Spicy Roasted Chickpeas
If you want to lose stubborn fat around your abdomen region, then you need to bid adieu to high-transfer fat potato chips and swap them with spicy roasted chickpeas. This crunchy snack is perfect for satisfying your stomach snacks hunger pangs.
The roasted chickpeas have a brownish, golden colour in appearance, and garnished with aromatic kitchen species such as cayenne, chilli, and paprika for a lip-smacking delectable taste.
#3 Chopped Chickpea Salad
This recipe is easy to make and healthy if you plan to go on a strict diet plan. Instead of roasting or baking, the chickpeas are boiled and mixed with chopped lemon, cucumbers, tomatoes, salty feta, green chills, and finally garnished with the lemony dressing.
#4 Chocolate Chickpeas Truffles
Yes, you have the goodness of chickpeas after a meal as a desert. A chickpea and the base of cashew butter are sweetened with maple syrup and dunked in chocolate, and finally dressed with cacao nibs. Keep in your refrigerator for some time to cool.
#5 Chickpea Protein Bars
The market available protein bars contain a list of preservatives and sweeteners, which make them unhealthy, so we've come up with a recipe to prepare a protein bar at home. A homemade protein bar is power-packed with the goddess of nut butter, dried cranberries, protein powder, dates, and the essential ingredient to forget chickpeas.
A protein bar is ridiculously easy to make, toss all the ingredients in a food processor, and then take out and press it in the form of the many protein bars. It is a perfect on-the-go or 5 Pm snack.
#6 Chana Saag
This is a classic Indian dish which combines spinach and chickpeas, with a myriad of wonderful Indian species, aromatics, and herbs. Chana Saag is found in most restaurants and dhabas throughout the country, especially in the Northern region. There are endless variations of this recipe in terms of species.
#7 Cinnamon Toast With Crunched, Roasted Chickpeas
Yes, we covered the roasted chickpeas, but what if you have a sweet craving? For that, we have this recipe for you. The sweetened, roasted chickpeas are the substitute to the popcorns. Tahini coats the chickpeas into sweetened flavoured seasonings; believe me, they are finger-licking-good.
#8 Chickpeas Tacos
In pursuit of the right substitute to the meat for preparing tacos, right? Give chickpeas a chance this time. The chickpeas for these tacos are slightly roasted and seasoned according to your taste.
Apart from the chickpeas, you can fill the shell of tacos with hearty radish, yoghurt sauce, and avocados. So, would you like to stick to your conventional tacos or try this appetizing recipe?
#9 Chickpea Lettuce Wraps
This is an incredible vegan party dish that combines confetti of veggies, chickpeas, fluffy quinoa. A little dash of mustard adds the right flair to the entire dressing. These healthy wraps are a perfect lunch or evening snack.
#10 Crispy Chickpeas Falafel Salad
This is one of the most popular dishes of chickpea across the globe. This recipe is composed of roasted chickpeas providing the right crunch for a delectably satisfying taste buds and contains healthy veggies with the tahini dressing.
Let's put a lid on
These ten recipes are just a handful of stuff you can do with the chickpeas, and there is so much more to try your favourite chickpeas.
If you have your favourite chickpea recipe to recommend, come on share it with us in the comment section of this blog post, we would love to try it.