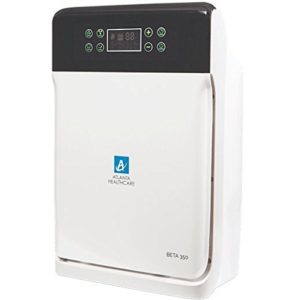 Note: In a recent update we changed the sequence of the air purifier to match the latest trends and popularity of models in the market.
Air Purifiers might be seen as a luxury but its benefits really exceed its cost. This is the very reason why many people want to get a hold of this exquisite device. But due to 100s of air purifier models to choose from, finding the right one that perfectly fits your needs becomes a challenge. You want to make sure that you will be getting the one that is well worth of your hard earned money. In the simplest term, the best air purifier for you.
Put your mind at ease because we have got you covered! We have checked on various reviews from users all over the country for us to give you sound advice on how you can get just the best air purifier available now in the market.
Just like how the air purifiers work, removing pollutants from the air through filtering is the same as how we want your worries to go away. We've filtered all available information online to clear your mind and come up with the undoubtedly best air purifier choice for you!
This article is written in two parts. You will see in the first part the five best air purifiers models in India and Delhi. You will then see the rest of the relevant information surrounding this review in the second part, such as some buying tips, buying guide, commonly asked questions, and so on. Read through and prepare yourself to be amazed!
7 Best Air Purifiers in India and Delhi – Reviews
Here the top 7 air purifiers we've researched and reviewed for you:
1. Dyson Pure Cool Air Purifier (Advanced Technology), Wi-fi & Bluetooth Enabled, Tower TP04 (White/Silver)


The Dyson Pure Cool Air Purifier is designed using a unique algorithm that processes the input from three on-board sensors. This aids in diagnosing and reporting air quality metrics in real time. You can easily see the air quality and maintain it at the preferred level. It has humidity and temperature sensor that monitors the relative humidity and temperature in the room. The machine also has a lower face velocity compared to other purifiers, which ensures that harmful ultra fine pollutants are not sealed back to the room.
Specifications
Automatic sensors and reports air quality levels
360 degrees GLASS HEPA filter and Tris impregnated activated carbon filter that captures 99.95% of harmful ultra fine pollutants and allergens
Patented air multiplier TM technology projects over 360 liters of purified air per second across the room
360 degrees oscillation that ensures proper circulation throughout the room
Suitable for medium and large sized rooms
2 years warranty
Pros
Quiet during operation
Attractive design
Integrates with Alexa
Air flow can be directed to cool or only purify
Integrated smartphone control and reporting
Cons
A bit expensive
Alcoholic smell might get emitted after long hours of usage
Planning to purchase this model?
Check Price on Amazon
2. Philips 1000 Series AC1215/20 Air Purifier (White)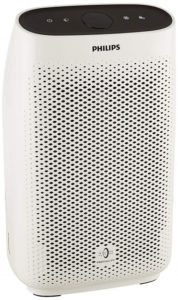 If you are searching for the ultimate air purifier that will give you the best air quality while having a good night's sleep in your bedroom, this one's for you. This product with dimensions of 541 x 325 x 211 mm (LWH) packed with tons of your favorite features would be perfect for your money's value.
Features / Specifications
High-Efficiency Particulate Air (HEPA) filter type
Coverage area: 677 sq. ft. / 63 sq. meters
Suitable in the bedroom
2 Years Warranty
Vitashield IPS with its aerodynamic design
NanoProtect Pro Filter
Auto-Purification Mode
Night Sensing Mode
Pros
Perfect for small homes
Filters can be easily cleaned and replaced
Energy Saver
Doesn't make a distracting noise
Best value for money
Compact & Elegant Design
Cons
The machine automatically goes on night mode when there is low light in the area
Sensor malfunctioning issues
Touch buttons function issues
Not effective on molds
Filters a bit costly
Planning to buy this model?
Check Price on Amazon
3. Philips 2000 Series AeraSense AC2887/20 56-Watt Air Purifier (White)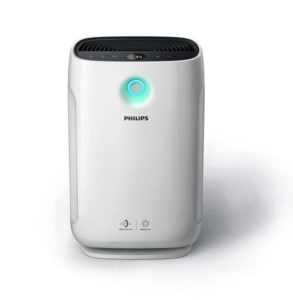 This may look a bit expensive but really it is worth it for this is the air purifier packed with tons of unique features that you may have been looking for. This product is like a one-stop shop. It has a huge area of coverage at the same time has the most advanced filtration/purification technologies.
Features / Specifications
HEPA Filter type
Coverage Area: 441 sq. ft. (Suitable for bedroom/living room)
2 Years Warranty
AeraSense Technology
3 Purification Modes: General/Allergen/Extra Powerful Bacteria & Virus Mode
Smart Light Control
Vitashield IPS Technology
Pros
Ozone Free
Scratch proof plastic body
Bigger coverage area
Low Noise at Sleep Mode
Cons
Filter replacements are a bit costly
The PM2.5 auto mode runs fan too slow to do any purification
A bit high priced
Planning to buy this model?
Check Price on Amazon
4. Dyson Pure Hot+Cool Air Purifier (Advanced Technology) with heater and bladeless fan, HP04 (White/Silver)


The air purifiers comes with a built in heater functionality. It heats and purifies the room, capturing 99.95% of harmful pollutants. The machine automatically detects airborne particles and gases, diagnoses and reports them in real time. It has activated carbon filters that remove gas and sealed HEPA filters that capture 99.95% of ultra-fine particles like pollutants and allergens.
Specifications
LCD screen and Dyson link app in real time
2 years warranty
Automatically purifies and warms a whole room properly
This is the only air purifiers with heating functionality
Automatically senses and reports air quality levels
Energy efficient
Suitable for medium to large sized rooms
Pros
Easy phone app integration
Alexa compatible
Features heavy and data for analytic rejoice
Can flip between front blowing to top blowing
Auto mode allows setting it and forgetting it
Cons
Too short
Quite noisy at faster fan setting
Planning to purchase this model?
Check Price on Amazon
5. American Micronic-AMI-AP1-22Dx-22 Watts HEPA Air Purifier (White with Gray)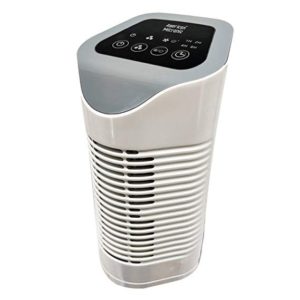 This one has a small and compact design that is fitting for your small room. If you are looking for an affordable but worth it product, this is going to be the best air purifier for you.
Features / Specifications
HEPA Filter & Ioniser
Coverage Area up to 150-200 sq ft
1 Year Warranty
1-2-4-8 hour timer feature
3 Speed Airflow with Sleep Mode
Pros
The user can switch Ionizer ON/Off when not required
Small and compact
Affordable replacement filters
Good value for money
Lightweight
Cons
Power cord a bit short
Low Fan speed
Low coverage area
Planning to buy this model?
Check Price on Amazon
6. Honeywell Move Pure Car Air Purifier (Bold Black)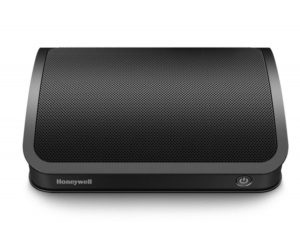 Have you been searching for the best air purifier for your car? This one's the top choice for you. This is compatible with all kinds of cars, from small to the biggest SUVs. It boasts of the flame retardant material that is safe to use even on the hottest days. It is packed with features besides its sleek design.
Features / Specifications
High-Grade HEPA filter
Advance double layer active carbon filter
Single button operation to manage the device's on/off and two fan speed modes
Smart switch on –starts with the previously saved settings once the car ignition is switched on
Filter replacement reminder
Long filter life of 360 hours, can run for 5-6 months if used for 2-3 hours day
1 Year Warranty
Multi-layer Filtration
Coverage Area: 38 sq. ft
Pros
Ozone Free
Easy to install
Flexible with long connecting cable
Can be used to all kinds of cars
A flame retardant material, safe to use even in hot summers
Cons
Filter replacement not readily available
Makes a rattling noise after several usages
A bit pricey
Planning to buy this model?
Check Price on Amazon
7. Atlanta Healthcare Beta 350 43-Watt Air Purifier with HEPA PURE & VIRAL GUARD Technology (White) – with Remote Control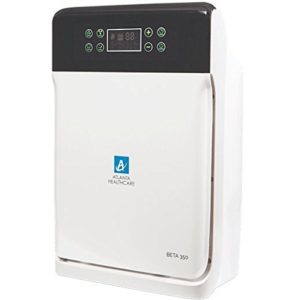 Trying to get a hold of a superior air purifier when it comes to air filtration technology? This one boasts of its 7 stage filtration process that will surely provide you the peace of mind for clean air at home. It is also good for average space rooms. It also has the unique air quality odor sensor, not most models have.
Features / Specifications
7-STAGE air filtration technology: Pre-filter, HEPA filter, anti-bacterial filter, activated carbon, photocatalyst oxidization, UV light and ionizer
Coverage Area up to 350 sq ft
1 Year Warranty
Air Quality Odor Sensor
Timer and Auto Start: Automatically starts in case of power failure
Super Silence Technology
With Night Mode
Remote Controlled
Pros
Has 3 fan speed modes (Low/Medium/Fast)
Timer from 1-12 hours
Lots of features
Cons
Filter quality issues
A bit pricey
Sensor functioning issues
Planning to buy this model?
Check Price on Amazon
You'll never go wrong with any of these best air purifiers that are available in the market. Join its current roster of users who are enjoying the world-class benefits these models are giving.
Types of Air Purifiers
Here are the 5 common types that will help you be enlightened to which one will the best air purifier for you.
1. HEPA Technology
HEPA which stands for High-Efficiency Particulate Air and this has been a known technology for years in filtering particles. It has a standard of catching 99.97% of all particles bigger than 0.3 microns such as chemicals, viruses, and bacteria. This type does not generate harmful byproducts such as ozone.
The only constraint of this is it does not remove foul odors.
2. Activated Carbon Technology
The activated carbon is a granular form that is made of porous material that can absorb large amounts of allergens and contaminants. It was originally used in the year 1900's to purify water and take the color out of the sugar. But now it is an effective filter capturing chemical emissions, gases, tobacco smoke, and even odors.
This type is most helpful for people with Multiple Chemical Sensitivity (MCS) because they absorb formaldehyde.
3. UV Technology
UV stands for UltraViolet. This is put together with filter systems to truly remove airborne particles. Air purifiers with this one have a UV lamp installed where microorganisms pass by UV rays and get destroyed. This type converts molecules of oxygen and water found in the air and converts it to ozone and hydroxyl.
The effectiveness of this purifier depends on the wattage of the light and its time of exposure. Most air purifiers that use UV on the starts its filtration with HEPA and activated carbon, and the UV only in the final stage.
4. Negative Ion
Negative ions magnetically attract airborne particles like pollen and dust, until accumulated particle becomes too heavy to remain in the air. This causes the particle to fall and attach itself into another solid item in the area, such as a window or a wall.
Unfortunately, this type is seen to be less effective as it does not have the ability to absorb and eliminate harmful contaminants in the air but only transfer it to another surface.
5. Ozone
This simply pumps ozone into the home's air. Whatever it touches it oxidizes which is a very effective way of killing mold and mildew as well as foul odors in your homes.
Its constraint is that it is seen to have some health concerns hence are best used for commercial or emergency purposes only.
Now that we already know the types of air purifiers, we can now move on to the most essential buying reference for you.
How to Find The Best Air Purifier? – Buying Guide
What are the things you need to keep in mind before purchasing the best air purifier for you? Read on below.
1. The purpose at your home
The first thing you need to consider is why you will need one for your home. Is it because a family member has allergies, asthma or you have hypersensitivity to chemicals? Or is the reason simply you want to improve the air quality and create a healthier home.
Noting these things will let you know which features to look for in the air purifier you will be purchasing.
2. Size of Air Purifier
Consider the size of the room where you intend to use the air purifier. Air Purifiers' effectivity is often measured on the room capacity it can filter, measured in square footage.
3. Exact Location
It is important to decide exactly where you will be putting the air purifier. Will it be in the bedroom, living room or kitchen? Some air purifiers are only limited to what particles they can filter. It will be frustrating to get an air purifier for the kitchen when in fact that can't filter food particles in the air and it is well suited in the bedroom rather.
Also, if you intend to put it inside your car, you should choose a specific air purifier for that.
4. Air Purifier Maintenance
Every manufacturer has recommended filter change intervals that you need to note. This should be well monitored as the air purifier's effectivity will depend on that. You must also be aware of the frequency of use of your air purifier so you could anticipate when to change the filter.
You must also be aware of the product's warranty for your future after sales and maintenance concerns.
5. Features
As they say the more benefits and features of a product, the more it becomes costly. Hence you need to make sure to know which features you really would need and would want your air purifier to have. Most common are as follows:
Child Lock
Remote Controlled
Air Quality/ Odor Sensor
Multiple Fan Speeds
Filter Change Indicator
Timer Enabled
It is a must for you to note all the guidelines indicated above for your happy selection process.
Frequently Asked Questions About Air Purifiers
Here are the top questions buyers and even users of air purifiers usually ask that are relevant for them to maximize the use of their units.
1. Do all windows and doors need to be closed when using the air purifier at home?
Yes, to maximize the effectivity of the air purifier.
2. Does it come with filters or do they have to be purchased separately?
Yes, it comes with filters. But for the filter replacements, for most air purifiers it is not provided hence you would need to purchase such.
3. Can it be wall mounted?
Usually not, unless otherwise specified in the user's manual.
4. Can it be used on a larger space than its coverage area capacity indicated?
Yes, but it will no longer be as effective hence is never recommended.
These are just a few questions about air purifiers that would also be useful in your search. Next stop is your favorite, the buying tips!
Air Purifier Buying Tips
The final touches on your selection process that is a must for you to keep in mind. Watch this video and read on further below:
1. Total Coverage Area
Always the topmost priority, make sure that the air purifier's maximum coverage area is equivalent to the place where it will be used; be it in your living room, bedroom, office or car.
2. Air Filtration Technology
This explains a lot about how the filtered air output will be. If you are aiming for an air purifier who would help you most in certain areas, be vigilant on the complete details of its air filtration or purification process. An example would be when you intend to use it to lower your risk for allergies; go for the models with Allergen mode or with extensive/ superior filtrations against allergens.
3. Air Filter Replacement Cost
You should always take into consideration the additional cost that will be required when you are to buy a new filter for your air purifier. It is being done even before purchasing the product itself.
4. Noise
It is common for air purifiers to make a bit of noise due to its filtration/purification process. But make sure to choose the less noisy and even avoid the ones producing annoying noises.
We hope we covered all the things you had in your mind about air purifiers and were able to help you with the search for the best air purifier for your home satisfactorily! You are now well equipped to make the most of your hard earned money and buy the air purifier that perfectly fits your requirement.