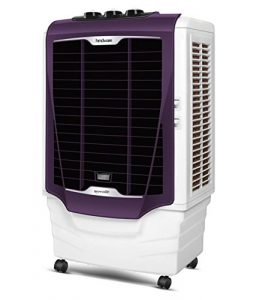 Note: This article has gone through a major change during the last update. We removed 5 air coolers that are now not among the best air coolers and added 5 much better alternatives. We also updated the sequence of the list below according to our latest reviews.
When summer arrives the heat usually makes us restless and tired. And in order to comfortably sleep or work, we need coolers at our homes and offices. The air coolers have become an important home appliance and are considered a necessity. Since it's now a necessity, we know you would be looking for a guide on which air coolers to buy. Of course, we have considered budget capacity, and usefulness of these air coolers. In this article, we'll help you find the best air cooler you can buy online in India.
There are a lot of air coolers and air cooler brands out there and it can be difficult to find the right one if you do not have someone to guide you through the process. That's what we're here for!
This article is divided into two parts: the first one where the best air cooler models are enlisted with their features and unbiased pros and cons; and the second one where you can see other useful info such as the air cooler types, best air cooler brands and so on…
10 Best Air Coolers in India – Reviews
Our selection of the best air coolers has been based on great reviews and comments. Consideration of the price and quality was also thought for you. These are the best air coolers listed for now and I am glad to share them with you. I hope to simply guide you in finding what is best to your liking and need. In this list, I have selected those from personal to large air coolers.
1. Bajaj Platini PX97 Torque 36 Ltrs Room Air Cooler (White)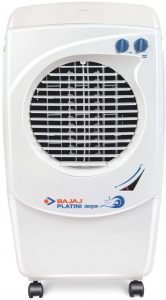 Created from thermoplastic materials, the Bajaj Platini PX97 Torque 36 Ltrs Room Air Cooler (White) performs really well while giving the user a more movable and fresh environment. It's one of the best selling air coolers in the market. By cooling the air down for a small to midsize room, this cooler works best in distributing cool air.
Pros:
Pads are easily removable
3-way speed control
Has caster wheels for mobility
Four-way air deflection
Cons:
Cooling speed has almost no difference
Cooler needs to be filled at least 4 times a day
Planning to buy this model?
Check Price on Amazon
2. Symphony Hicool I 31-Litre Air Cooler with Remote (White)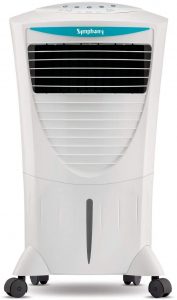 Symphony Hicool I 31-Litre Air Cooler with Remote (White) is a smart Air Cooler. Due to its effective cooling, it is capable of cooling the room in minutes. The storage capacity of the cooler is about 31L and has a high air delivery rate of about 1750 cubic meters. There is an ice cube chamber in this cooler. This is an efficient air cooler and recommended this summer.
Pros:
Quality product
Perfect Cooling
Horizontal Fan Technology
Has a Remote Control
Cooling of about 9 hours continuously
Easy to move around
Cons:
Planning to buy this model?
Check Price on Amazon
3. Crompton Ozone 75-Litre Desert Air Cooler (White/Grey)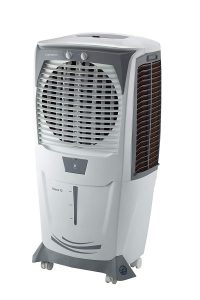 The Crompton Ozone Desert Air Cooler is a splendid piece of an appliance to use for the summer. It is energy-efficient and packed with lots of cool features. Furthermore, electric bills are not that big of a problem upon using the Crompton cooler!
Pros:
Has a capacity of 75 liters
Has honeycomb cooling pads
Air could be thrown up until 52 feet
Cons:
Must allow cross-ventilation to have cooler work efficiently
Planning to buy this model?
Check Price on Amazon
4. Bajaj Frio 23 Ltrs Personal Air Cooler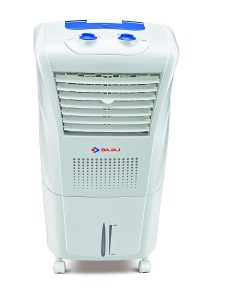 The Bajaj Frio 23 Ltrs Personal Air Cooler is a stylish and sleek air cooler that is apt for personal use. This cooler has a honeycomb structure for the cooling part and can work in all types of climate conditions for room size up to 150 sq. ft. It has 2-way speed control and delivers quiet performance. It is available in white color.
Pros
Sleek design
Large capacity for individual use
Easily removable pads
Wheels for easy mobility
Cons
Cross ventilation necessary for working
No remote control operation
Body made from plastic
Planning to buy this model
Check Price on Amazon
5. Bajaj MD2020 54 Ltrs Room Air Cooler (White) – for Medium Room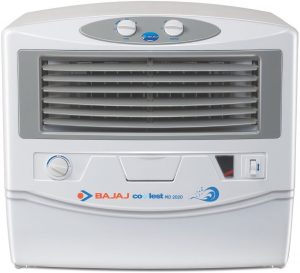 The Bajaj MD2020 54 Ltrs Room Air Cooler (White) – for Medium Room is designed to be durable with style as it makes your environment cool and fresh. With this cooler, you would wish that you could bring it to your school or office for a more motivated atmosphere to lessen down the stress.
Pros:
Pads are easy to remove
Has 3 cooling pads
Features 4-way deflection
Can work on your inverter
Contains a castor wheel to move the cooler around easier
Cons:
Must allow cross-ventilation so cooling would work more efficiently
Has no ice chamber
Has no remote control
Has no timer
Planning to buy this model?
Check Price on Amazon
6. Symphony Ice Cube 27 Litre Air Cooler- With i-Pure Technology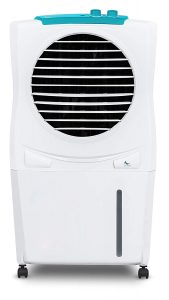 The Symphony Ice Cube Air Cooler is a powerful cooler for single person use that has a powerful fan and a 3-speed motor. It has a large 27 Litre tank, cooling pads, and channelized water dispenser system for superior cooling. The i-Pure technology has 5 stage filter process against dust, bacteria, PM 2.5 filter, etc. so the user gets pure air.
Pros
Large tank capacity
Quiet performance
Vertical swing for equal airflow
Operating cost similar to a fan
Cons
The filter needs to be changed regularly
No ice chamber
Less coverage area
Planning to buy this model
Check Price on Amazon
7. Bajaj DC2016 67 Ltrs Room Air Cooler (White) – For Large Room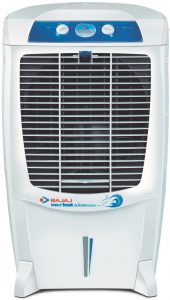 One of the coolers that are easily affordable is the Bajaj DC2016 67 Ltrs Room Air Cooler (White) – For Large Room. With a 67-liter tank capacity, enjoy the cool air this cooler provides to fight against the humidity that grows in the summers of India.
Pros:
Uses a castor wheel for it to be portable
Features 4-way deflection
Operates quietly
Removable pads
Cons:
Too large for small to medium size rooms
Planning to buy this model?
Check Price on Amazon
8. Crompton Aura Woodwool Desert Cooler- 55 Litre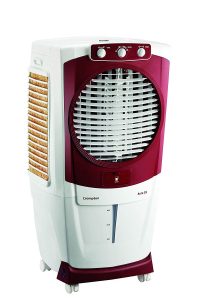 The Crompton Aura Woodwool Desert Cooler is a strong air cooler with a long throw distance of 45 feet. With the auto-fill technology, the user will never need to worry about refilling water. The water can be easily drained for cleaning purposes. It has a 4-way auto deflection and three-speed modes for dynamic results. The cooler has 4 castor wheels for movement.
Pros
Long air throw distance
Beautiful color combination
Body made from ABS and thermoplastic
Cons
The plastic body looks cheap.
Less water capacity
Cross ventilation required for usage
Planning to buy this model
Check Price on Amazon
9. Crompton Honeycomb Desert Cooler- 88 Litre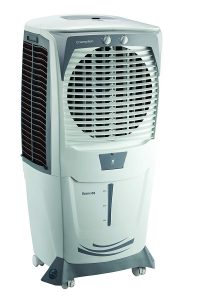 The Crompton Honeycomb Desert Cooler is a large capacity cooler made for long time usage with low power consumption. This cooler can work on 190W power and is inverter compatible so that the users get uninterrupted cooling even on the inverter. The water capacity of 88 liters comes with a compartment for ice as well. It has an auto-swing feature with 4-way air deflection and has 5 wheels for movement.
Pros
Ice chamber for additional cooling
Long air throw capacity
5 Castor wheels for easy movement
Less energy consumption
Cons
Fan noise
Small supply cable
Honeycomb filter not as effective
Planning to buy this model
Check Price on Amazon
10. Maharaja Whiteline Rambo AC-303- 65 Litre Cooler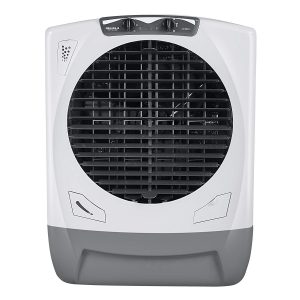 The compact cooler from Maharaja Whiteline's Rambo series is a perfect cooler for a single person or small family. With a water capacity of 65 liters, this cooler is perfect for room sizes up to 700 sq. ft. It has a high air delivery of 3000 m3/hr and an airflow distance of 45 ft. The body is made from plastic and is shockproof along with the anti-bacterial tank. The fan has 4-way deflection and 3-speed levels for operation.
Pros
Large tank capacity
Compact dimensions of the product
Anti-bacterial tank and aroma chamber
Powerful performance even in large areas
Cons
High power consumption
Cross ventilation is a must for proper working
Planning to buy this model
Check Price on Amazon
There you go! The ten best air coolers that can be bought in India is a guide to help you find the right cooler for you.
Best Air Coolers Brands in India
Now let's quickly cover the best air cooler brands in India. You won't go wrong choosing an air cooler from one of these brands. The list below includes brief descriptions and their related links as follows:
Symphony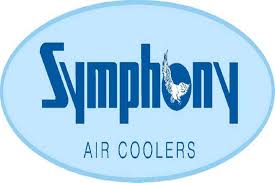 It was founded in 1988 with its headquarters at Ahmedabad. The manufacturer produces domestic air coolers, industrial air coolers, as well as water heaters. It was noted in Guinness record for manufacturing the largest air coolers. Symphony operates in 60 countries. Now it is the highest selling brand for air coolers. In India Symphony is the bestselling Air Cooler. You can click on the below link to view some air coolers of Symphony.
Bajaj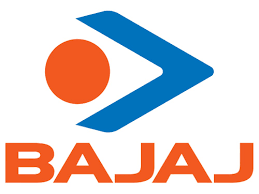 It was founded in 1926 by Jamnalal Bajaj in Mumbai. The group comprises of 36 companies which involve various industries like automobiles, lighting, home appliances, insurance, iron and steel, travel and finance. This brand is India based brand and has therefore made a lot of impact into the minds of the consumers. The Bajaj air coolers are durable and also budget friendly. The quality product is efficient and is also a customer favorite. You can click on the below link to view some air coolers of Bajaj.
Kenstar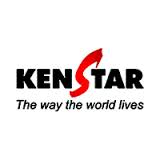 It is a subsidiary of Videocon which was founded in 1979 by Venugopal Dhoot. The headquarters are at Mumbai. This brand has 15 sites all over the world including India. Kenstar is a brand of home appliances by company Kitchen Appliances India Limited at 1996. It manufactures all home appliances like Television, air coolers, water heaters etc. Kenstar is a newer company as compared to Bajaj and Symphony however it has made a position in the market because of the durable and quality products. Kenstar Air Coolers are preferred as they are durable and budget-friendly. You can click on the below link to view some air coolers of Kenstar.
Crompton Greaves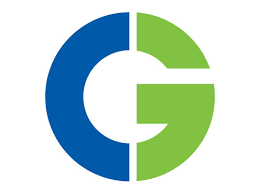 It is an Indian multi-national company with its headquarters in Mumbai founded in 1878. The manufacturing products are Transformers, pumps, HT & LT Motors, DC Motors, and Railway Signaling. Crompton is a trusted brand for many home appliances such as geysers, air coolers etc. The Crompton Greaves product with a CG logo marking its genuinity. The Crompton Greaves Air Coolers are customer friendly, durable, efficient, and hence worth the price. You can click on the below link to view some air coolers of Crompton Greaves.
Orient Electric


It is an electrical equipment Industry with its headquarters at New Delhi and was founded in 1954. The main manufacturing products are home appliances, Fans, lighting, and switchgear. The products are exported to about 30 countries. Orient Electric has been ranked under top 20 companies in India with their units at Faridabad and Kolkata. The Orient Electric Air Coolers are not only budget-friendly but also reliable and efficient. You can click on the below link to view some air coolers of Orient Electric.
Types of Air Coolers in India
Now, let's get to know the different types of air coolers. We may have the list of the best air coolers here but you need to understand which type is best for you. This is important because it helps you determine what would work best for your room, your office, or your entire house. Remember, just like cellphones, we need to get the right kind that matches our need.
Desert Coolers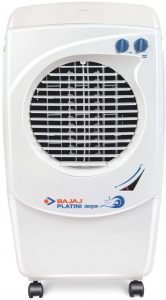 From the name itself, desert coolers are meant to cool down big areas like halls, restaurants, prayer houses, and outside buildings. This type of cooler features enormous fans with powerful pumps, with a capacity of around 40 to 60 liters.
Personal Coolers
These coolers are way smaller than the desert coolers, and they could be easily moved with the assistance of castor wheels. They could be taken with you and be near your bed, study desk or dining table. This type has a capacity of 25 to 40 liters.
Tower Coolers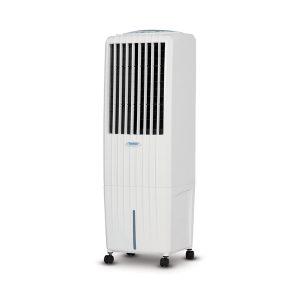 These coolers are designed to be much taller and slimmer to occupy less space while still giving powerful air delivery. The tanks of this type have a capacity of 20 to 40 liters. They can also be easily maintained and cleaned.
Window Coolers
Finally, the window coolers are, obviously, installed in the windows. They don't really occupy that much of space, but the cooler can have up to 50 liters as capacity. And since they are installed, you can't move them around.
So you now know the different types of air coolers. Next, let's move on the buying guide of getting a good and working air cooler.
Best Air Cooler Buying Guide
In buying the best air cooler for your need, here is a simple guide on the important things to consider. Some buying tips are also listed towards the end of this page, but here are what must be considered most in buying an air cooler.
Costs
Air coolers are not really that expensive if you compare it to the price of an air conditioner, so finding a really affordable one is a bonus. A quality air cooler costs around Rs. 7000, not much of a burden to the wallet.
Cooling pads
Honeycomb pads need less maintenance as they are produced out of cellulose materials. Wool pads, on the other hand, are made out of wood shavings synthetic fiber. The thing here though is that it is less durable and less efficient.
Size
Find a cooler that could even fit through your door. Personal air coolers are good enough to cover a small to medium room, while desert coolers work well with wider and bigger areas.
When checking out the product, see if the AC (Area covered) is equal or covers more than the size of the room.
Top Questions Asked for Air Coolers
We know you have some questions in mind. Check out the list below and you might find an answer here. It's best to get questions answered before buying or ordering online.
How often do I need to refill water?
Most air coolers should last half a day for the midsize ones. Depending on the temperature of the day, the size of the air cooler, and the temperature in the room itself, you may need to keep refilling if it is warm. Generally, most water tanks don't need a refill for at least 4-6 hours.
Can I put ice or does it have an ice box?
Yes. Most air coolers would have an icebox or would allow you to put ice, but be sure to check the model and design if it does.
How often do I change the cooling pads?
Good maintenance is the key to having longer cooling pads. Honeycombed pads last longer than the others, but you must be cleaning your air cooler regularly. Most of them should be maintained at least twice a year. Should you stop using the air cooler for quite a period of time, make sure you take out the cooling pads and clean the unit.
Which air cooler should I get?
The size of the room you want to cool will be the best answer. If you have a small room and with just a few people in it, personal coolers may work for you. Should you want to get a bigger air cooler, that will be fine too. But you shouldn't get a small cooler for a bigger room.
Does it have a swing feature?
Carefully read the models you want to review. Each model would indicate if it has a 3 or 4-way deflection. Having 3 or 4-way deflection helps distribute the cool air evenly in the room. If it isn't mentioned, then it may have a standard 2-way deflection or a manual swing button.
Does it have a warranty?
Most air coolers have at least a one-year warranty. Always ask before you buy.
Will it work on an inverter?
Most air coolers work with inverters. Check the capacity of your inverter if it can support your air cooler before connecting it.
Do air coolers have a remote?
Not all model comes with a remote. Make sure to check the model you're purchasing. It is better to ask before ordering.
If you have a question in mind that is isn't here, read through each product review and you might find it there.
Air Cooler Buying Tips
So should you decide to get a personal, desert or tower cooler, don't forget to consider where you would use it? Our best air coolers list should give you the right idea of how to choose among them. So here are our final buying tips for you:
Know where you would use it for – a small, medium or large size room.
Consider maintenance – like how often you would need to refill water.
Decide for the right size – a tower air cooler may be best but can your room accommodate its size?
Consider your budget – don't forget to check for discounts to save or to fit your budget.
Check if it's portable or has wheels – should you want to move it from one part of the room to another.
See if its air deflection is good enough for your room – you might want a 3 or 4-way deflection.
Lastly, read about the manufacturer – like warranty time or if there are service centers near you.
We hope our guide gave you the best air cooler you are looking for. Summer is coming so be prepared!
Air coolers are very convenient to use whether it's summertime or not. It is more energy saving compared to an air conditioner. And the best thing about them is that they are portable. Our best air coolers list is here to help you all the way in your selection.