Best Drilling Machines (Power Drills) Online in India 2017
Last Update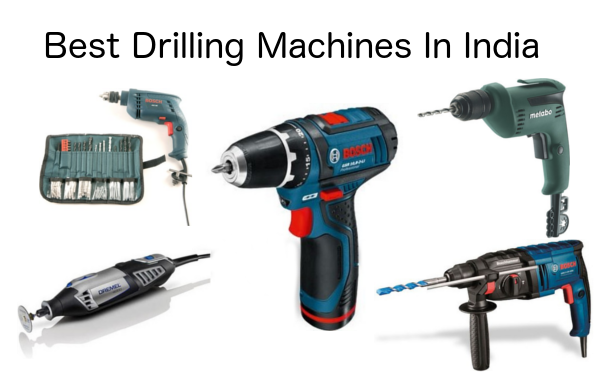 Looking for the best drilling machine? You are at the right place!
Searching the right tool for your trade is not an easy job. There are lots of things to take into consideration before deciding to buy the best power drill for your work.

You might be looking for high speed or power or you might be looking for lightweight model or a power drill that does it all and fits your budget. A power drill is a great utility device and should be always handy at home. Whatever may be your case, we have got selection of best power drills for you to choose from.
Following are top 5 Drilling Machines we've found from the 100s of models available in the market from brands like Bosch, Cumi Metabo etc:
5 Best Drilling Machines In India:
On this page you will find the collection of best power drills that have been research by our team of experts. All the care was taken during the research so that we can bring you the best power drill models. The research included looking at the features, power, speed and weight of the power drills and also the general reviews, ratings and feedbacks of users who used it.
You Might Also Like : Drilling Machine Buying Guide <– READ THIS BEFORE BUYING
Below is the chart that shows the overall rating and the specific ratings that was given to the design, accessories and customer support along with the features and prices of these best power drills. In-depth reviews of each model is also available and you can read them by clicking on the Read Review button.
To know more about the product or to buy it, click on the Buy Now button next to your favourite eCommerce store.
Best Drilling Machines In India – Comparison Table:
| | Bosch GSB 450 RE Carton Drill Kit | Cumi Metabo BE 10 Pistol Grip Drill | Bosch GSR 10.8V-LI Angle Drill | Bosch 0611 25A 4F0 Rotary Hammer Drill | Bosch - Dremel 4000 Series F013.400.0JD Rotary Tool |
| --- | --- | --- | --- | --- | --- |
| Overall Rating (Out Of 5) | 4.1 | 4.4 | 4.5 | 4.1 | 4.4 |
| Power Consumption | 500W | NA | NA | 610W | 230W |
| TYPE | Angle Drill | Pistol Grip Drill | Angle Drill | Rotary Hammer Drill | Engraving, Carving, Cutting, Sharpening, Polishing and Sanding |
| Warranty (Years) | 6 Months warranty | 6 Months warranty | 6 Months warranty | 6 Months warranty | 1 year |
| Reverse Rotation | yes | yes | yes | yes | NA |
| DIMENSIONS | 420 (W) x 330 (H) x 110 (D) mm | 21.99 (L) x 5 (W) x 24.99 (H) | 400 x 254 x 183 mm | 320 x 80 x 260 | 385 x 95 x 320 mm |
| Number of Speeds | 2 | NA | 2 | NA | NA |
| Weight | 0.95 kg | 1.3 kg | 0.95 kg | 2.3 kg | 660 g |
| Battery Voltage | 10.8 V | 450 W | 10.8 V | 600 W | 230 V |
| Torque Settings | 20+1 | 10 Nm | 20+1 | NA | electronic |
| Battery Type | Lithium-Ion | NA | Lithium-Ion | NA | NA |
| Power Source | Cordless | Corded | Cordless | Corded | Corded |
| Auto-lock | YES | NO | YES | MANUAL | MANUAL |
| Chuck Clamping Range | 1 - 10 mm | 1 - 10 mm | 1 - 10 mm | NA | NA |
| Read Review | Read Review | Read Review | Read Review | Read Review | Read Review |
| Check Latest Prices | | | | | |
Find The Complete Range Of Best Drilling Machines >>